Kindle Available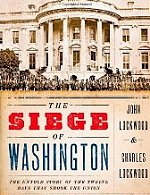 The Siege of Washington: The Untold Story of the Twelve Days That Shook the Union
On April 14, 1861, following the surrender of Fort Sumter, Washington was "put into the condition of a siege," declared Abraham Lincoln. Located sixty miles south of the Mason-Dixon Line, the nation's capital was surrounded by the slave states of Maryland and Virginia.
Fort Stevens
Washington District of Columbia
American Civil War
July 11-12, 1864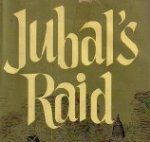 Jubal's Raid: General Early's Famous Attack on Washington in 1864
General Grant was hammering at the gates of Richmond and the Confederacy seemed doomed. In a bold and desperate stroke, General Lee countered by sending General. Early and a force of only twelve thousand men toward Washington, D.C.
On July 11, Lieutenant General Jubal A. Early's exhausted Confederates reached the outskirts of Washington near Silver Spring. Skirmishers advanced to feel the fortifications which at the time were manned only by Home Guards, clerks, and convalescent troops.
During the night, veteran units from the Union VI Corps disembarked from troop transports and marched north through the streets of Washington to bolster the defenses.
On July 12, Early was finally in position to make a strong demonstration, which was repulsed by the veteran Union troops. In the afternoon, VI Corps units sortied against the Confederate skirmishers, driving them back from their advanced positions in front of Forts Stevens and DeRussy.
President Lincoln watched the action from Fort Stevens and came under fire from Confederate sharpshooters.
Recognizing that the Union Capitol was now defended by veterans, Early abandoned any thought of taking the city. Early withdrew during the night, marching toward White's Ford on the Potomac, ending his invasion of Maryland.
"We didn't take Washington," Early told his staff officers, "but we scared Abe Lincoln like Hell."
Result(s): Union victory
Location: District of Columbia
Campaign: Early's Raid and Operations against the B&O Railroad (1864) next battle in campaign previous battle in campaign
Date(s): July 11-12, 1864
Principal Commanders: Major General Horatio G. Wright and Major General Alexander McD. McCook [US]; Lieutenant General Jubal A. Early [CS]
Forces Engaged: Divisions
Estimated Casualties: 874 total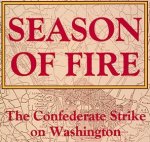 Season of Fire: The Confederate Strike on Washington
The Confederacy's last effort to do something meaningful by trying to attacked Washington DC. The Confederate forces came pretty close to success. The battle at Monocacy River and fighting in the District of Columbia where President Lincoln came under fire at Fort Stevens
Officers and men of Company F, 3rd Massachusetts Heavy Artillery, in Fort Stevens


Washington DC Officers and men, 3d Regiment Massachusetts Heavy Artillery in Fort Totten


A Night Alarm in the Federal Camp--Signalling from the Right Bank of the Potomac to Head-Quarters in Washington
Illustrated London News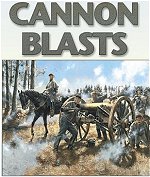 Cannon Blasts: Civil War Artillery in the Eastern Armies
Field artillery has had a great tradition in American military history. Based on the records, artillery did not inflict the casualties that one might expect; however, all serious Civil War buffs can recall instances when the field guns played a major role in the action.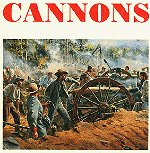 Cannons: An Introduction to Civil War Artillery
The concise guide to the weapons, ammunition and equipment of Civil War artillery. More than 150 photos and drawings.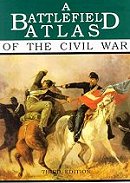 A Battlefield Atlas of the Civil War
Informative text enhanced 24 three-color maps and 30 black/white historical photographs.
State Park Information
Fort Stevens, now partially restored and located at 13th and Quackenbos Streets, NW, was built to defend the approaches to Washington from the 7th Street Pike (now Georgia Avenue) which was then the main thoroughfare from the north into Washington. Originally called Fort Massachusetts by the soldiers from that state who constructed the fort, it was later named after Brigadier General Isaac Ingalls Stevens, who was killed at the Battle of Chantilly, Virginia, September 1, 1862.

In the summer of 1864, General Ulysses S. Grant had Confederate General Robert E. Lee in a deathtrap around Richmond and Petersburg. When General Grant had moved south, he stripped Washington, D.C. of many well trained troops. As a result in July of 1864 there were only 9,000 troops to defend the city, down from over 23,000 that had been there the year before. Those that were left were primarily poorly trained reserves.General Lee sought desperately to find a way out of his predicament around Petersburg. He decided to send General Jubal A. Early with about 20,000 troops to strike at Washington, which his spies had reported was poorly defended.
On June 12, General Early started his march from behind Petersburg, and by July 9, he was at Frederick, Maryland, where he demanded and received $200,000 to spare the city. On the same day, General Early defeated Union General Lew Wallace at the Monocacy River. In the light of later events, General Wallace's defeat after a stubborn fight became a victory for the Union because he was able to delay Early's advance for a day. On July 10, Early encamped at Rockville, Maryland, 10 miles from Fort Stevens.

As a result of the rapid and successful movement of Early, the men of the War Department seemed paralyzed, and would give no orders except as they received them from General Grant. General Grant understood the situation and sent the 25th New York Cavalry, which left City Point, Virginia, on July 7 and reached Fort Stevens midnight of July 10. Also on the 7th, the 1st and 2nd Divisions of the 6th Corps, under General Horatio G. Wright, left City Point. A few hours later General W. H. Emory, with part of the 19th Corps just returning from New Orleans to join Grant, left Fort Monroe for Washington.

By noon of July 11, Confederate General Early came in full view of Fort Stevens, reconnoitered the area and found the fort poorly manned. During the afternoon of that day, General Early tried to find a weak spot in the line, but was met everywhere by fort guns and musketry. Supporting Fort Stevens were the guns from Fort DeRussy on the left and Fort Slocum on the right.
When examining the works at daylight on July 12, Early saw the parapets lined with seasoned troops; he then decided to abandon the idea of capturing Washington, but planned to give the Yankees a fight anyway. By nightfall of July 12, the Rebels were sent into full retreat, and the Union Capital had been saved.

On July 12, President Abraham Lincoln went out to Fort Stevens with his wife and other officers and stood on the parapet calmly watching the battle. The Battle of Fort Stevens thus marks the only battle in which a President was present and under enemy fire while in office.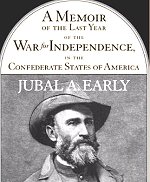 A Memoir of the Last Year of the War for Independence in the Confederate States of America
Ranked among the most important generals who fought with Lee's Confederate Army of Northern Virginia. He played principal roles at the battles of First Manassas, Chancellorsville, Gettysburg, and most of the other engagements in the Eastern Theater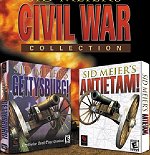 Sid Meier's Civil War Collection
Take command of either Confederate or Union troops and command them to attack from the trees, rally around the general, or do any number of other realistic military actions. The AI reacts to your commands as if it was a real Civil War general, and offers infinite replayability. The random-scenario generator provides endless variations on the battles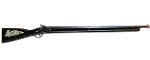 Civil War Musket
Wood & Steel Frontier Rifle Designed After The Original Rifle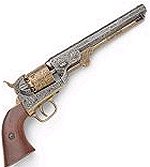 Civil War Model 1851 Naval Pistol
Sources:
U.S. National Park Service
U.S. Library of Congress.

Enter the keywords you are looking for and the site will be searched and all occurrences of your request will be displayed. You can also enter a date format, April 19,1862 or September 1864.
More To Explore