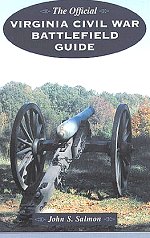 The Official Virginia
Civil War Battlefield Guide
Virginia was host to nearly 1/3rd of all Civil War engagements. This guide covers them all like a mini-history of the war. This guide organizes battles chronologically. Each campaign has a detailed overview, followed by concise descriptions of the individual engagements
Haw's Shop
Enon Church
Civil War In Virginia
American Civil War
May 28, 1864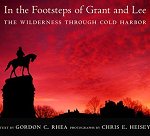 In the Footsteps of Grant and Lee
The Wilderness Through Cold Harbor
For forty days, the armies fought a grinding campaign from the Rapidan River to the James River that helped decide the course of the Civil War. Several of the war's bloodiest engagements occurred in this brief period: the Wilderness, Spotsylvania Court House, the North Anna River, Totopotomoy Creek, Bethesda Church, and Cold Harbor
Gregg's cavalry division, supported by Torbert's division, advanced to cover the Army of the Potomac's crossing of the Pamunkey River and movement toward Totopotomoy Creek.
Fitzhugh Lee's and Hampton's cavalry divisions, later reinforced by Butler's South Carolina brigade, met the Federals at Enon Church.
After seven hours of mostly dismounted cavalry fighting, the Federal advance was stopped.
Both Confederate and Union infantry began arriving in the vicinity as the cavalry fighting raged.
Result(s): Inconclusive
Location: Hanover County
Campaign: Grant's Overland Campaign (May-June 1864) next battle in campaign previous battle in campaign
Date(s): May 28, 1864
Principal Commanders: Brigadier General David M. Gregg [US]; Major General Fitzhugh Lee and Major General Wade Hampton [CS]
Forces Engaged: Divisions
Estimated Casualties: 744 total (US 344; CS 400)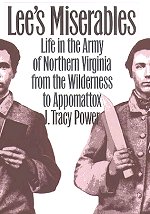 Lee's Miserables: Life in the Army of Northern Virginia from the Wilderness to Appomattox
From the battles in the Wilderness to the final retreat to Appomattox. It sheds new light on such questions as the state of morale in the army, the causes of desertion, ties between the army and the home front
Kindle Available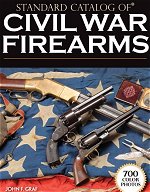 Standard Catalog of
Civil War Firearms
Over 700 photographs and a rarity scale for each gun, this comprehensive guide to the thousands of weapons used by Billy Yank and Johnny Reb will be indispensable for historians and collectors.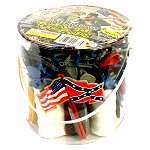 Civil War Soldier 102 Piece Playset
25 Union and 25 Confederate Soldier Figures, 18 Horses, 10 Cannon
2 Covered Wagons, 2 Tents, 2 Canoes, 2 Flags, 16 Fences
Size: Figures Stand up to 2-1/8 inches tall
Scale: 1/32nd, Wagons and Horses slightly smaller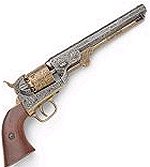 Civil War Model 1851 Naval Pistol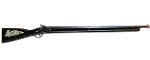 Civil War Musket
Wood & Steel Frontier Rifle Designed After The Original Rifle
Sources:
U.S. National Park Service
U.S. Library of Congress.
Enter the keywords you are looking for and the site will be searched and all occurrences of your request will be displayed. You can also enter a date format, April 19,1862 or September 1864.