Kindle Available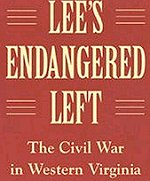 Lee's Endangered Left: The Civil War In Western Virginia, Spring Of 1864
Grant devised a plan of concerted action to bring down the Confederacy. He aimed to destroy General Lee's supply source for his Army in Western Virginia and to use military activity there as an extended turning movement to threaten Lee from the west
Kindle Available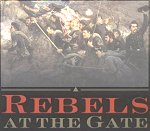 Rebels At The Gate
The dramatic story of the first Union victories of the Civil War and the events that caused Virginians to divide their state. In a defiant act to sustain President Lincoln's war effort, Virginia Unionists created their own state government in 1861-destined to become the new state of West Virginia. Their actions blocked what should have been Confederate control of the territory and closed one of their key gateways to the Union states
West Virginia State Flag

A white field is bordered in dark blue. West Virginia's flag displays a rock containing the date June 20, 1863, the day West Virginia became a state. The two men represent farming and mining. Below them are two rifles with a "Liberty Cap" on top the rifles. A banner ribbon includes the state motto " Mountainiers Are Always Free". Around the picture are a wreath of rhododendren and the name of the state on a red ribbon.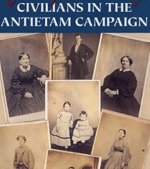 Too Afraid to Cry: Maryland Civilians in the Antietam Campaign
The children, women, and men living in the village of Sharpsburg and on surrounding farms. The dramatic experiences of these Maryland citizens, stories that have never been told, and also examines the political web holding together Unionists and Secessionists, many of whom lived under the same roofs
Civil War State Battle Maps
American Civil War Exhibits
American Civil War Timeline
Civil War Submarines
Confederate Johnny Cakes Recipe
Civil War Summary
Confederate President Jefferson Davis
Sources:
U.S. National Park Service
U.S. Library of Congress.