CSS Tennessee
USS Tennessee
Civil War Confederate and Union Navy Ship
CSS Tennessee (1864-1864).
Later USS Tennessee (1864-1867)
CSS Tennessee , a 1273-ton ironclad ram, was built at Selma, Alabama. Launched in February 1863, her outfitting was completed at Mobile, where she was commissioned in February 1864. As flagship of Admiral Franklin Buchanan , she was by far the strongest unit of the naval part of the defenses of Mobile Bay. To counter her, the Federal Navy had to bring ironclad monitors to the Gulf of Mexico.
On 5 August 1864, Tennessee battled against Rear Admiral David Glasgow Farragut's fleet as it steamed past Forts Morgan and Gaines into Mobile Bay. Though she was able to inflict some damage on the Federal ships, Farragut successfully entered the Bay and anchored beyond the reach of the Confederate forts' guns. Admiral Buchanan then took his ship up toward the Union warships, engaging them in an intense battle that ended with Tennessee surrounded by her enemies and battered into surrender.
The former Confederate ironclad was promptly taken into the Union Navy as USS Tennessee . With her combat damage quickly repaired, she was employed during operations to capture Fort Morgan later in August. In the autumn of 1864, Tennessee was sent to New Orleans, Louisiana, for further repairs. She subsequently served with the U.S. Navy's Mississippi Squadron until after the end of the Civil War. Decommissioned in August 1865, USS Tennessee was sold for scrapping in November 1867.
Battle of Mobile Bay, 5 August 1864
Line engraving after an artwork by J.O. Davidson, published in "Battles and Leaders of the Civil War", Volume 4, page 378.
Entitled "Surrender of the 'Tennessee,' Battle of Mobile Bay", it depicts CSS Tennessee in the center foreground, surrounded by the Union warships (from left to right): Lackawanna , Winnebago , Ossipee , Brooklyn , Itasca , Richmond , Hartford and Chickasaw . Fort Morgan is shown in the right distance

Kindle Available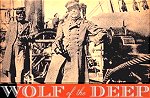 Wolf of the Deep: Raphael Semmes and the Notorious Confederate Raider CSS Alabama
In July 1862, the Confederate captain Raphael Semmes received orders to report to Liverpool, where he would take command of a secret new British-built steam warship.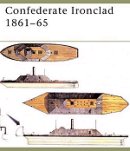 Confederate Ironclad 1861-65
Every aspect of Confederate ironclads is covered: design, construction, armor, armament, life on board, strategy, tactics, and actual combat actions.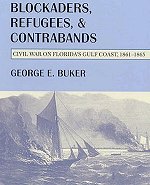 Blockaders, Refugees, and Contrabands: Civil War on Florida'S Gulf Coast, 1861-1865
Coastal Florida had a refugee crisis as the war progressed. Escaped slaves ("contrabands") sought out the blockaders. Some joined the U.S. Navy. White men and their families sought to avoid conscription or vengeful neighbors/regulators and eventually sought refuge with the blockaders
Battle of Mobile Bay, 5 August 1864
When Federal warships steamed into Mobile Bay on the morning of 5 August 1864, Confederate Admiral Franklin Buchanan stationed CSS Tennessee , his flagship, and her unarmored consorts, gunboats Morgan , Gaines and Selma , at the head of the channel. As the enemy moved up, exchanging fire with Fort Morgan, Buchanan's ships shot at them from ahead. The Union monitor Tecumseh , maneuvering to engage the Tennessee , struck a mine and sank, temporarily throwing the Federal column into confusion. Rear Admiral Farragut's flagship, USS Hartford , forged ahead and drove off the Confederate gunboats, but Tennessee remained in the battle zone, firing on the U.S. Navy ships as they passed and doing considerable damage to the last in line, USS Oneida .
With the enemy was safely inside Mobile Bay, Buchanan understood that the Confederate forts at the bay's entrance would soon be untenable unless the Union ships could somehow be destroyed. In a desperate, solitary effort, Tennessee steamed toward Farragut's ships. As she slowly moved along, the sloops of war USS Monongahela and Lackawanna repeatedly rammed her, doing more damage to themselves than to their target.
When Tennessee reached the Federal anchorage area, she was also rammed by the Hartford and subjected to a terrific cannonade. The U.S. monitors Chickasaw and Manhattan then engaged her at close range with their heavy guns, while other Union ships fired from a distance. Tennessee 's smokestack and most other exposed fittings were hammered away, further reducing her never very great speed; her gunport shutter chains were cut, closing the ports so the Confederates could not shoot back; and her exposed steering chains were severed, leaving her unmanageable. The Manhattan blew a hole in Tennessee's armor with her massive fifteen-inch gun. The twin-turret monitor Chickasaw stationed herself off the beleagered ship's stern, firing her eleven-inch guns "like pocket pistols" and seriously weakening the after end of Tennessee 's armored casemate.
With his flagship unable to fire her guns, steam or steer, and with the collapse of the casemate seemingly imminent, Admiral Buchanan, who had been wounded in the battle, authorized her surrender. The ship's Commanding Officer, Commander James D. Johnston poked a white flag up from the top of the casemate. Firing soon ceased, though USS Ossipee, coming on fast in another ramming attempt and unable to stop in time, struck a post-surrender blow. Federal Navy officers soon took possession of their battered prize, effectively concluding the Battle of Mobile Bay.
This view depicts, none too accurately, the CSS Tennessee in the center at the time she surrendered, surrounded by the Union warships. The latter include (at right) the twin-turret monitors Chickasaw and Winnebago at right. One of the single-turret monitors would be Manhattan . There was no second single-turret monitor present at this stage of the battle. The large ship in the left foreground is presumably USS Hartford . Fort Morgan is shown in the right distance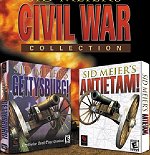 Sid Meier's Civil War Collection
Take command of either Confederate or Union troops and command them to attack from the trees, rally around the general, or do any number of other realistic military actions.
History Channel
Civil War A Nation Divided
Rally the troops and organize a counterattack -- Your strategic decision and talent as a commander will decide if the Union is preserved or if Dixie wins its independence
Enter the keywords you are looking for and the site will be searched and all occurrences of your request will be displayed. You can also enter a date format, April 19,1862 or September 1864.
United States Marines gear history and support of Semper Fi Fund
Sources:
U.S. National Park Service
U.S. Library of Congress
US Naval Archives