Submitted by: Bob Redman
CHRONOLOGY OF THE ARMY OF THE CUMBERLAND


DATE

EVENT

28 May 61
After Ft. Sumter, Robert Anderson takes command of the dept. of Kentucky which is then renamed the dept. of the Cumberland. Anderson asks for Thomas.
15 Sept. 61
Anderson assigns Thomas to take command of Camp Dick Robinson, Ky., the nation's first modern basic training camp.
8 Oct. 61
Reorganization of the Army of the Cumberland under William T. Sherman. Sherman panics, recalls Thomas from East Tennesee, whereupon Union sympathizers hang.
9 Nov. 61
Reorganization under the name Army of the Ohio under Don Carlos Buell.
19 Jan. 62
Battle of Mill Springs, Ky. Thomas defeats George B. Crittenden. First major Union victory of the war. Confederate western theater begins to unravel.
16 Feb. 62
Buell occupies key city of Nashville, Tenn. Remained in Union hands rest of CW.
7 April 62
Buell arrives evening of first day of battle of Shiloh, sees chaos as he has never seen before. Grant is very happy to see him at first. Next day Buell's fresh troops turn the tide. Afterward Grant not so happy that Buell was there.
29 April -
10 June 62
Buell and Thomas participate in Halleck's object lesson on how to conduct a campaign. Few casualties, Beauregard abandons Corinth without an assault, but the Memphis-Lynchburg trunk line is cut. That hurts. Halleck keeps Grant out of trouble.
10 June 62
Thomas, at his own request, turns command of the Army of the Tennessee back to Grant who apparently does not appreciate the gesture.
14-17 Sept. 62
Wilder's artful surrender of Munfordville, Ky. after delaying Buckner for 3 days. "Time is everything" (Sherman, 25 Nov. 63).
23 Sept. 62
Bragg is threatening Louisville, and Halleck thinks Buell is too slow. Thomas turns down offer to succeed Buell. Official Washington shakes head in disbelief.
8 Oct. 62
Battle of Perryville, Ky. Bragg outnumbered attacks a portion of Buell's army, result a draw, Bragg withdraws. Thereafter the Union controls Kentucky.
24 Oct. 62
Creation of the second Dept. of the Cumberland.
30 Oct. 62
William S. Rosecrans takes command of the Army of the Cumberland.
24 Nov. 62 -
10 May 63
Under the pressure from Halleck some intereseted politicians, military Court of Inquiry investigates Buell's conduct of the war in Ky. and Tenn. Accusers remain anonymous, conclusions not published.
31 Dec. 62 -
2 Jan. 63
Battle of Murfreesboro. Bragg attacks first. Thomas commands center which holds. Rosecrans skillfully directs unit movements. Casualties high on both sides, some of Bragg's subordinate commanders don't cooperate. Outcome inconclusive, Bragg withdraws to Tullahoma.
22 June -
29 June 63
Rosecrans opens Tullahoma campaign (an underrated military jewel) with feint of a feint at Bragg's right flank in order to hint at a real feint at Bragg's left flank which is supposed to mask the real thrust under Thomas, and it works!
24 June 63
Wilder's mounted infantry "lightning" brigade armed with repeating Spencers (firepower of a division) secures Hoover's Gap for Thomas's infantry. Hardee, outflanked by what he thinks is an entire army, retreats to Tullahoma without orders.
29 June 63
On the guarded advice of Hardee and Polk, Bragg abandons Tullahoma, retreats to Chattanooga. Union forces advance 100 miles at the cost of 500 casualties.
29 Aug. 63
Rosecrans crosses Tennessee River below Chattanooga.
6 Sept. 63
Rosecrans authorizes George Stearns (wealthy abolitionist) to open a recruitment center for colored troops in Nashville.
8 Sept. 63
Thomas occupies Stevens' and Cooper's Gaps on Lookout Mountain. Outflanked, Bragg withdraws from Chattanooga into Georgia and waits. Almost no casualties.
10-11 Sept. 63
Thomas smells a rat in McLemore's Cove. Local Unionists help him out with timely info about what's lurking behind Pigeon Mountain, namely most of Bragg's army.
19-20 Sept. 63
Battle of Chickamauga. Union right collapses morning of 2nd day. Wilder everywhere until Dana commandeers entire brigade as escort back to Chattanooga. Negley, already ill before the battle, retires to Chattanooga with all of the Union artillery. Thomas on left with 25,000 holds off 60,000 and earns sobriquet "rock". Bragg besieges.
19 Oct. 63
George H. Thomas takes command of the Army of the Cumberland.
23 Oct. 63
Grant arrives in Chattanooga, some say to a frosty welcome.
27 Oct. 63
Hazen floats down Tennessee, takes Brown's Ferry. Longstreet ordered to intervene, does nothing.
28 Oct. 63
Hooker arrives in Lookout Valley. Cracker line now secure.
29 Oct. 63
Longstreet ordered to remove Hooker from valley, disobeys. Instead orders inconclusive night attack with only 1 division against Hooker's rear guard at Wauhatchie. Bragg's left flank now undermined.
5 Nov. 63
Longstreet sent by Davis to Knoxville in order to drive out Burnside and perhaps draw Union forces away from Chattanooga.
15-16 Nov. 63
Sherman in Chattanooga for 2 days, does some hasty reconnaissance of Missionary Ridge. His mind on other matters besides mere details of terrain.
23 Nov. 63
First day of the battles for Chattanooga. Thomas turns an order to do some recon into the general advance on Orchard Knob. Thomas and Grant set up shop there. Grant intimidated, Thomas patient and in control. Grant bides his time.
24 Nov. 63
Hooker takes Lookout Mountain. Clever use of Geary. Outnumbers poorly led defenders, but hard work all the same. Sherman crosses to south bank of Tennessee River facing northern end of Missionary Ridge. Stops way too soon. Grant's battle plan begins to fail.
25 Nov. 63
Sherman's 6 divisions stopped cold by Cleburne's 1 1/2 divisions. Grant's battle plan fails. Hooker gets behind Bragg's left and sows first panic. Thomas storms and takes center. Thomas's battle plan succeeds. After dark Sheridan, hell on pursuit, sends men into a rear guard trap. Impresses Grant.
27 Nov. 63
Hooker rushes into attack against Bragg's rear guard at Ringgold Gap, meets Cleburne. Learns a lesson. Does not impress Grant.
27 Dec. 63
Joseph E. Johnston replaces Bragg as commander of the Army of Tennessee. Orders the largest mass executions of own troops in U.S. history.
31 Dec. 63
Lincoln proposes Thomas's promotion to brig. gen. in regular army. According to Grant this is for Chickamauga (not for Chattanooga). Grant never quits.
Jan.- April 64
Thomas administers Tennessee and begins reconstruction. Stockpiles for coming Atlanta campaign. Grant and Sherman take extended leave, Thomas stays at post.
12 March 64
Lt. Gen. Grant made Gen. in Chief of the Armies of the U.S. Sherman, as a reward for his services at Chattanooga, is named to succeed Grant as commander of the Mil. Div. of the Mississippi, putting him also in charge of the Army of the Cumberland.
7 May 64
Sherman kicks off Atlanta campaign at Dalton, Ga. Thomas with half the forces is the center, McPherson and Schofield command the wings. Thomas will do the staff work for the entire invasion force. Thomas proposes major flanking movement through Snake Creek Gap. Sherman waters it down, sends McPherson who gets cold feet, allows Johnston to disengage and fall back to Resaca, Ga.
13-16 May 64
Johnston at Resaca avoids another flanking movement and retires to Cassville, Ga. Under threat of more flanking movements, he retires to Allatoona, Ga., then to Kennesaw Mountain.
27 May 64
Sherman loses patience after weeks of rain and no forward movement, orders a play up the middle to let Johnston know that Sherman doesn't always make end runs. The frontal attack fails completely. Johnston retires to the Chattahoochie.
4-9 July 64
At the Chattahoochie Sherman outflanks Johnston who retires to Peachtree Creek.
17 July 64
Hood's letter campaign with Davis bears fruit. Hood replaces Johnston.
20 July 64
In his first "sortie" at Peachtree Creek Hood, a slow learner, chooses to attack Thomas of all people. Gets a lesson in the use of artillery and is repulsed with heavy losses. Hooker does some very good work.
22 July 64
In his second sortie (battle of Atlanta), Hood goes after McPherson, still repulsed with disproportionate losses. McPherson killed.
26-31July 64
Sherman sends Stoneman and McCook on raids south to cut Atlanta's one remaining railroad link. Both raids fail.
28 July 64
Battle of Ezra Church (Hood's 3rd sortie). Another attack against a portion of Sherman's stretched out line fails. The siege of Atlanta begins.
31 Aug. -
1 Sept. 64
Desultory battle of Jonesboro south of Atlanta. Sherman rejects Thomas's plan and Hardee escapes. Hood's last railroad line is cut. Hood evacuates Atlanta.
2 Sept. 64
Slocum takes possession of Atlanta. Sherman sends telegram to Lincoln. Church bells ring all over the North. Sherman lets Hood go and occupies Atlanta.
Sept. 64
Forrest goes back to Tennessee, Hood threatens Sherman's railroad connection to Chattanooga, Sherman sends Thomas to deal with Forrest, and Sherman pursues Hood to no avail.
3 Oct. 64
Thomas arrives in Nashville. Begins to create an army almost from scratch.
26 Oct. 64
Sherman gives up trying to catch Hood, divides his army, takes the better part of it (incl. the 14th corps) for himself, and leaves the rest to Thomas.
12 Nov. 64
Sherman cuts his telegraph wire and begins his cakewalk to the sea. Andersonville can wait. Petersburg can wait. Meanwhile Hood moves into Tennessee at a marching rate 6 times faster than that of Sherman, but then Sherman's army is pretty busy. As Hood moves north and his objective becomes clear, Thomas concentrates his forces in Nashville.
28 Nov. 64
Schofield gets complacent in Columbia, Tenn. Hood fords Duck River and gets around him. Hood sees himself following in Lee's footsteps.
29 Nov. 64
Schofield marches past Hood's army at Spring Hill while Hood sleeps.
30 Nov. 64
Schofield entrenches in Franklin while preparing his withdrawal to Nashville and safety. Late that afternoon Hood sends his army on a morale bracing frontal attack against Schofield's works south of the town. While Hood lies down to rest, his army is very roughly handled for 6 whole hours. Schofield escapes.
1 Dec. 64
Hood arrives at Nashville and decides to wait and see what happens. Still a slow learner. Two weeks pass while Thomas assembles, oils, and finally rolls out the machine which will disperse the Army of Tennessee for good.
2 Dec. 64
Grant, in collusion with Schofield, starts his telegram campaign to force Thomas into action, any old action which will damage Hood's army. Does not want Thomas to garner another signal victory, does not particularly care how many casualties Thomas suffers. Really wants to get rid of Thomas, but Lincoln and Stanton toss the decision in his lap. Grant would rather not take the responsibility by himself for the removal. Is about to leave for Nashville in order to salvage his situation when the news of Thomas's attack arrives. Grant cancels trip. Begins to rewrite history of the battle.
15-16 Dec. 64
Battle of Nashville. Colored troops pin down Cheatham on first day. On second day Wilson's 9,000 dismounting cavalrymen armed with repeating Spencers and the firepower of at least 4 infantry divisions places itself well behind Hood's left flank. Hood's army disintegrates. Thomas pursues for 1 month. War over for the AoT. Sam Watkins goes home and writes a book.
22 March -
22 April 65
Wilson conducts a large scale mounted raid to Selma, Ala. Troops relatively disciplined. Beats Forrest at his own game.
10 May 65
Wilson under Thomas's command captures Jefferson Davis.
24 May 65
Thomas's troops are the last to pass by President Johnson during the final grand review. As the 14th corps passes the reviewing stand, Thomas is heard to say: "These men made me." The Army of the Cumberland is history.

Copyright © Sept. 2000 Robert T. Redman AOTC.NET

..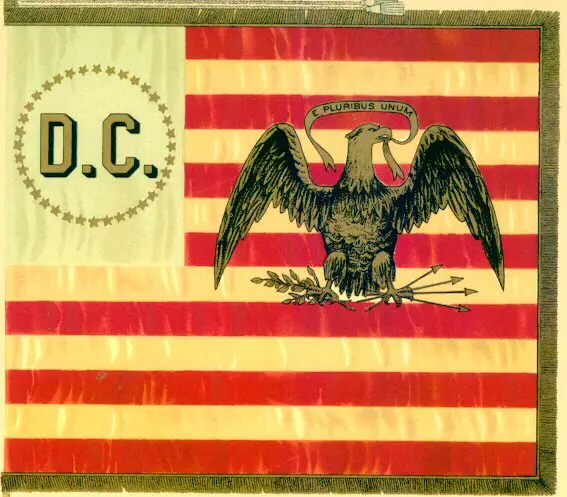 Flag of 14th corps