American Civil War
Soldier Letters Home
Soldiers' Letters
Dear Mother and Father,

I am still in the land of the living...
Soldiers wrote many letters during the war and we are lucky that so many of them have been preserved. When a historian reads those letters, he can get an idea of what the soldiers were like and what they thought of while they were away from home. Letter writing was the main form of communication with loved ones at home and letter writing helped to relieve boredom. Almost all soldiers begged for their parents, friends, wives and sweethearts to write back right away as there were few pleasures greater than receiving mail from home.Civil War soldiers missed many of the special things they took for granted while at home, especially home cooked food. Families packed boxes with a soldier's favorite food like pies and cakes that he could not get while in the army and it was a special day when such a package from home arrived in camp.
To write their letters home, soldiers purchased paper, envelopes, ink and pens from sutlers. Stationary makers printed many styles of patriotic stationary and envelopes with engravings of camp scenes or political humor and these were quite popular among soldiers.
| | |
| --- | --- |
| Envelopes, also known as "covers", with elaborate printed patriotic scenes or political statements were some of the most popular to use. Some enterprising businessmen manufactured envelopes for specific regiments serving in the army, such this one to the 99th Pennsylvania Infantry, which lists all of the battles in which the regiment had participated during its service to 1864. | (Collection of Gettysburg NMP) |
The Union Army had a post office near forts and camps, and a mail service that followed the armies for the men could purchase stamps and mail their letters. Later in the war, organizations such as the U.S. Christian Commission and U.S. Sanitary Commission gave out paper and envelopes to Union soldiers free of charge. In 1864, the U.S. Mail Service announced that Union soldiers could send their letters home for free as long as they wrote "Soldier's Letter" on the outside of the envelope. Confederate soldiers never had such a luxury. Shortages of paper, stamps, and even writing utensils in the South became acute as the war progressed and it was often left up to the soldiers to find writing paper, including stationary taken from Union prisoners.
Almost every soldier in service made an effort to write letters home to describe their experiences, give their opinions on local matters and politics, and to assure their families not to worry. But not all soldiers could write very well or spell words properly. Rural education in America was not like it is today and most Civil War soldiers only had an education up to the fourth grade level. Many young men from rural areas had never attended school and could neither read nor write so they asked comrades to write letters for them. Poor education led to many words being mispelled or sentences left incomplete. Soldiers sometimes spelled words as they heard them- "raison" for reason, "horspitle" for hospital, "rafel" for rifle. Here is a portion of a letter written by Francis Russell, a Union soldier from the 140th Pennsylvania Infantry, with some of these misspellings:
Washington City, D. C.
Sunday, Dec. 14th 1862
Dear Mother and family.
I will take the pensil to let you know we are all well. At present hoping this will find you in the same. we let White Hall Station on Thursday about 4 Clock in the afternoon and got into Washington about 4 oclock in the morning on Friday whitch maid about 12 hours on the way, we then stay ther untill yesterday when we had orders to march about 6.5 miles and when I heard this I went to the head doctor ast him what I would do for I know that I could not carry my knapsack, so he told me that I would have to stay hear and so all them that could not stand the march was sent to the hospitle. Ther was 10 out of our Companny and that was myself and a nother young man, we did not hear the name of the place that they wer going to, but both James and Bob said that they would wright as soon as they wer sitteled that is they would wright home to you, ther is abut 50 sick and wounded in the department that I am in, I think that I will not be in hear very long, for I will try and get eather home or get to my Regiment for I don't like this very well, it is not because I am not treated well for it is six times better than I expected but I canot be contented a way from my companny, my arm is about the same, I wright this mearley to let you know something about myselve for I canot say anything about the others now but I will have to stope so no more at present but reman your son and Brother.
Francis M. Russell
Address your letter to Stanton Hosepittle, Washington City. C.C.
I wish you would send me some postige stamps as we have not got paid yet, my money has run ashore and I want to wright some and so on.
Yours, F. M. R.
(Gregory A. Coco Collection, Gettysburg National Military Park)
Sometimes soldiers described battles, but more often they wrote about their daily existence and desire to be at home. Confederate soldier John Sweet of the 9th Tennessee Infantry wrote home to his parents in November 1863 from siege lines overlooking Union troops at Chattanooga, Tennessee:
We have just returned from a trip into East Tenn where we got big amounts of everything to eat and everything we eat is so good to me as I had been starved out so long on some bread & beef, all that we got while we were here besieging Chattanooga. up there we got sweet and Irish potatoes, chickens, molassas, wheat bread and everything that was good for a poor soldier. Oh, how I do wish that I could be at home now, for it is getting late in the evening and I have had nothing to eat since breakfast and no telling when we will get rations for our rations are out, since we left our ration wagons behind in coming here to this place, for I know you have all had a good & plentiful dinner. I know you will say poor John, but this is only a chapter in military service which we often read, but I am content and will be more so when we get rations. The independence of the bounty is what I want and I am I am willing to suffer for something to eat many, many days if it will only send me to my dear parents, a full and independent boy.
The enemy still holds their position in Chattanooga and our lines drawn up close around the place. We are now on the top of Lookout Mountain overlooking the town. We have a fine view of our entire line and also of theirs. It is said that we can see into five different states from our position. It is very cold up here, as cold as it is where you are in mid-winter. You must excuse this exceedingly bad letter as I have written in great haste. My love to you and all. Write when you can and a long letter as I am very anxious to hear from you.
John H. Sweet
(Gregory A. Coco Collection, Gettysburg National Military Park)
---

Soldiers in every war our nation has fought in have written home from the battle front. As you can see, soldiers wrote many letters throughout the Civil War, sometimes telling their friends and people at home information that the military wanted to be kept secret. It was soon after America's entry into World War I that soldiers' letters were censored by army officials who cut out parts of letters which may give away military secrets or, if the letters fell into the wrong hands, would provide pertinent information on troop locations. Censorship reached a new height during World War II. GI's could only write in generalities and not refer to their location or unit. Even the "XXXXX"'s for love and kisses would be cut out of the letter, as it might be mistaken for some sort of code! During the Vietnam conflict, soldier's letters were not as heavily censored and the soldiers wrote home about their experiences, their friends, and what they had seen.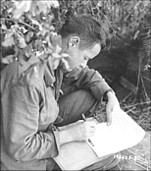 A soldier writes home from France in 1944.
(Courtesy 2nd Infantry Div.)
Civil War soldiers always looked forward to the arrival of packages from home usually filled with clothing items, candies, soap and writing paper. Fifty years later during World War I, preservatives allowed the home folks to ship baked goods and packaged food items to the doughboys in France. Speedy mail service improved and by World War II, a package containing fudge, pictures, toiletry items, cookies, and other favorite things could arrive in Europe from America within three weeks. It was during World War II that soldiers could send "V-Mail", an electronic telegram- very much the forerunner of today's e-mail. Mail service was even faster by the 1960's during the Vietnam Conflict when mail time had been reduced to only a few days. A soldier may receive a letter or package which would include magazines, photos, snacks and food items such as a package of cheese and crackers from "Hickory Farms". Some soldiers even received small plastic Christmas trees during the holidays to decorate their bunkers. During the Gulf War in 1991, US Soldiers in Saudi Arabia received packages from home. One soldier received a birthday cake sent from the United States within 28 hours of it being shipped! And instead of writing letters, most of the soldiers phoned home or sent e-mail messages. Our soldiers on duty in Afghanistan, Iraq and in other countries communicate with their homes by e-mail, the modern form of letter writing.

Kids Zone Exhibits
Ships and Naval Battles
Civil War Summary
Civil War Cooking
Civil War Exhibits
Women in the War
Timeline of the Civil War


Allen Jay and the Underground Railroad
Allen Jay and the Underground Railroad is the retelling of a man's recollections of his first experience helping an escaped slave. The book brings the underground railroad down to the level primary students can comprehend. This book makes for wonderful discussions regarding overcoming one's fears, going against the norm and doing what you believe to be morally correct.
Kindle Available

The Glory Cloak: A Novel of Louisa May Alcott and Clara Barton
From childhood, Susan Gray and her cousin Louisa May Alcott have shared a safe, insular world of outdoor adventures and grand amateur theater -- a world that begins to evaporate with the outbreak of the Civil War. Frustrated with sewing uniforms and wrapping bandages, the two women journey to Washington, D.C.'s Union Hospital to volunteer as nurses.

Clara Barton Founder of the American Red Cross
Young Clara Barton is shy and lonely in her early days at boarding school. She is snubbed by the other girls because she doesn't know how to talk to them. But when she gets an opportunity to assist the local doctor, her shyness disappears, and Clara begins to discover her true calling as a nurse.
Kindle Available

Civil War Days: Discover the Past with Exciting Projects, Games, Activities, and Recipes
Dozens of projects and activities that will take you back to the days of the American Civil War Travel back to 1862 and spend a year with the Wheelers, an African American family in New York City, and the Parkhursts, a white family in Charleston, South Carolina, Eleven-year-old Emily Parkhurst and twelve-year-old Timothy Wheeler are eager to share the fun, adventure, and hard work of their daily lives. Along the way, they'll show you how to play the games they play and make the toys and crafts they make.
Kindle Available

Civil War on Sunday
Mary Pope Osborne's tremendously popular Magic Tree House series launches into a new realm, as Jack and Annie are challenged to save Camelot. Young readers will effortlessly learn the basics of Civil War history, while losing themselves in another gripping tale that has turned many a nonreader into a bookworm. (Ages 5 to 8)

Clara Barton: Spirit of the American Red Cross
Ready To Read - Level Three
Clara Barton was very shy and sensitive, and not always sure of herself. But her fighting spirit and desire to help others drove her to become one of the world's most famous humanitarians. Learn all about the life of the woman who formed the American Red Cross.
Kindle Available

The Civil War for Kids
History explodes in this activity guide spanning the turmoil preceding secession, the first shots fired at Fort Sumter, the fierce battles on land and sea, and finally the Confederate surrender at Appomattox. Making butternut dye for a Rebel uniform, learning drills and signals with flags, decoding wigwag, baking hardtack, reenacting battles, and making a medicine kit bring this pivotal period in our nation's history to life.

Eye Witness Civil War
Eyewitness Civil War includes everything from the issues that divided the country, to the battles that shaped the conflict, to the birth of the reunited states. Rich, full-color photographs of rare documents, powerful weapons, and priceless artifacts plus stunning images of legendary commanders, unsung heroes, and memorable heroines

If You Lived at the Time of the Civil War
All of the "If you Lived at the Time of..." books are great for kids, and also a nice, quick read for adults! What I like about them is their layout, which is easy for readers to follow. Each page begins with a question, "Would you have seen a battle in the South?" for example. Nicely drawn illustrations accompany each answer.

Day Of Tears
Through flashbacks and flash-forwards, and shifting first-person points of view, readers will travel with Emma and others through time and place, and come to understand that every decision has its consequences, and final judgment is passed down not by man, but by his maker.
Kindle Available

The Civil War
Introduces young readers to the harrowing true story of the American Civil War and its immediate aftermath. A surprisingly detailed battle-by-battle account of America's deadliest conflict ensues, culminating in the restoration of the Union followed by the tragic assassination of President Lincoln

The Boys War
With the many boys who fought in the civil war most of them lied about their age. A lot of them wrote letters or had a diary. Johnny Clem had run away from his home at 11. At age 12 he tried to enlist but they refused to let him join because he was clearly too young. The next day he came back to join as a drummer boy.

The Journal of James Edmond Pease: A Civil War Union Soldier, Virginia, 1863
James was only 15 when he joined, but he was able to get in. Nobody really liked him cause he was unlucky. One day in the confusion he charged ahead of his company and scared off all the Confederates single handed. After that, he became well liked by most people and soon rose Corporal. He showed his bravery when he spent a week in enemy territory. By the end of the war he rose up to Second Lieutenant.

Night Boat To Freedom
Night Boat to Freedom is a wonderful story about the Underground Railroad, as told from the point of view of two "ordinary" people who made it possible. Beyond that, it is a story about dignity and courage, and a devotion to the ideal of freedom.

Behind the Blue and Gray
The Soldier's Life in the Civil War
Civil War reading can be very dry, but not this book. Delia Ray takes us on a soldiers journey beginning with enlistment and ending with a soldiers life after the war, using quotes from actual letters and diaries strategically placed throughout the book.

Grace's Letter to Lincoln
Many important details of the time period help to make the reader understand what life was like then. It also includes photos of the actual letters written between Grace and Mr. Lincoln

Bad Blood: The Border War That Triggered the Civil War
In the years leading up to the Civil War, a bloody conflict between slaveholders and abolitionists focused the nation's eyes on the state of Missouri and the territory of Kansas. Told through the actual words of slave owners, free-staters, border ruffians, and politicians, Bad Blood presents the complex morality, differing values, and life-and-death decisions faced by those who lived on the Missouri-Kansas border

Long Road Back to Kentucky:
The 1862 Confederate Invasion
The often-overlooked Western campaign of the war with a specific emphasis on Kentucky's involvement in the American Civil War.

History's Mysteries: Family Feud:
The Hatfields And McCoys
Millions of dollars worth of timber and coal rich land were at stake, the courts were involved and once the national press got wind of what was happening, the backwoods folk found that their fight was being followed nationwide

The Civil War - A Film by Ken Burns
Here is the saga of celebrated generals and ordinary soldiers, a heroic and transcendent president and a country that had to divide itself in two in order to become one

Rebel Sabres / The Battle of Brandy Station 1863
Through dramatic reconstructions and eye-witness accounts, this documentary explores the 1863 Battle Of Brandy Station.

Women And The Civil War
The many contributions of women in both the North and South are presented in this program describing their roles on and near the momentous battles of the American Civil War

Biography - Abraham Lincoln
Preserving the Union
Abe Lincoln's presidency in detail. The emotional tragedy and the humorus side of the man. His thoughts on the early commanders and dicussions with Historians. Pictures and details hard to find in other historical documentaries.

American Experience - Abraham and Mary Lincoln: A House Divided
Abraham Lincoln's legacy as the Great Emancipator reshaped the nation while his tragic death left Mary reclusive and forgotten.

Civil War Musket
Wood & Steel Frontier Rifle Designed After The Original Rifle,
This Civil War Musket replica has been designed after the original rifle of its era. Measures approximately 37 inches long. Each is constructed with a solid one-piece wood stock, painted steel barrel and die-cast parts.

Civil War Cannon
Collectible Models and childrens playsets
Miniature Collectible Civil War Cannon12 pound Civil War field cannon replica weapon collectible is a detailed 1/12th scale military caisson replica weapon collectible as used throughout the Civil War
Childrens Cannon Set. Includes 6 gray cannon with black wheels that measure 4.5 inches long

Professor Noggin's Civil War Trivia Game

The History Card Game Thats Won a Dozen Awards
32 sturdy cards with trivia, true/false and multiple-choice questions
Memory retention
A teachers favorite


Civil War Soldier 102 Piece Playset

25 Union and 25 Confederate Soldier Figures, 18 Horses, 10 Cannon
2 Covered Wagons, 2 Tents, 2 Canoes, 2 Flags, 16 Fences
Size: Figures Stand up to 2-1/8 inches tall
Scale: 1/32nd, Wagons and Horses slightly smaller


American Civil War Poker Playing Cards
Playing Cards commenmorating the AMERICAN CIVIL WAR, featuring great portraits of statesmen, generals and fighting men, as well as graphics scenes of battle in color. Evocative images from the Library of Congress are featured on all 54 cards

20 piece Civil War Artillery Playset
Civil War Artillery Set: 20 piece set includes 12 Artillery Crew Figures in Blue and Gray that stand up to 58mm tall, 4 Parrott Rifle Gun Cannon about 4 inches long, and 4 Cannonball stacks

Civil War Figures by IMEX
1/72 Scale. American Civil War Union and Confederate Artillery, Cavalry, and Infantry Set with Base, produced by IMEX. Finely detailed parts are molded in gray (Confederate) and bright blue (Union).

House Divided Board Game

2-player board game

Takes about an hour to play

160 thick and large colorful playing pieces which represent the Armies

Great for Civil War buffs

Beautiful components


Robert E Lee CSA
12 inch Action Figure by Dragon


Civil War Nurse Barbie
Part of the American Stories Collection. She comes with her own storybook and wears a costume of the times. Go back to Gettysburg, (1863), where Barbie tends to the wounded soldiers. She comes with a nurse's cape, cap, bag, stand and small storybook.

Civil War chess set
Painted civil war chess set. Dimensions: Chess set pieces: 3-1/4" King's; 1-1/8" bases

Civil War Union Cavalry: 25 Piece Set

13 Union Soldier Figures

11 Brown Horses 2-5/8 inches tall

1 White Horse Laying Down

Scale: Approximately 1/32nd

Packaging: Plastic Bag with Header Card
National Park Service
Gettysburg National Military Park
97 Taneytown Road
Gettysburg, PA 17325