Soldiers' Letters
Dear Mother and Father,

I am still in the land of the living...
Soldiers wrote many letters during the war and we are lucky that so many of them have been preserved. When a historian reads those letters, he can get an idea of what the soldiers were like and what they thought of while they were away from home. Letter writing was the main form of communication with loved ones at home and letter writing helped to relieve boredom. Almost all soldiers begged for their parents, friends, wives and sweethearts to write back right away as there were few pleasures greater than receiving mail from home.Civil War soldiers missed many of the special things they took for granted while at home, especially home cooked food. Families packed boxes with a soldier's favorite food like pies and cakes that he could not get while in the army and it was a special day when such a package from home arrived in camp.
To write their letters home, soldiers purchased paper, envelopes, ink and pens from sutlers. Stationary makers printed many styles of patriotic stationary and envelopes with engravings of camp scenes or political humor and these were quite popular among soldiers.
| | |
| --- | --- |
| Envelopes, also known as "covers", with elaborate printed patriotic scenes or political statements were some of the most popular to use. Some enterprising businessmen manufactured envelopes for specific regiments serving in the army, such this one to the 99th Pennsylvania Infantry, which lists all of the battles in which the regiment had participated during its service to 1864. | (Collection of Gettysburg NMP) |
The Union Army had a post office near forts and camps, and a mail service that followed the armies for the men could purchase stamps and mail their letters. Later in the war, organizations such as the U.S. Christian Commission and U.S. Sanitary Commission gave out paper and envelopes to Union soldiers free of charge. In 1864, the U.S. Mail Service announced that Union soldiers could send their letters home for free as long as they wrote "Soldier's Letter" on the outside of the envelope. Confederate soldiers never had such a luxury. Shortages of paper, stamps, and even writing utensils in the South became acute as the war progressed and it was often left up to the soldiers to find writing paper, including stationary taken from Union prisoners.
Almost every soldier in service made an effort to write letters home to describe their experiences, give their opinions on local matters and politics, and to assure their families not to worry. But not all soldiers could write very well or spell words properly. Rural education in America was not like it is today and most Civil War soldiers only had an education up to the fourth grade level. Many young men from rural areas had never attended school and could neither read nor write so they asked comrades to write letters for them. Poor education led to many words being mispelled or sentences left incomplete. Soldiers sometimes spelled words as they heard them- "raison" for reason, "horspitle" for hospital, "rafel" for rifle. Here is a portion of a letter written by Francis Russell, a Union soldier from the 140th Pennsylvania Infantry, with some of these misspellings:
Washington City, D. C.
Sunday, Dec. 14th 1862
Dear Mother and family.
I will take the pensil to let you know we are all well. At present hoping this will find you in the same. we let White Hall Station on Thursday about 4 Clock in the afternoon and got into Washington about 4 oclock in the morning on Friday whitch maid about 12 hours on the way, we then stay ther untill yesterday when we had orders to march about 6.5 miles and when I heard this I went to the head doctor ast him what I would do for I know that I could not carry my knapsack, so he told me that I would have to stay hear and so all them that could not stand the march was sent to the hospitle. Ther was 10 out of our Companny and that was myself and a nother young man, we did not hear the name of the place that they wer going to, but both James and Bob said that they would wright as soon as they wer sitteled that is they would wright home to you, ther is abut 50 sick and wounded in the department that I am in, I think that I will not be in hear very long, for I will try and get eather home or get to my Regiment for I don't like this very well, it is not because I am not treated well for it is six times better than I expected but I canot be contented a way from my companny, my arm is about the same, I wright this mearley to let you know something about myselve for I canot say anything about the others now but I will have to stope so no more at present but reman your son and Brother.
Francis M. Russell
Address your letter to Stanton Hosepittle, Washington City. C.C.
I wish you would send me some postige stamps as we have not got paid yet, my money has run ashore and I want to wright some and so on.
Yours, F. M. R.
(Gregory A. Coco Collection, Gettysburg National Military Park)
Sometimes soldiers described battles, but more often they wrote about their daily existence and desire to be at home. Confederate soldier John Sweet of the 9th Tennessee Infantry wrote home to his parents in November 1863 from siege lines overlooking Union troops at Chattanooga, Tennessee:
We have just returned from a trip into East Tenn where we got big amounts of everything to eat and everything we eat is so good to me as I had been starved out so long on some bread & beef, all that we got while we were here besieging Chattanooga. up there we got sweet and Irish potatoes, chickens, molassas, wheat bread and everything that was good for a poor soldier. Oh, how I do wish that I could be at home now, for it is getting late in the evening and I have had nothing to eat since breakfast and no telling when we will get rations for our rations are out, since we left our ration wagons behind in coming here to this place, for I know you have all had a good & plentiful dinner. I know you will say poor John, but this is only a chapter in military service which we often read, but I am content and will be more so when we get rations. The independence of the bounty is what I want and I am I am willing to suffer for something to eat many, many days if it will only send me to my dear parents, a full and independent boy.
The enemy still holds their position in Chattanooga and our lines drawn up close around the place. We are now on the top of Lookout Mountain overlooking the town. We have a fine view of our entire line and also of theirs. It is said that we can see into five different states from our position. It is very cold up here, as cold as it is where you are in mid-winter. You must excuse this exceedingly bad letter as I have written in great haste. My love to you and all. Write when you can and a long letter as I am very anxious to hear from you.
John H. Sweet
(Gregory A. Coco Collection, Gettysburg National Military Park)
---

Soldiers in every war our nation has fought in have written home from the battle front. As you can see, soldiers wrote many letters throughout the Civil War, sometimes telling their friends and people at home information that the military wanted to be kept secret. It was soon after America's entry into World War I that soldiers' letters were censored by army officials who cut out parts of letters which may give away military secrets or, if the letters fell into the wrong hands, would provide pertinent information on troop locations. Censorship reached a new height during World War II. GI's could only write in generalities and not refer to their location or unit. Even the "XXXXX"'s for love and kisses would be cut out of the letter, as it might be mistaken for some sort of code! During the Vietnam conflict, soldier's letters were not as heavily censored and the soldiers wrote home about their experiences, their friends, and what they had seen.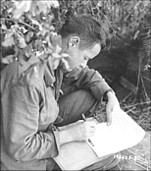 A soldier writes home from France in 1944.
(Courtesy 2nd Infantry Div.)
Civil War soldiers always looked forward to the arrival of packages from home usually filled with clothing items, candies, soap and writing paper. Fifty years later during World War I, preservatives allowed the home folks to ship baked goods and packaged food items to the doughboys in France. Speedy mail service improved and by World War II, a package containing fudge, pictures, toiletry items, cookies, and other favorite things could arrive in Europe from America within three weeks. It was during World War II that soldiers could send "V-Mail", an electronic telegram- very much the forerunner of today's e-mail. Mail service was even faster by the 1960's during the Vietnam Conflict when mail time had been reduced to only a few days. A soldier may receive a letter or package which would include magazines, photos, snacks and food items such as a package of cheese and crackers from "Hickory Farms". Some soldiers even received small plastic Christmas trees during the holidays to decorate their bunkers. During the Gulf War in 1991, US Soldiers in Saudi Arabia received packages from home. One soldier received a birthday cake sent from the United States within 28 hours of it being shipped! And instead of writing letters, most of the soldiers phoned home or sent e-mail messages. Our soldiers on duty in Afghanistan, Iraq and in other countries communicate with their homes by e-mail, the modern form of letter writing.