Kindle Available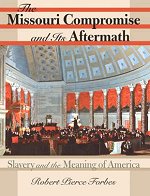 The Missouri Compromise and Its Aftermath: Slavery and the Meaning of America
Go behind the scenes of the crucial Missouri Compromise, the most important sectional crisis before the Civil War, the high-level deal-making, diplomacy, and deception that defused the crisis.



The Robert E Lee
Family Slaves
On January 29, 1850, the 70-year-old Henry Clay, U.S. senator from Kentucky, presented a compromise. For eight months members of Congress, led by Clay, Daniel Webster, Senator from Massachusetts, and John C. Calhoun, senator from South Carolina, debated the compromise. With the help of Stephen Douglas, a young Democrat from Illinois, a series of bills that would make up the compromise were ushered through Congress.

According to the compromise, Texas would relinquish the land in dispute but, in compensation, be given 10 million dollars -- money it would use to pay off its debt to Mexico. Also, the territories of New Mexico, Nevada, Arizona, and Utah would be organized without mention of slavery. (The decision would be made by the territories' inhabitants later, when they applied for statehood.) Regarding Washington, the slave trade would be abolished in the District of Columbia, although slavery would still be permitted. Finally, California would be admitted as a free state. To pacify slave-state politicians, who would have objected to the imbalance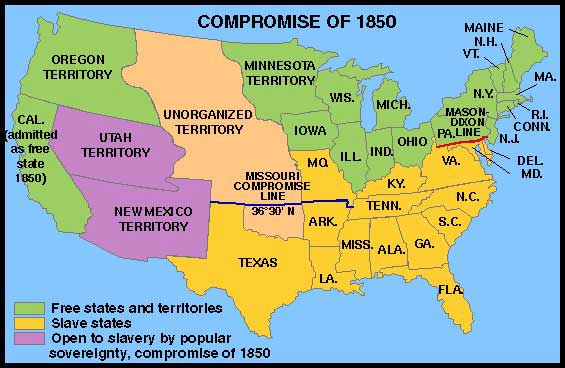 created by adding another free state, the Fugitive Slave Act was passed.

Of all the bills that made up the Compromise of 1850, the Fugitive Slave Act was the most controversial. It required citizens to assist in the recovery of fugitive slaves. It denied a fugitive's right to a jury trial. (Cases would instead be handled by special commisioners -- commisioners who would be paid $5 if an alleged fugitive were released and $10 if he or she were sent away with the claimant.) The act called for changes in filing for a claim, making the process easier for slaveowners. Also, according to the act, there would be more federal officials responsible for enforcing the law.

For slaves attempting to build lives in the North, the new law was disaster. Many left their homes and fled to Canada. During the next ten years, an estimated 20,000 blacks moved to the neighboring country. For Harriet Jacobs, a fugitive living in New York, passage of the law was "the beginning of a reign of terror to the colored population." She stayed put, even after learning that slave catchers were hired to track her down. Anthony Burns, a fugitive living in Boston, was one of many who were captured and returned to slavery. Free blacks, too, were captured and sent to the South. With no legal right to plead their cases, they were completely defenseless.

Passage of the Fugitive Slave Act made abolitionists all the more resolved to put an end to slavery. The Underground Railroad became more active, reaching its peak between 1850 and 1860. The act also brought the subject of slavery before the nation. Many who had previously been ambivalent about slavery now took a definitive stance against the institution.

The Compromise of 1850 accomplished what it set out to do -- it kept the nation united -- but the solution was only temporary. Over the following decade the country's citizens became further divided over the issue of slavery. The rift would continue to grow until the nation itself divided.