CIVIL WAR FRUIT CAKE
Boil for 5 minutes and then let cool: 3 c. raisins 2 c. granulated sugar 2 c. water 2 tbsp. butter or Crisco

Sift together and add to cooled mixture: 2 tsp. baking soda 1 tsp. cinnamon 1 tsp. salt 1 tsp. nutmeg 1 tsp. ground cloves

Mix and then add 1 cup chopped black walnuts. Bake in a well greased angel food or loaf pan for 1 hour at 300 degrees. This cake was developed during the Civil War when fancier fruits were rare.
Civil War Fruit Cake
Combine in a large saucepan:
3 medium apples, peeled and diced
2 cups raisins
2 cups water
1 cup white sugar
1 cup brown sugar
2 tablespoons lard or shortening Cook together for five minutes.
Remove from heat and cool thoroughly. Sift together into a large mixing bowl: 3 cup flour
2 teaspoon soda
1 teaspoon salt
1 teaspoon ground cloves
1 teaspoon ground nutmeg
1 teaspoon ground cinnamon Add apple-raisin mixture and stir thoroughly.
Add 1 cup chopped nuts.
Pour into a greased and lined tube cake pan.
Bake at 350 about and hour or until done. This is the original recipe.
If you use self-rising flour, omit salt and soda.
Also omit sugar if you use 1 cup molasses.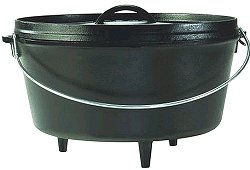 Lodge Camp Dutch Oven
The legs are for ease of use in campfires. Flanged lid to place coals on top of oven. Great for stews, chilli, roasts complete recipes for everything including old-fashioned bread. A must for reenactors villages.

Civil War Soup Recipes