CSS Governor Moore (1862)
CSS Governor Moore , a 1215-ton side-wheel "cotton-clad" ram, was originally the civilian steamship Charles Morgan , which had been built at New York in 1854. Seized at New Orleans in January 1862, she was converted to a warship by the State of Louisiana and attached to the Confederacy's Mississippi River Defense Fleet.
During the night battle off Forts Jackson and St. Philip, below New Orleans on 24 April 1862, she twice rammed the Federal gunboat Varuna , an assault which, with the support of CSS Stonewall Jackson , sank the Varuna . Governor Moore then attacked USS Cayuga but was badly battered by gunfire from the Federal fleet. She lost a large number of her crew and went ashore, where she was burned to avoid capture.
"Fight between the 'Varuna' and the 'Governor Moore'."
Line engraving published in "Harper's Weekly", 1862, depicting USS Varuna sinking at right, after she was rammed by CSS Governor Moore during the battle off Forts Jackson and St. Philip, 24 April 1862.
The Governor Moore is shown at left, beached and burning after being severely damaged by the Union fleet.




Ironclad of the Roanoke
Gilbert Elliott's Albemarle
The story of a Confederate Ironcald that was a powerful force until sunk by a Union Torpedo Boat after its brief stormy life. Ironic in the fact it was built in a Cornfield. Confederate Ingenunity at it finest!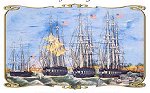 The Civil War on Hatteras Island North Carolina
New light on the experiences of Civil War soldiers stationed on the Outer Banks. It follows the crucial maritime battles along the Outer Banks and the famous Burnsides Expedition. Aa fascinating history of how one of America's most treasured islands played a significant part in the Civil War