USS Flag (1861-1865).
Originally the Civilian steamship Phineas Sprague (1857)
In April 1861 the Navy purchased the 938-ton (burden) screw steamship Phineas Sprague , which had been built at Philadelphia, Pennsylvania, in 1857. Converted to a gunboat and renamed Flag , she was commissioned in late May to take part in the war to subdue the rebellious southern states.
USS Flag spent her Civil War career blockading the coasts of South Carolina, Georgia and eastern Florida, participating in the capture or destruction of several would-be blockade runners, among them three steamers. She also was involved in several operations against enemy shore positions, including the occupation of Tybee Island, Georgia, in November 1861, the capture of Fernandina, Florida, in March 1862 and operations against the fortifications protecting Charleston, South Carolina, in 1863.
USS Flag was decommissioned in February 1865 and was sold in July 1865. Thereafter, she was the civilian steamship Flag . She was broken up in 1876.

Watercolor by Erik Heyl, 1951, painted for use in his book "Early American Steamers", Volume I.
Built at Philadelphia, Pennsylvania, in 1857, this steamer served as USS Flag during the Civil War and was the SS Flag after 1865.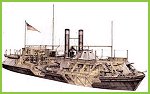 Union River Ironclad 1861-65
At the start of the American Civil War, neither side had warships on the Mississippi River. In what would prove the vital naval campaign of the war, both sides fought for control of the river. While the Confederates relied on field fortifications and small gunboats, the Union built a series of revolutionary river ironclads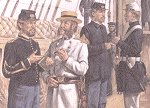 American Civil War Marines 1861-65
Marines wearing blue and grey fought in many dramatic actions afloat and ashore – ship-to-ship engagements, cutting-out expeditions, and coastal landings.