With both micro and macro settings, this microscope lets you see everything from butterfly wings to plant cell walls.
Features:
Kid-friendly microscope with real power
Both micro and macro settings
Explore objects from 40 to 400 times their actual size
Super-clear images at every level
Pivoting die-cast metal base with high-impact plastic body
Soft textured handgrips
Flexible, 360-degree rotating eyepiece
Precision ground metal lenses with optical quality glass
Lenses are interchangeable with most standard, research-quality microscopes
Independent light source focuses beam on (or through) the specimen
Lens bulbs are easy to replace
2 month manufacturer's warranty
Includes:
Five vials of remarkable specimens to examine
Five prepared slides: two insect cross sections, two plant cross-sections and one slide with a real 900-year old, Peruvian mummy wrap!
Tweezers
Eye-dropper
Measuring beaker
Spoon
Blank slides for collecting your own specimens
Experiment booklet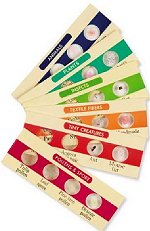 Learning Resources Prepared Slides Combination Set, 48 Specimens
Wing of Locust, Hair of Dog... A recipe from the Elizabethan Cable Food Network? No, just a couple of samples from our collection of (48) specimens preserved for your classroom examination, with (4) well-labeled specimens on each of (12) standard-size slides.

You get animal, plant, insect, textile, and pollen and spore specimens, including camel hair, camellia leaf, plant louse, fruit fly, fern spore, bee wing, nylon, wool, lily pollen, bamboo shoot, goldfish scale, and three dozen more, including our homonymic favorite, hare hair.

Grades three and up.