Richmond Virginia Vicinity
Confederate Civil War Map
Prepared by Confederate engineers under the direction of Capt. Albert H. Campbell, this 1864 field map provides detailed geographic information about Richmond, Virginia, and vicinity, including that portion of the Lower Peninsula as far east as Williamsburg. Although this map's primary purpose was documenting military reconnaissance (especially topography), the transportation network, and fortifications, it also provides detailed information about the cultural settlement patterns. The most obvious settlement features depicted are the numerous plantations and farms. Depictions of these plantations include notations indicating the location of "quarters" and "overseer." But more remarkable are numerous references to free black settlements.
Click to enlarge Map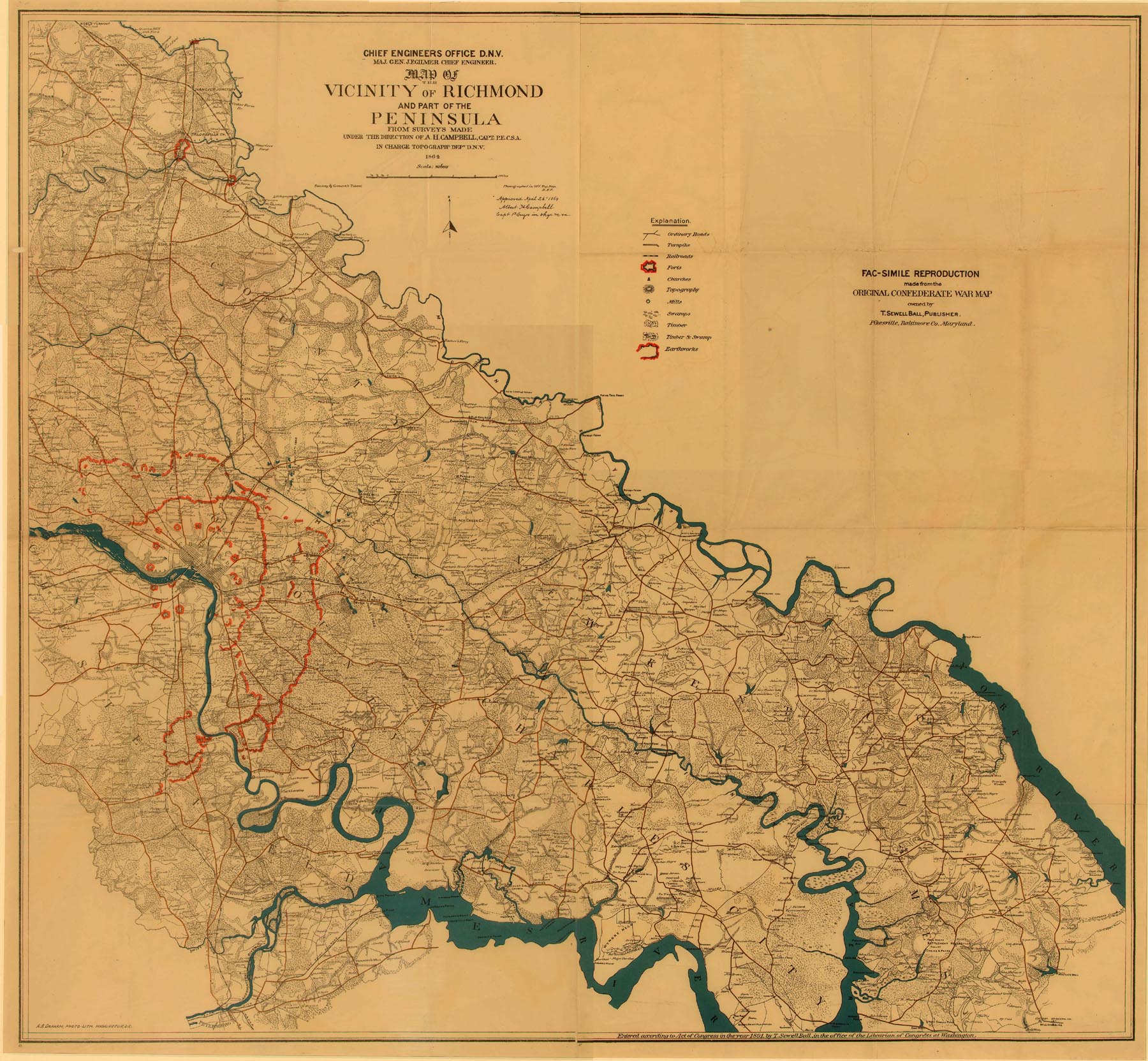 American Civil War Exhibits
Civil War Maps
Navy Ships and Battles
Civil War Campaigns
Summary of the Civil War
Civil War Timeline
Women in the War
Colored Troops
Dred Scott
Civil War DVDs
Frederick Douglass



To The Gates of Richmond
The Peninsula Campaign
For three months General McClellan battled his way toward Richmond, but then CSA General Lee took command of the Confederate forces. In seven days, Lee drove the cautious McClellan out, thereby changing the course of the war
Kindle Available

The Shenandoah Valley Campaign of 1864
Shenandoah Valley of Virginia Campaign of 1864 lasted more than four months and claimed more than 25,000 casualties. The armies of Philip H. Sheridan and Jubal A. Early contended for immense stakes

Echoes of Thunder
A Guide to the Seven Days Battles
This is a valuable and welcome addition to this series of battlefield guides. This book will provide you with a guide on the field or it will supplement reading about the American Civil War battle of The Seven Days.

Counter-Thrust
From the Peninsula to the Antietam
A window into the Union's internal conflict at building a military leadership team. Lincoln's administration in disarray, with relations between the president and field commander McClellan strained to the breaking point. Shows how the fortunes of war shifted abruptly in the Union's favor, climaxing at Antietam.

Swallowed Up in Victory: A Civil War Narrative, Petersburg, 1864-1865
A narrative of the last year of the American Civil War, follows the action surrounding the first attacks on Petersburg through the surrender at Appomattox
Kindle Available

One Continuous Fight: The Retreat from Gettysburg and the Pursuit of Lee's Army of Northern Virginia
The first detailed military history of Lee's retreat and the Union effort to catch and destroy the wounded Army of Northern Virginia Complimented with 18 original maps, dozens of photos, and a complete driving tour with GPS coordinates of the entire retreat
Kindle Available

Cold Harbor Grant and Lee
May 26-June 3, 1864
A chronicle of the bloody fighting in 1864 as Ulysses Grant headed south and Robert E. Lee tried to prevent him from success. From the Wilderness to Spotsylvania Court House to the North Anna River to Cold Harbor.

Extraordinary Circumstances
The Seven Days Battles
One of the most decisive military campaigns in Western history, the Seven Days were fought in the area southeast of the Confederate capitol of Richmond from June 25 to July 1, 1862

Battleground 7: Bull Run
July 21, 1861 The earliest large-scale engagement of the Civil War, the First Battle of Bull Run found J.E. Johnston's outnumbered Rebels fighting a desperate delaying action versus the powerful Union army of Irvin McDowell. It was in this battle that General Thomas J. Jackson earned his famous nickname "Stonewall"

Civil War Battles
Campaign Atlanta
You decide the outcome of a duel between two determined generals in the American Civil War. It's 1864 and the Union forces are ready to make a final drive into the Deep South. General William T. Sherman advances to destroy the Confederate Army of Tennessee & capture the city of Atlanta. Confederate General Joseph E. Johnston planned on using Georgia's difficult terrain to inflict heavy losses


Campaign Chickamauga
Civil War Battles
A defining moment in the Civil War -- one that could have spelled victory for the South if things had been slightly different. At Chickamauga Creek near Chattanooga, TN there was a battle that earned it a new nickname: "River Of Blood." Chattanooga was a vital rail station at the time and had fallen to Union General Rosecrans


History Channel Civil War
Secret Missions
There are about a half-dozen different small arms types, but the Henry is the best for rapid repeating fire and least reloading. The shotgun they give you is useless: you must aim spot-on to affect an enemy, so why not just use the rifle? Grenades are useful at times.