Civil War QuarterMaster HQ

Bonnie Blue Flag

Bonnie Blue
The Confederate government did not adopt this flag but the people did and the lone star flags were adopted in some form in five of the southern States that adopted new flags in 1861.
Southern Cross Flag

Used as a navy jack at sea from 1863 onward. This flag has become the generally recognized symbol of the South.

Second Confederate Flag

On May 1st,1863, a second design was adopted, placing the Battle Flag (also known as the "Southern Cross") as the canton on a white field. This flag was easily mistaken for a white flag of surrender especially when the air was calm and the flag hung limply.

More on Confederate Flags

Kindle Available

Standard Catalog of
Civil War Firearms
Over 700 photographs and a rarity scale for each gun, this comprehensive guide to the thousands of weapons used by Billy Yank and Johnny Reb will be indispensable for historians and collectors.

Civil War Confederate
Suede Grey Kepi Hat




Civil War Union
Suede Blue Kepi Hat


Cold Steel 1860 Cavalry Saber Sword
Metal Scabbard Authentic weight


---
Search this site by keyword, battle or date for specific information.

Search AmericanCivilWar.com


Enter the keywords you are looking for and the site will be searched. All occurances of your request will be displayed. You can also enter a date format, April 19, 1862 or September 1864.

American Civil War Home Page
State Battle Maps
Documents
Pictures

Lodge Pro-Logic Pre-Seasoned Cast Iron 7-Quart Dutch Oven
Just like an heirloom pan you will find that even pineapple upside down cake doesn't stick to this surface. A perfect pot for making pot roast, simmering slow-cooked stews, or making your own soup stock. Cast Iron. A must for re-enactors campsites.

1860 Enfield Civil War Musketoon
This piece is a full-size non-firing reproduction of the rifle used in the Civil War. The body is made of European hardwood

Campfire Tripod
Constructed of forged iron, this will hold Cast Iron Dutch Ovens. It's easy to set up and has an adjustable 26" chain so you've got control of the heat. Holds up to 40 lbs

Product Description

One of the world's best-known optics companies, Nikon Sport Optics, has teamed with one of the nation's most respected sporting organizations, Buckmasters, to produce a riflescope line featuring high-quality optics.

Built to withstand the toughest hunting conditions, these scopes integrate shock-, fog-, and water-proof construction, as well as numerous other features rarely found on riflescopes in this price range. Nikon's Brightvue anti-reflective system of multicoated lenses provides over 92 percent anti-reflection capability for the high levels of light transmission and optical clarity necessary for dawn-to-dusk big-game hunting. After the lenses are cut and polished, Nikon coats them with multiple layers of anti-reflective compounds. The compounds serve to boost light transmission, improve contrast to pull game out of its surroundings, deliver true color rendition and flare-free viewing, and enhance the overall image quality.

The brightest in its class, the Nikon Buckmasters riflescope has a proven track record of reliability, durability, and precision, making it a true hunter's workhorse. The scope is at home on nearly any hunting rifle, muzzle loader, or even rimfire, boasting a rugged, one-inch main body tube, a Nikoplex reticle, and ultra-high-performance lenses.




Item Weight: 1 pounds
Shipping Weight: 1.6 pounds
Shipping: Currently, item can be shipped only within the U.S.

Product Description

Nikon Buckmasters 3 - 9x40 mm Riflescope

. Waterproof. Shockproof. Fogproof. This one can't miss! A superior Scope for a superior value! Expect maximum performance under all conditions because it's built to do its job in the crummy elements... no excuses. Nitrogen-filled and o-ring sealed to be waterproof and fogproof. Get UP CLOSE with 3 to 9 times magnification and Brightvue optics for 92% light transmission,super clarity, great resolution and no glare! Find fast-moving targets at low power with its large field of vision, or take aim at crafty critters hiding in the shadows thanks to the large exit pupil that provides low-light results. A sure shot Scope: Positive, audible 1/4 M.O.A. click windage and elevation adjustments eliminate reticle creep or backlash. Precision Nikoplex reticle; Includes Nikon Fog Eliminator wipe to get rid or exterior fogging; No glare, scratch resistant matte finish; F.O.V. is 33.9-12.9' @ 100 yds.; 3.5-3.4" eye relief; Approx. 12.7" in length; Weighs approx. 13 2/5 ozs.; Tube diameter: 1"; Parallax setting: 100 yds. Pick yours and order now! AVAILABLE SEPARATELY: Nikon Buckmasters 3-9x40 mm Riflescope, Silver - word search in our Store for 'Nikon'. Nikon Buckmasters 3-9x40 mm Riflescope, Black Matte


Buy Now from Amazon
Acog 4 X 32 Scope Dual Illuminated 4.0 Moa Chevron .223 Ballistic Reticle, Red



Shoot confidently even once the sun starts to set with the

Trijicon ACOG 4x32 dual-illuminated scope

. The scope is equipped with a tritium illuminated reticle pattern for use in low light or at night, along with a bright daytime reticle equipped with fiber optics to collect ambient light. This combo design encourages traditional, precise marksmanship with close-in aiming speed, making it ideal for military use. Every feature of the scope's mechanical and optical design was chosen for a single purpose--to provide increased hit potential in all lighting conditions, without failure-prone batteries.

Magnification: 4x
Objective lens diameter: 32mm
Bullet drop compensator: Yes
Illumination source: Fiber optics and tritium
Reticle pattern: Chevron
Day reticle color: Red
Night reticle color: Red
Calibration: 0.223

Browse Hunting Rifle Scopes


Buy Now @ Amazon



Product Description

The UTG Tactical OP Bipod is a handy, accuracy-enhancing accessory for your rifle. Durable aluminum construction and a steel top platform hold up to years of heavy use, while a clever dual mounting design includes both Picatinny and swivel stud mounts. Foldable arms with spring tension control help steady your weapon, and include a Posi-Lock wheel and quick retraction button





Specifications


Includes panning, Posi-Lock, extendable/foldable legs, and dual mounts
Rubberized stand
13.3-ounce weight



UTG Tactical Op Bi-pod – Fits Swivel Stud & Picatinny/Weaver Rail, Foldable Arms with Robust External Spring Tension Control, Fully Adjustable Legs with Posi-lock Wheel & Quick Retraction Button, Center Height: 8.1"-12.7", Leg Length: 7.9"-12.7"
Product Description

From the Manufacturer

Sentry Safe 14-Gun capacity electronic lock security gun safe with solid steel pry-resistant door with concealed hinges to protect against theft and unauthorized entry. Carpeted interior protects priceless guns and collectibles. Satin and bright chrome hardware with lever handle for a high end appearance

Product Description

It can store and protect 14 long guns along with other associated material. Electronic Lock. Meets California Department of Justice Standards for firearm safety. Burglary Rated. Steel safe with powder coat finish comes in Black. External Dimension 59H x 21W x 17.8D It uses three 3 live locking and three 3 dead bolts for security.



Technical Details

3 steel live locking bolts and 3 dead bolts
Meets or exceeds the California Department of Justice requirements for an approved firearm safety device under CA Penal Code section 12087, et seq
Hardened steel plate protects from drill attack
Exterior dimensions: 59.0-Inch height by 21.0-Inch width by 17.8-Inch depth
Interior dimensions: 57-Inch height by 20.5-Inch width by 16.3-Inch depth




Product Details

Product Dimensions: 17.8 x 21 x 59 inches ; 9 pounds
Shipping Weight: 182 pounds
Shipping: This item can only be shipped to the 48 contiguous states. We regret it cannot be shipped to APO/FPO, Hawaii, Alaska, or Puerto Rico.
Get It Delivered - Electronic Lock Safe
24 Gun Fire Safe with Combination Lock By Sentry Safe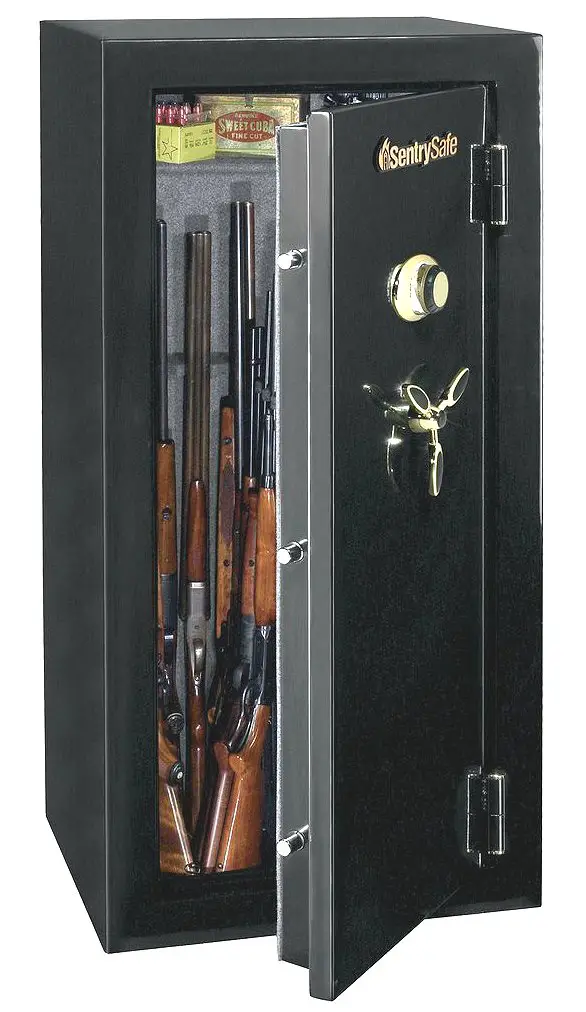 3 steel live-locking bolts/3 dead bolts
External hinges
Hardened steel plate
Carpeted interior and gun rack
4 way adjustable interior
1860 Civil War Revolver Replica Non-Firing - blued finish
Product Description

A non-firing copy of the Colt 1860 classic, used extensively in the Civil War. This piece replicates the original in size, weight and appearance, and the parts function much like the original. However, parts cannot be interchanged or the replica made to fire ammunition.

Product Features

Non-fireable
Functional mechanisms
Authentic weight and detailing
Colt model 1860 Civil War Navy revolver, 13" long


Buy this replica by Denix from Amazon

Civil War Confederate
Suede Grey Kepi Hat

Cold Steel 1860 Cavalry Saber Sword
Metal Scabbard Authentic weight

Civil War Musket
Wood & Steel Frontier Rifle Designed After The Original Rifle
Kindle Available

Standard Catalog of
Civil War Firearms
Over 700 photographs and a rarity scale for each gun, this comprehensive guide to the thousands of weapons used by Billy Yank and Johnny Reb will be indispensable for historians and collectors.

Civil War Union
Suede Blue Kepi Hat

Sid Meier's Civil War Collection
Take command of either Confederate or Union troops and command them to attack from the trees, rally around the general, or do any number of other realistic military actions. The AI reacts to your commands as if it was a real Civil War general, and offers infinite replayability. The random-scenario generator provides endless variations on the battles

Civil War Soldier 102 Piece Playset

25 Union and 25 Confederate Soldier Figures, 18 Horses, 10 Cannon
2 Covered Wagons, 2 Tents, 2 Canoes, 2 Flags, 16 Fences
Size: Figures Stand up to 2-1/8 inches tall
Scale: 1/32nd, Wagons and Horses slightly smaller


Civil War Cannon
Collectible Models and childrens playsets
Miniature Collectible Civil War Cannon12 pound Civil War field cannon replica weapon collectible is a detailed 1/12th scale military caisson replica weapon collectible as used throughout the Civil War

Civil War Nurse Barbie
Part of the American Stories Collection.

History Channel Civil War
Secret Missions
There are about a half-dozen different small arms types, but the Henry is the best for rapid repeating fire and least reloading. The shotgun they give you is useless: you must aim spot-on to affect an enemy, so why not just use the rifle? Grenades are useful at times.

Lodge Pro-Logic Pre-Seasoned Cast Iron 7-Quart Dutch Oven
Just like an heirloom pan you will find that even pineapple upside down cake doesn't stick to this surface. A perfect pot for making pot roast, simmering slow-cooked stews, or making your own soup stock. Cast Iron. A must for re-enactors campsites.

Civil War Model 1851 Naval Pistol
Engraved Silver Tone / Gold Tone Finish and Wooden Grips - Replica of Revolver Used by Both USA / Union and CSA / Confederate Forces



General Lee's Headquarters Flag

Campfire Tripod
Constructed of forged iron, this will hold Cast Iron Dutch Ovens. It's easy to set up and has an adjustable 26" chain so you've got control of the heat. Holds up to 40 lbs