The Hunt for John Wilkes Booth
The two-hour documentary is based on the highly acclaimed Michael Kauffman book, American Brutus

John Wilkes Booth
Wanted Poster





Right or Wrong, God Judge Me
The Writings of John Wilkes Booth
Collection of the writings of John Wilkes Booth constitutes a major new primary source that contributes to scholarship on Abraham Lincoln, the Civil War, and nineteenth-century theater history. The nearly seventy documents--more than half published here for the first time--include love letters written during the summer of 1864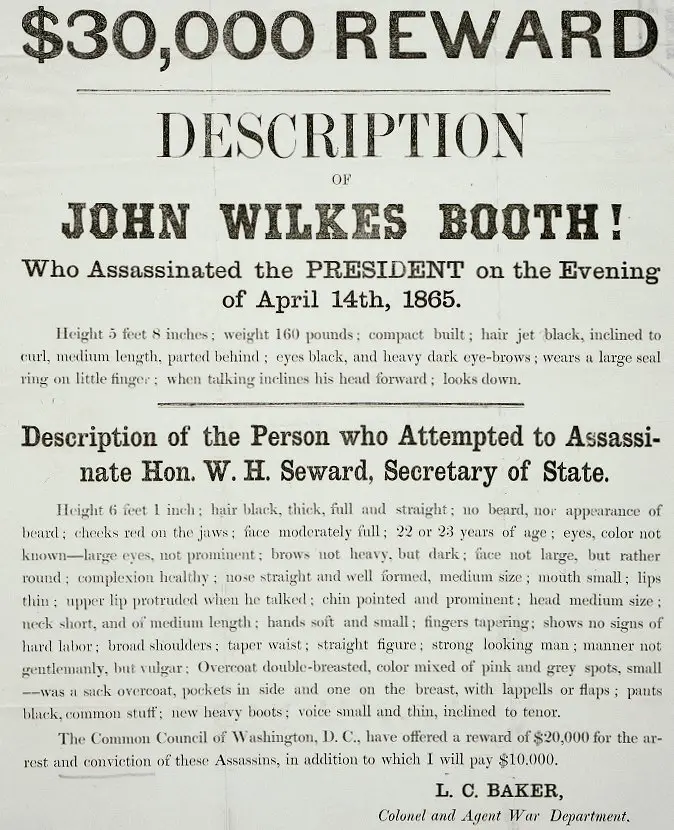 John Wilkes Booth
Civil War Exhibits
Women in the War
Civil War Pictures
State Battle Maps
Civil War Battle Timeline
Civil War Ships
Civil War Recipes
General Robert E. Lee
Confederate President Jefferson Davis




House of Abraham: Lincoln and the Todds, A Family Divided by War
Mary Todd Lincoln one of fourteen siblings who were split between the Confederacy and the Union. Three of her brothers fought, and two died, for the South. Several Todds bedeviled Lincolns administration with their scandalous behavior

Behind the Scenes: Thirty Years a Slave, and Four Years in the White House
This is a memior written by a woman who started life as a slave, then managed to buy her freedom, and later set up a successful living as a seamstress, eventually going to work for Mary Todd Lincoln in the White House

Blood on the Moon: The Assassination of Abraham Lincoln
The definative book on the Lincoln Assassination, and the escape of John Wilkes Booth. not only does the author give a clear and concise accounting, he takes us out of the vacuum and explains the minute details of the very knotted relationships between the conspirators, and the links of the Confederate underground to Canada and back.

Confederate Spies at Large: The Lives of Lincoln Assassination Conspirator Tom Harbin And Charlie Russell
The most wanted of all Confederate agents, was also one of the leaders in the plot to kill Abraham Lincoln
Kindle Available

Big Enough to Be Inconsistent: Abraham Lincoln Confronts Slavery and Race
"Cruel, merciful; peace-loving, a fighter; despising Negroes and letting them fight and vote; protecting slavery and freeing slaves." Abraham Lincoln was, W. E. B. Du Bois declared, "big enough to be inconsistent."
Kindle Available

Lincoln's Ladies: The Women in the Life of the Sixteenth President
The tumultuous experiences Abraham Lincoln had with women have long been chronicled. Lincoln's Ladies attempts to answer the questions of how he was affected by the women in his life and how he affected them. Abandoned through death by his mother, his sister, and his sweetheart, Ann Rutledge, Lincoln found it difficult to relate to women and developed an emotional barrier that often antagonized them.

How We Elected Lincoln
Personal Recollections
Abram J. Dittenhoefer was a young South Carolinian who embraced abolition and moved to New York in order to work for the newly formed Republican party and its antislavery platform. Even though he was in his early twenties, he quickly established himself as a savvy and creative campaigner

Lincoln: The Presidential Archives
There is no better treatment for the life of the great President Abraham Lincoln than this interactive, "museum-in-a-book," which includes accessible text, photography, and removable documents that, combined, provide an educational and entertaining reading experience for the whole family.

Moon Over Tennessee
A Boy's Civil War Journal
A moving personal narrative in the form of a journal, this powerful poem tells the story of one boy's journey into war

Abe Lincoln's Hat
Step into Reading
Abraham Lincoln, started out in life as an absent-minded lawyer. How did he nudge his memory? He stuck letters, court notes, contracts, and even his checkbook in his trademark top hat.

Abe Lincoln
The Boy Who Loved Books
Children of all ages will enjoy reading this book and realizing that a love of books, as Abraham Lincoln did, can change a persons life and move him or her to become a great person

The President Is Shot!: The Assassination of Abraham Lincoln
Grade 6-10 --Description of the violent end to Lincoln's life. Holzer provides the Civil War context of the event and then details April 14 and 15, 1865. Why Murder Lincoln?, to demonstrate that this president was not always the universally beloved icon that students see him as today.
Kindle Available

The Maxims Of Robert E. Lee For Young Gentlemen: Advice, Admonitions, and Anecdotes on Christian Duty and Wisdom from the Life of General Lee
All his life, Robert E. Lee relied upon his faith for strength and guidance not only in troubled times, but also as the foundation upon which he based all of his dealings with others.

A Girl's Life in Virginia Before the War
First published in 1895. An engrossing eyewitness account of antebellum plantation life as it really was
Kindle Available

You Want Women to Vote, Lizzie Stanton?
Grade 3-6. Fritz applies her gift for creating engaging, thorough historical literature to a larger-than-life historical figure. Stanton was a radical among radicals, and this objective depiction of her life and times, as well as her work for women's rights, makes readers feel invested in her struggle. An appealing, full-page black-and-white drawing illustrates each chapter. For students who need a biography, this title should fly off the shelves with a minimum of booktalking. And it is so lively that it is equally suitable for leisure reading.?
Kindle Available

Meet Abraham Lincoln
This warmly told biography of our sixteenth president is enriched by many authentic but seldom told anecdotes and complemented by bold color illustrations that capture the spirit of Lincoln and his era