CSS Alabama (1862-1864)
CSS Alabama , a 1050-ton screw steam sloop of war, was built at Birkenhead, England, for the Confederate Navy. After leaving England in the guise of a merchant ship, she rendezvoused at sea with supply ships, was outfitted as a combatant and placed in commission on 24 August 1862. Commanded by Captain Raphael Semmes , Alabama cruised in the North Atlantic and West Indies during the rest of 1862, capturing over two-dozen Union merchant ships, of which all but a few were burned. Among those released was the mail steamer Ariel , taken off Cuba on 7 December with hundreds of passengers on board.
Alabama began the new year by sinking USS Hatteras near Galveston, Texas, on 11 January 1863. She then moved into the South Atlantic, stopped at Cape Town in August, and went on to the East Indies, seizing nearly 40 more merchantmen during the year, destroying the majority and doing immense damage to the seaborne trade of the United States.
The Confederate
cruiser called at Singapore in December 1863, but soon was back at sea to continue her commerce raiding. However, Alabama was increasingly in need of an overhaul and only captured a few ships in 1864. Captain Semmes brought her to Cherbourg, France, for repairs. On 11 June 1864, Alabama arrived in Cherbourg, France and Captain Semmes requested permission to dock and overhaul his ship. Pursuing the raider, the American sloop-of-war USS Kearsarge arrived three days later and took up a patrol just outside the harbor.
On 19 June, Alabama sailed out to meet Kearsarge . As Kearsarge turned to meet its opponent, Alabama opened fire. Kearsarge waited patiently until the range had closed to less than 1,000 yards. According to survivors, the two ships steamed on opposite courses moving around in circles as each commander tried to cross the bow of his opponent to deliver a heavy raking fire. The battle quickly turned against Alabama because of the poor quality of its powder and shells, while Kearsarge benefitted from the additional protection of chain cables along its sides.
A little more than an hour after the first shot was fired, Alabama was reduced to a sinking wreck, causing Semmes to strike his colors and send a boat to surrender. According to witnesses, Alabama fired 150 rounds at its adversary, while Kearsarge fired 100. When a shell fired by Kearsarge tore open a section at Alabama 's waterline, the water quickly rushed through the cruiser, forcing it to the bottom. While Kearsarge rescued most of Alabama 's survivors, Semmes and 41 others were picked up by the British yacht Deerhound and escaped to England.
During its two-year career as a commerce raider, Alabama caused disorder and devastation across the globe for United States merchant shipping. The Confederate cruiser claimed more than 60 prizes valued at nearly $6,000,000.
Her wreck was located by the French Navy in the 1980s.
Captain Raphael Semmes
Kindle Available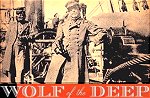 Wolf of the Deep: Raphael Semmes and the Notorious Confederate Raider CSS Alabama
In July 1862, the Confederate captain Raphael Semmes received orders to report to Liverpool, where he would take command of a secret new British-built steam warship. His mission: to prey on Union commercial vessels and undermine the North's ability to continue the war