Submarine H.L. Hunley (1863-1864)
H.L. Hunley , a small, hand-powered submarine, was privately built at Mobile, Alabama, in 1863, based on plans furnished by Horace Lawson Hunley , James R. McClintock and Baxter Watson. Her construction was sponsored by Mr. Hunley and superintended by Confederate officers W.A. Alexander and G.E. Dixon. Following trials in Mobile Bay, she was transported to Charleston, South Carolina, in August 1863 to serve in the defense of that port. On 29 August, while moored to a steamer, the submarine was accidently pulled over on its side and sank, drowning five members of her crew. After salvage, she was given a new crew and began a series of tests. However, during diving trials on 15 October 1863, she failed to surface. Horace Lawson Hunley, who was directing her operation, and the rest of her men were drowned.
H.L. Hunley was again raised and repaired. With a third crew, and under orders to only operate on the surface, she began a series of attempts to attack United States Navy ships on blockade duty off Charleston. On 17 February 1864, these efforts were successful. H.L. Hunley approached the steam sloop of war USS Housatonic and detonated a spar torpedo against her side. The Federal ship sank rapidly, becoming the first warship to be lost to a submarine's attack.
However, H.L. Hunley did not return from this mission, and was presumed lost with all hands. Her fate remained a mystery for over 131 years, until May 1995, when a search led by author Clive Cussler located her wreck. On 8 August 2000, following extensive preliminary work, the H.L. Hunley was raised and taken to a conservation facility at the former Charleston Naval Base. At present, she is the subject of a careful preservation effort that ultimately should place her in suitable condition for general public exhibition.
Drawing by R.G. Skerrett, 1902, after a painting then held by the Confederate Memorial Literary Society Museum, Richmond, Virginia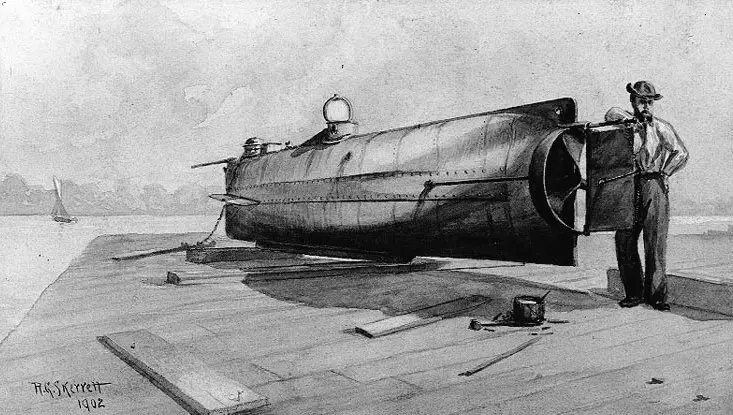 Kindle Available

Wolf of the Deep: Raphael Semmes and the Notorious Confederate Raider CSS Alabama
In July 1862, the Confederate captain Raphael Semmes received orders to report to Liverpool, where he would take command of a secret new British-built steam warship. His mission: to prey on Union commercial vessels and undermine the North's ability to continue the war

Cutaway drawings published in France, based on sketches by William A. Alexander, who directed her construction.


On August 8, 2000, the first submarine to sink an enemy vessel in combat will surface for the first time in 136 years, thanks to modern technology. Since 1864, H.L. Hunley and its volunteer crew of nine have rested at the bottom of Charleston Harbor, shrouded in silt and mystery. What happened that chilly February night to cause the state-of-the-art submersible to sink following its historic engagement with the
Union blockader, USS Housatonic?
A team of underwater experts led by Dr. Robert S. Neyland, Hunley Project Director and Head, Underwater Archaeology Branch for the Naval Historical Center in Washington, D.C, directed the raising of H.L. Hunley. Naval Historical Center experts, and others, will seek to unravel the mystery surrounding the submarine's final moments. H.L. Hunley is not only a time capsule of sorts, it is remarkable because its successful attack was not repeated until World War I.
"The success of H.L. Hunley proved once and for all the great potential for submarine warfare," Neyland said.
When recovery and conservation of H.L. Hunley is complete, she will be on display at the Charleston, SC Museum in a new wing built especially for this exhibit. Organizations participating in H.L. Hunley's recovery include: Naval Historical Center; South Carolina Hunley Commission; National Park Service; South Carolina Institute of Archaeology and Anthropology; Friends of the Hunley; and Oceaneering, one of the largest deep water salvage and recovery companies in the world.
Kindle Available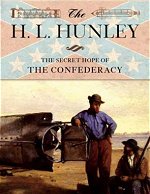 The H. L. Hunley
The Secret Hope of the Confederacy
On the evening of February 17, 1864, the Confederacy H. L. Hunley sank the USS Housatonic and became the first submarine in world history to sink an enemy ship. Not until World War I "half a century later" would a submarine again accomplish such a feat. But also perishing that moonlit night, vanishing beneath the cold Atlantic waters off Charleston, South Carolina, was the Hunley and her entire crew of eight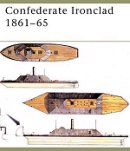 Confederate Ironclad 1861-65
Every aspect of Confederate ironclads is covered: design, construction, armor, armament, life on board, strategy, tactics, and actual combat actions.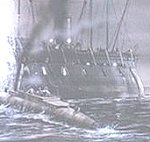 Confederate Submarines and Torpedo Vessels 1861-65
Interesting information and many excellent illustrations. It addresses the CSA David class torpedo boats and the Hunley (and its predecessors), as well as Union examples such as the Alligator and the Spuyten Duyvil