USS Wando (1864-1865).
Formerly the blockade runner Wando (originally named Let Her Rip ).
Later became the civilian steamship Wando (1865-1872)
Let Her Rip , a 468-ton (burden) iron side-wheel steamship, was built at Glasgow, Scotland, in 1864 for employment running the Federal blockade of the Confederate coast. In July 1864, after her first trip into Wilmington, North Carolina, she was renamed Wando .
While outbound from Wilmington on 21 October 1864 she was captured by USS Fort Jackson . The U.S. Navy purchased her in early November, and, following conversion to a gunboat, placed her in commission as USS Wando in December 1864.
For the remainder of the Civil War she served with the South Atlantic Blockading Squadron, operating along the coast of South Carolina. Among her activities during this time was participation in an amphibious operation to capture Bull's Bay, S.C., in February 1865.
Wando was sent north in late July 1865 and sold in August. She then became a commercial steamship, with the same name, and lasted until February 1872, when she sank in a storm.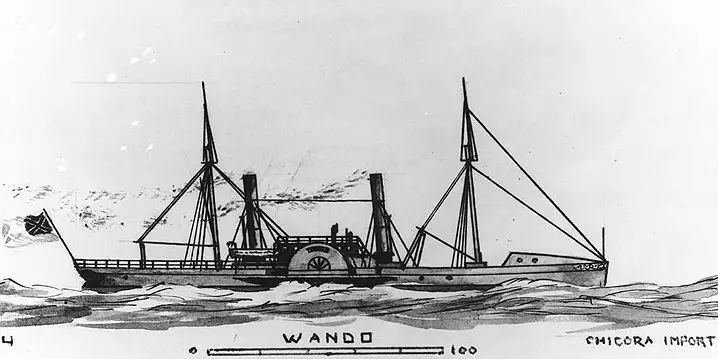 Built as a blockade runner and captured in October 1864, this steamer served as USS Wando in 1864-1865 and and the merchant vessel Wando after the Civil War.
Landing of General Potter's and Admiral Dahlgren's Troops at Bull's Bay, South Carolina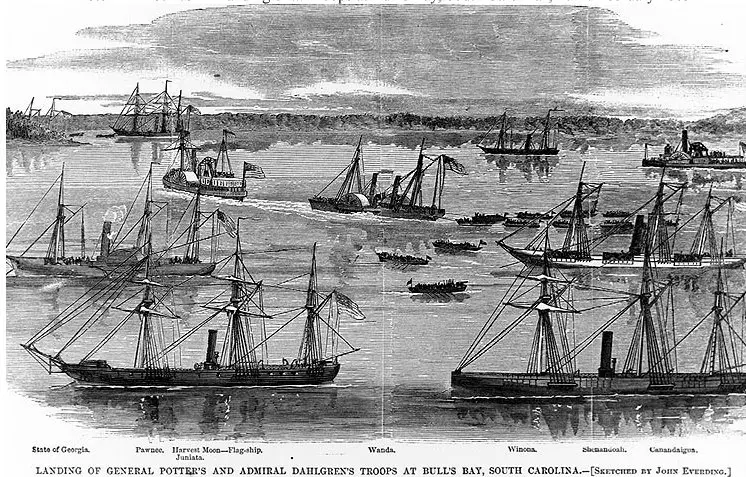 Ships shown include (as identified below the print, from left to right -- all U.S. Navy): State of Georgia , Pawnee , Juniata , Harvest Moon -- flagship, Wando , Winona , Shenandoah and Canandaigua .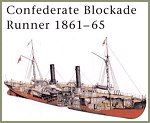 Confederate Blockade Runner 1861-65
The blockade runners of the Civil War usually began life as regular fast steam-powered merchant ships. They were adapted for the high-speed dashes through the Union blockade which closed off all the major Southern ports, and for much of the war they brought much-needed food, clothing and weaponry to the Confederacy







Confederate Phoenix
The CSS Virginia
The CSS Virginia of the Confederate States Navy destroyed two of the most formidable warships in the U.S. Navy. Suddenly, with this event, every wooden warship in every navy in the world became totally obsolete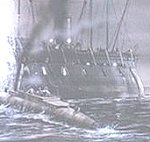 Confederate Submarines and Torpedo Vessels 1861-65
Interesting information and many excellent illustrations. It addresses the CSA David class torpedo boats and the Hunley (and its predecessors), as well as Union examples such as the Alligator and the Spuyten Duyvil