USS Westfield (1862-1863)
USS Westfield , an 822-ton side-wheel inshore gunboat, was built in 1861 at New York City as a civilian ferryboat. She was purchased by the Navy in November 1861 and placed in commission in January 1862. Sent to the Gulf of Mexico in February, Westfield took an active part in the April campaign to open the lower Mississippi River and capture New Orleans. During the following three months, the gunboat supported the mortar schooner flotilla in operations up the river toward Vicksburg.
Sent to join the blockading force off Texas later in the summer of 1862, Westfield participated in the capture of Galveston in early October. She thereafter operated in that area. On 1 January 1863, while serving as flagship of the Federal naval forces off Galveston, she ran aground and was threatened by a daring Confederate attack. To prevent capture, USS Westfield was blown up by her crew.
Watercolor by Erik Heyl, 1962, painted for use in his book "Early American Steamers", Volume IV.
She was originally the civilian ferryboat Westfield , built in 1861.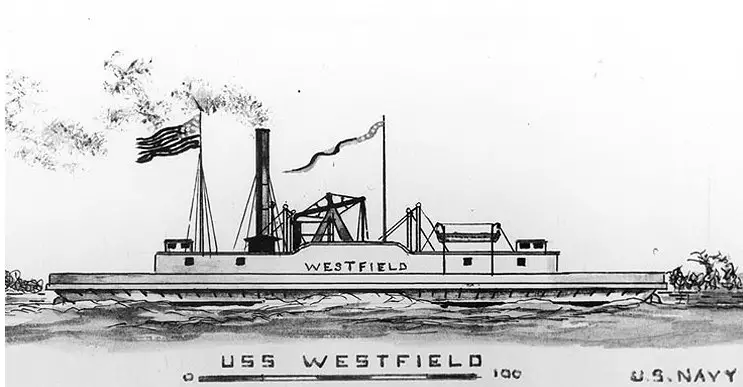 Wash drawing by R.G. Skerrett, 1904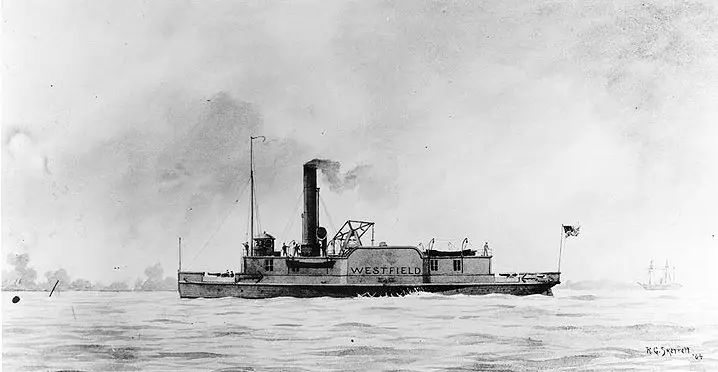 "Commodore Farragut's Squadron and Captain Porter's Mortar Fleet entering the Mississippi River"
Line engraving based on a sketch by an officer of USS Mississippi , published in "Harper's Weekly", 1862, depicting the scene at the Southwest Pass of the Mississippi, circa 7 April 1862.
Features identified in the engraving's title lines include (from left to right): Light-house on Southwest Pass; USS Colorado (in left foreground); USS Pensacola on the bar; USS Westfield (seen nearly stern-on); Porter's mortar fleet, heading up the river; USS Mississippi on the bar; USS Harriet Lane (side-wheel steamer at the rear of the mortar fleet); USS Connecticut (in right foreground); USS Clifton ; town of Banona.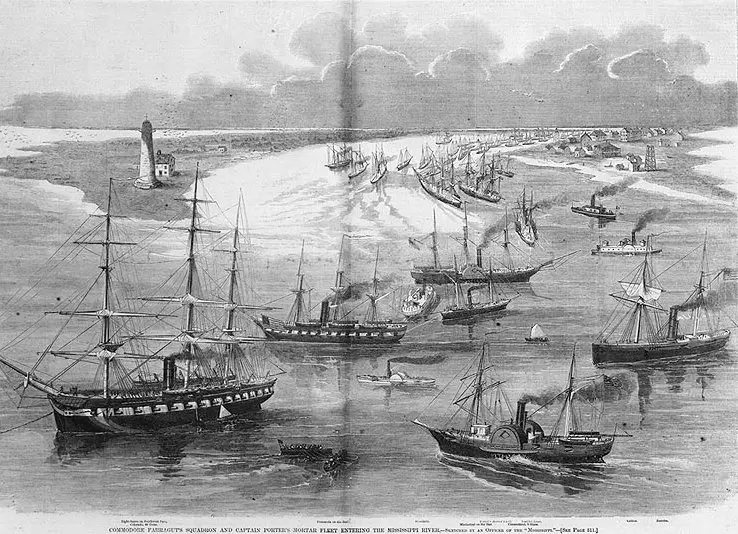 "Attack of the Rebels upon our Gun-boat Flotilla at Galveston, Texas, January 1, 1863."
Line engraving published in "Harper's Weekly", 1863. USS Harriet Lane is shown in the left distance, under attack by the Confederate gunboats Neptune and Bayou City . The grounded USS Westfield is at right, being blown up to prevent capture. USS Owasco is in the center of the view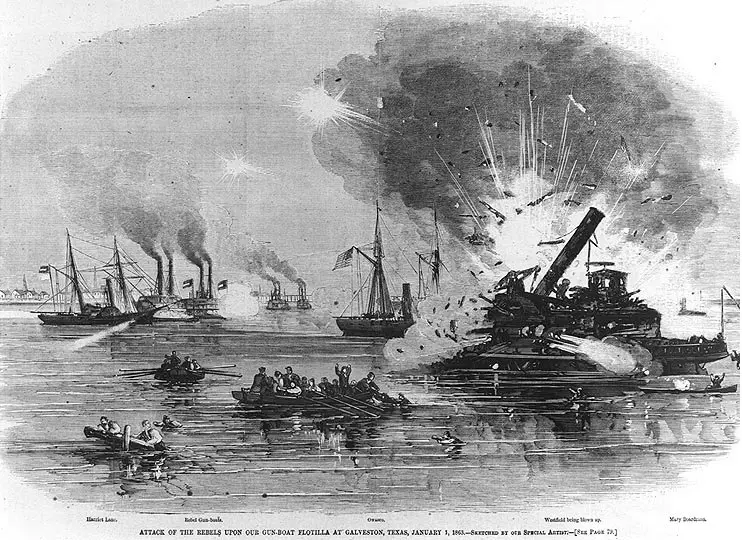 "Surprise and Capture of the United States Steamer 'Harriet Lane', by the Confederates, under General Magruder, and the Destruction of the Flagship 'Westfield' in Galveston Harbor, Texas, January 1st, 1863."
Line engraving published in "The Soldier in our Civil War", Volume II. USS Harriet Lane is shown in the center, under attack by the Confederate gunboats Neptune and Bayou City . USS Westfield is at the far left, being blown up to prevent her capture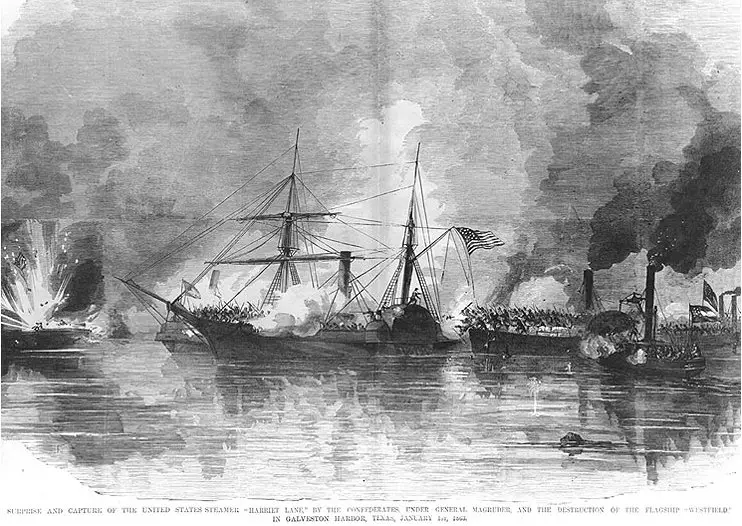 Kindle Available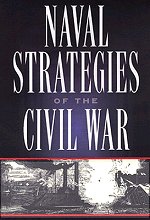 Naval Strategies of the Civil War: Confederate Innovations and Federal Opportunism
Compare and contrast the strategies of the Southern Secretary of the Navy, Mallory, against his rival in the North, Welles. Mallory used technological innovation and the skill of individuals to bolster the South's seapower against the Union Navy's superior numbers







Confederate Phoenix
The CSS Virginia
The CSS Virginia of the Confederate States Navy destroyed two of the most formidable warships in the U.S. Navy. Suddenly, with this event, every wooden warship in every navy in the world became totally obsolete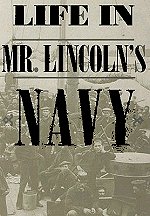 Life in Mr. Lincoln's Navy
A tantalizing glimpse into the hardships endured by the naval leadership to build and recruit a fighting force. The seaman endured periods of boredom, punctuated by happy social times and terrifying bouts of battle horror








Confederate Phoenix
The CSS Virginia
The CSS Virginia of the Confederate States Navy destroyed two of the most formidable warships in the U.S. Navy. Suddenly, with this event, every wooden warship in every navy in the world became totally obsolete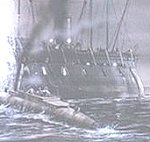 Confederate Submarines and Torpedo Vessels 1861-65
Interesting information and many excellent illustrations. It addresses the CSA David class torpedo boats and the Hunley (and its predecessors), as well as Union examples such as the Alligator and the Spuyten Duyvil