Alva Belmont
Benefactor for the Woman Suffrage Movement
Often referred to as "Mrs. O. H. P. Belmont" in suffrage literature, wealthy New Yorker Alva Belmont was the most important financial benefactor among the leaders of the Congressional Union for Woman Suffrage (CU) and its successor organization, the National Woman's Party (NWP). Her 1895 divorce from William Vanderbilt, the grandson of mogul Cornelius Vanderbilt, brought her a personal fortune, along with Marble House, the Vanderbilt summer mansion in Newport, Rhode Island.

After the death of her second husband in 1908, Belmont devoted herself, her money, and often her home, to women's rights causes–notably suffrage and the rights of laboring women to gain decent standards of work and wages. She was masterful in raising funds and in orchestrating her circles of socialite, business, and political connections to win support for suffrage. Her efforts made New York City an important center of influence for affluent women's rights supporters.

In the period when the NAWSA Congressional Committee became active, Belmont was quick to support Alice Paul and Lucy Burns in their desire to step up the militancy of the American movement. She wanted to make suffrage an election issue nationally, as she had done successfully in New York State. She helped craft the shift in policy in 1914 toward holding the Democratic Party–which then controlled both Congress and the White House–responsible for not adopting a suffrage amendment. A similar technique of political leverage had been used by suffragists in Britain.

Belmont was an important strategist and officer for the suffrage movement. She brought her experience with picket lines and arrests from the 1909-10 shirtwaist workers' strikes in New York. In December 1917, following the November "Night of Terror" at Occoquan Workhouse, Belmont chaired a mass meeting at Belasco Theatre, attended by thousands, at which the newly released prisoners were honored for their service to liberty. She was a member of the executive boards of both the CU and NWP (1914-20). However, the degree to which those organizations were dependent on Belmont's largesse sometimes posed uncomfortable questions regarding her power over the organizations' policies.

In the year following ratification of the 19th Amendment, Belmont became president of the NWP. When the NWP headquarters in the Old Brick Capitol was seized to construct the Supreme Court building, Belmont purchased a large brick historic home located close to the U.S. Capitol in Washington, D.C., and donated it for use as NWP headquarters . Dedicated in 1931, the building is still used by the NWP as a nonprofit organization and is open to the public as the Sewall-Belmont House and Museum . Belmont's funeral in 1933 was well-attended by supporters of women's rights.


The Vanderbilt Women: Dynasty of Wealth, Glamour and Tragedy
The fascinating lives of three generations of Vanderbilt women who dominated New York society from the middle of the eighteenth century through the twentieth. Of special interest are the discovery of unpublished letters

Women's Voter Convention, Sept. 1915. Alva Belmont seated second from right.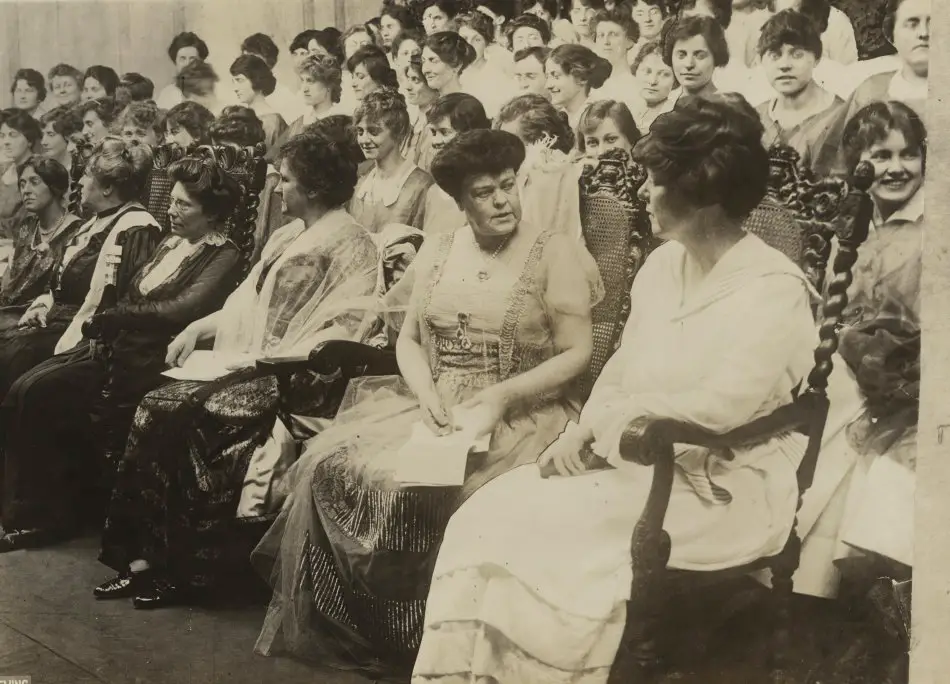 Photograph of women and men on steps leading up to Marble House, Alva Belmont's estate in Newport, RI.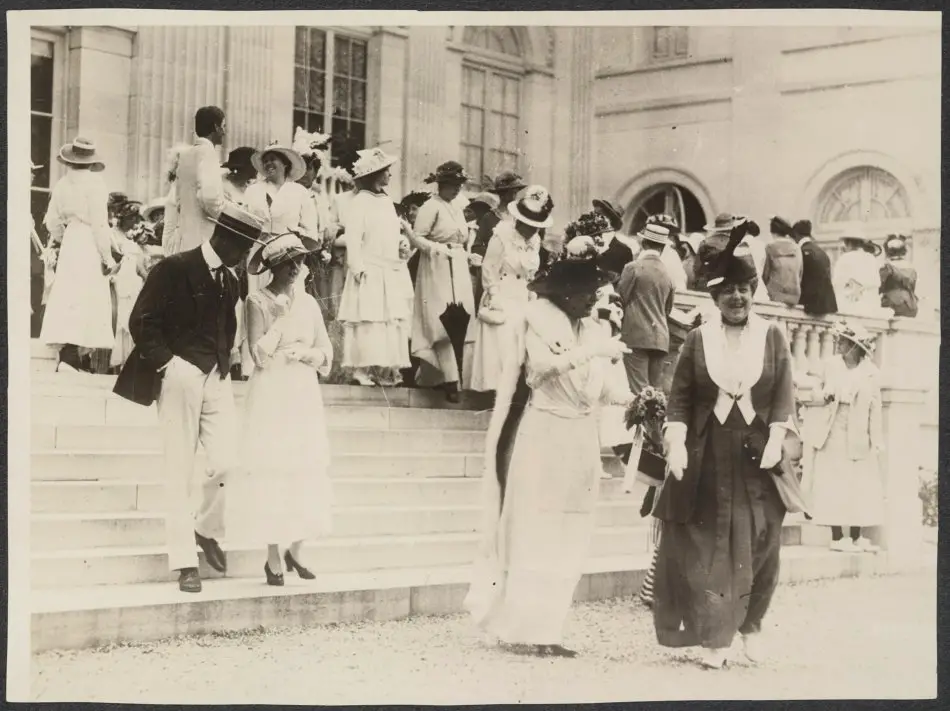 Alva Belmont's coffin being carried into St. Hubert's Chapel at Woodlawn Cemetery, New York, Jan. 1933.

Women of the Suffrage Movement
Womens Suffrage Timeline
American Civil War Women
Womens Civil War Reading Titles
American Civil War Recipes
Civil War Exhibits




A Woman of Honor:
Dr. Walker and the Civil War
A picture of Mary Walker that allows us to see the furrows in her brow as she continued to stubbornly stick to her values. This book is eye-opening and brings to the forefront many women's rights issues that we may not even be aware of.
Kindle Available

Hit: Essays on Women's Rights
by Mary Edwards, M.D. Walker
The only woman to receive the Congressional Medal of Honor for her service during the Civil War, Dr. Mary E. Walker (1832-1919) was a surgeon, a public lecturer, and an outspoken champion of women's rights. One of the first women in the country to be awarded a medical degree, she served as an assistant surgeon for the Fifty-second Ohio Infantry

A Black Woman's Civil War Memoirs: Reminiscences of My Life in Camp With the 33rd U.S. Colored Troops, Late 1st South Carolina Volunteers
Taylor was born a slave in 1848 on an island off the coast of Georgia. She gained her freedom and worked as a laundress for an African-American Union regiment during the war. She offers fascinating details about her life with the troops

Kindle Available

Children and Youth during the Civil War Era
The experience of children and youth during that tumultuous time remains a relatively unexplored facet of the conflict. Children and Youth During the Civil War Era seeks a deeper investigation into the historical record by giving voice and context to their struggles and victories


The Confederate Cookbook: Family Favorites from the Sons of Confederate Veterans
340 of Dixie's finest recipes courtesy of contemporary Confederate kitchens from Florida to Alaska. Here you'll find the delicious, traditional dishes that evoke the flavour of the Old South, as well as savoury regional favourites from all over the country. Fascinating historic anecdotes and previously unpublished, nostalgic sepia-toned images of identified Confederate soldiers are here for maximum visual appeal, along with easy-to-use instructions for making memorable dishes


To 'Joy My Freedom: Southern Black Women's Lives and Labors after the Civil War
Thousands of former slaves flocked to southern cities in search of work, they found the demands placed on them as wage-earners disturbingly similar to those they had faced as slaves: seven-day workweeks, endless labor, and poor treatment

Freedom's Child: The Life of a Confederate General's Black Daughter
This is one woman's personal history, she is the grand-daughter of a white Confederate General who openly acknowledged his mixed-race offspring but who also lived quite happily in the violent segreated world of the deep South of the time and who was not willing to stand up for his own children's rights

The Cambridge Companion to
Harriet Beecher Stowe
Perspectives on the frequently read Uncle Tom's Cabin as well as on topics of perennial interest, such as Harriet Beecher Stowe's representation of race, her attitude to reform, and her relationship to the American novel

One Woman One Vote
This program documents the struggle which culminated in the passing of the 19th Amendment in the U.S. Senate by one vote. Witness the 70-year struggle for women's suffrage. Discover why the crusaders faced entrenched opposition from men and women who feared the women's vote would ignite a social revolution. DVD

Not for Ourselves Alone: The Story of Elizabeth Cady Stanton & Susan B. Anthony
Together they fought for women everywhere, and their strong willpower and sheer determination still ripples through contemporary society. Here lies the story of two of our century's most celebrated pioneers Elizabeth Cady Stanton and Susan B. Anthony. DVD

Out of Our Fathers House
Broadway Theatre Archive
This play presents the true stories of women who sought independence at any cost. The compelling text is taken entirely from the diaries, journals and letters of the characters portrayed.
Sources:
U.S. Library of Congress
Federal Citizen