Doris Stevens (1888/1892?-1963)
Officer and Organizer for Woman Suffrage
Born in Omaha, Nebraska, Doris Stevens graduated from Oberlin College in 1911. She worked as a teacher and social worker in Ohio and Michigan before she became a regional organizer with the National American Woman Suffrage Association (NAWSA). In New York, she was friends with leading members of the Greenwich Village radical scene, including Louise Bryant and John Reed. In 1914 Stevens became a full-time organizer, as well as executive secretary, for the Congressional Union for Woman Suffrage (CU) in Washington, D.C. After working on the East Coast, including in Newport, Rhode Island, in 1913-14, she moved west to Colorado (1914), and then to California (1915). She organized the first convention of women voters at the Panama Pacific Exposition in San Francisco in 1915 and the NWP election campaign in California in 1916.

Over the years, Stevens held several important NWP leadership positions, including membership on the executive committee. She served as vice chairman of NWP's New York branch, spearheaded the NWP Women for Congress campaign in 1924, and worked in states where female candidates were among contenders for office. She also served as Alva Belmont's personal assistant.

Stevens was arrested for picketing at the White House in the summer of 1917 and served three days of her 60-day sentence at Occoquan Workhouse before receiving a pardon. She was arrested again in the NWP demonstration at the Metropolitan Opera House in New York in March 1919. Stevens published the quintessential insider account of imprisonment of NWP activists, Jailed for Freedom, in 1920.

Stevens clashed with Alice Paul and led an unsuccessful attempt to challenge the leadership of Paul's successor, Anita Pollitzer. She was part of an internal dispute over the NWP's emphasis on the World Woman's Party and international rights rather than domestic organizing. During these tensions, a dissenting faction of NWP members tried to take over party headquarters and elect their own slate of officers, but Pollitzer's claim to leadership was supported by a ruling of a federal district judge. Stevens parted ways with the NWP in 1947 and turned instead to activity in the Lucy Stone League, another women's rights organization. In the 1950s she was a supporter of McCarthyism and anti-communism. In her last years, Stevens supported the establishment of feminist studies as a legitimate field of academic inquiry in American universities.


Jailed for Freedom
by: Doris Stevens
Dramatic documentation of women's struggle to win the vote is brought to light by a firsthand witness who reveals, among other facts, the imprisonment, vilification and brutality women experienced during their fight
Left to Right: Doris Stevens, Mrs. J.A.H. Hopkins [Alison Turnbull Hopkins], N.J., Mrs. John Winters Brannan [Eunice Dana Brannan], 1919.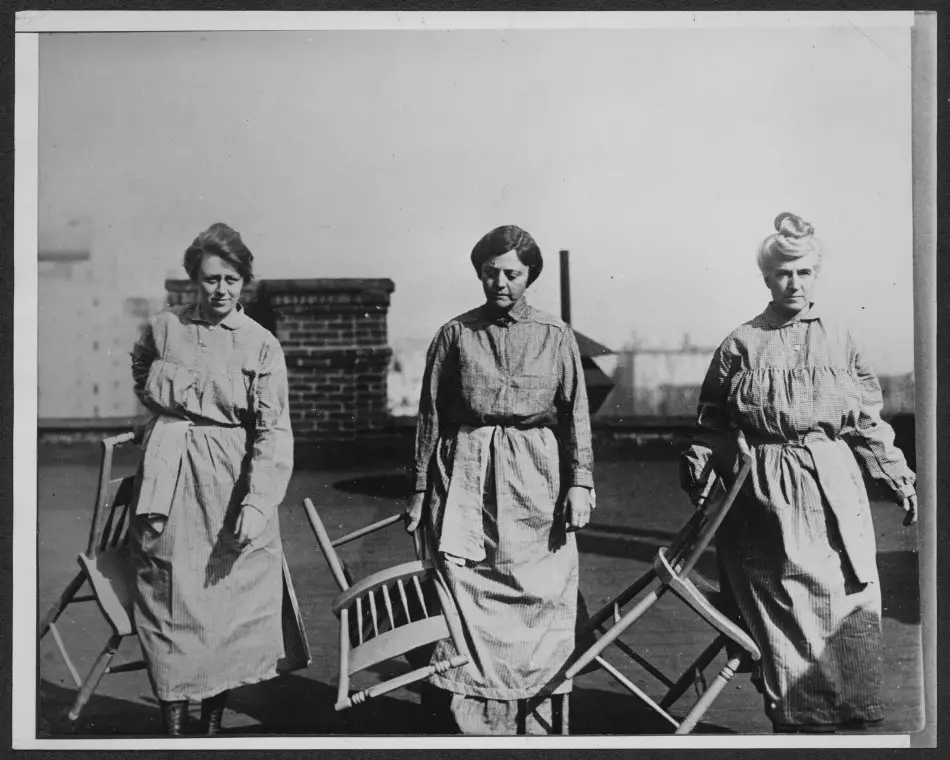 Women of the American Suffrage Movement
Womens Suffrage Timeline
American Civil War Women
Womens Civil War Reading Titles
American Civil War Recipes
Civil War Exhibits





The Concise History of Woman Suffrage: Selections from History of Woman Suffrage, by Elizabeth Cady Stanton, Susan B. Anthony, Matilda Joslyn Gage, and the National American Woman Suffrage Association

Not For Ourselves Alone: The Story of Elizabeth Cady Stanton and Susan B. Anthony
Two heroic women who vastly bettered the lives of a majority of American citizens. For more than fifty years they led the public battle to secure for women the most basic civil rights and helped establish a movement that would revolutionize American society

The Life and Times of Inez Milholland
Inez Milholland was the most glamorous suffragist of the 1910s and a fearless crusader for women's rights. Moving in radical circles, she agitated for social change in the prewar years, and she epitomized the independent New Woman of the time. Her death at age 30 while stumping for suffrage in California in 1916 made her the sole martyr of the American suffrage movement.

Two Paths to Equality: Alice Paul and Ethel M. Smith in the Era Debate, 1921-1929
Amy E. Butler expertly deals with the ERA, Equal Rights Amendment, and two of the more important figures in the early ERA debate.

Turn Homeward, Hannalee
During the closing days of the Civil War, plucky 12-year-old Hannalee Reed, sent north to work in a Yankee mill, struggles to return to the family she left behind in war-torn Georgia. "A fast-moving novel based upon an actual historical incident with a spunky heroine and fine historical detail."--School Library Journal.

My Brothers Keeper
Virginia Dickens is angry. Her father and brother Jed have left her behind while they go off to Uncle Jack's farm to help him hide his horses from Confederate raiders. It's the summer of 1863 and Pa and Jed believe 9-year-old Virginia will be out of harm's way in the sleepy little town of Gettysburg, Pennsylvania.
Kindle Available

I Thought My Soul Would Rise and Fly: The Diary of Patsy, a Freed Girl, Mars Bluff, South Carolina 1865
Not only is 12-year-old Patsy a slave, but she's also one of the least important slaves, since she stutters and walks with a limp. So when the war ends and she's given her freedom, Patsy is naturally curious and afraid of what her future will hold.

Numbering The Bones
The Civil War is at an end, but for thirteen-year-old Eulinda, it is no time to rejoice. Her younger brother Zeke was sold away, her older brother Neddy joined the Northern war effort,. With the help of Clara Barton, the eventual founder of the Red Cross, Eulinda must find a way to let go of the skeletons from her past.

One Woman One Vote
This program documents the struggle which culminated in the passing of the 19th Amendment in the U.S. Senate by one vote. Witness the 70-year struggle for women's suffrage. Discover why the crusaders faced entrenched opposition from men and women who feared the women's vote would ignite a social revolution. DVD

Not for Ourselves Alone: The Story of Elizabeth Cady Stanton & Susan B. Anthony
Together they fought for women everywhere, and their strong willpower and sheer determination still ripples through contemporary society. Here lies the story of two of our century's most celebrated pioneers Elizabeth Cady Stanton and Susan B. Anthony. DVD

Out of Our Fathers House
Broadway Theatre Archive
This play presents the true stories of women who sought independence at any cost. The compelling text is taken entirely from the diaries, journals and letters of the characters portrayed.
Sources:
U.S. Library of Congress
Federal Citizen