Elsie Hill (1883-1970)
Congressional Union of Woman Suffrage
An indefatigable and long-term organizer and officer of the National Woman's Party, Elsie Hill, of Norwalk, Connecticut, was the daughter of Republican Congressman Ebenezer J. Hill, a ranking member of the House Ways and Means Committee. She cited the positive relationship of her parents as an early example of the happy coalition possible between men and women. A graduate of Vassar College, Hill taught French at a Washington, D.C., high school. When Alice Paul and Lucy Burns became active in Washington, Hill was a leader of the D.C. Branch of the College Equal Suffrage League. She led a delegation from the League to meet with President Woodrow Wilson on the suffrage issue shortly after the Congressional Committee of NAWSA staged its huge suffrage parade in the nation's capital in March 1913.

Hill joined the Congressional Union of Woman Suffrage's executive committee in 1914-15 and headed CU organizing efforts to establish branches in South Carolina and Virginia. Paul dispatched Hill, along with other reliable organizers with exceptional managerial and speaking skills and a knack for effective fund-raising, on public tours in the fall of 1916, when the NWP targeted congressional campaigns on the issue of female suffrage. In August 1918 Hill was arrested for speaking at a Lafayette Square meeting and served a 15-day sentence. She was arrested in Boston in February 1919, where she was picketing Woodrow Wilson upon his return from Europe–and jailed again.

Hill chaired the 1921 convention in Washington, D.C., at which the NWP regrouped after the suffrage victory and decided on a course of international action and a focus on equal rights. She became the new chairman of the NWP National Council (serving until 1925) and, in 1924, was a member of the NWP deputation that visited President Calvin Coolidge to lobby on behalf of the Equal Rights Amendment. Her activism spanned the time period from the inception of the CU through the ERA era. She and Paul remained lifelong friends and shared a house in their later years. Hill's sister, Helena Hill Weed, was also active in the suffrage movement.





Two Paths to Equality: Alice Paul and Ethel M. Smith in the Era Debate, 1921-1929
Amy E. Butler expertly deals with the ERA, Equal Rights Amendment, and two of the more important figures in the early ERA debate.
Elsie Hill speaking at street meeting in St. Paul, Minn., during Prohibition Party convention that endorsed a plank advocating a suffrage amendment, July 1916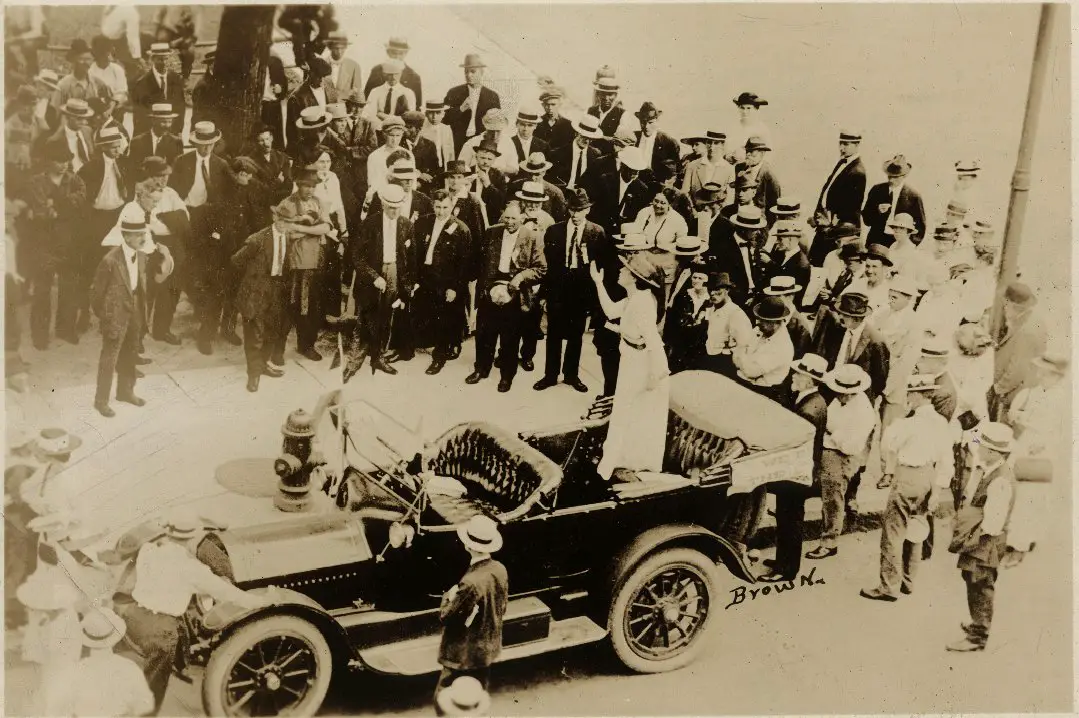 Photograph published in The Suffragist, 4, no. 31 (July 29, 1916): 5. Captioned "Miss Elsie Hill Addressing a Street Meeting in St. Paul." According to the accompanying story (" Prohibition Party Adopts Iron-Clad Suffrage Plank") Elsie Hill represented the Congressional Union for Woman Suffrage/Woman's Party at a Prohibition Party convention in St. Paul, July 19 and 20, 1916. The Prohibition Party endorsed as part of their plank the text of the Susan B. Anthony amendment (granting the right to vote to women).
Women of the American Suffrage Movement
Womens Suffrage Timeline
American Civil War Women
Womens Civil War Reading Titles
American Civil War Recipes
Civil War Exhibits



Jailed for Freedom
by: Doris Stevens
Dramatic documentation of women's struggle to win the vote is brought to light by a firsthand witness who reveals, among other facts, the imprisonment, vilification and brutality women experienced during their fight

The Vanderbilt Women: Dynasty of Wealth, Glamour and Tragedy
The fascinating lives of three generations of Vanderbilt women who dominated New York society from the middle of the eighteenth century through the twentieth. Of special interest are the discovery of unpublished letters


Century of Struggle
The Womans Rights Movement
Young suffragists who helped forge the last links in that chain were not born when it began. Old suffragists who forged the first links were dead when it ended. It is doubtful if any man, even among suffrage men, ever realized what the suffrage struggle came to mean to women

Feminism and Suffrage: The Emergence of an Independent Women's Movement in America, 1848-1869
In the two decades since Feminism and Suffrage was first published, the increased presence of women in politics and the gender gap in voting patterns have focused renewed attention on an issue generally perceived as nineteenth-century
Sources:
U.S. Library of Congress
Federal Citizen