Lucy Stone (1818-1893)

Lucy Stone was an early advocate of antislavery and women's rights. She was born in Massachusetts. After she graduated from Oberlin College in 1847, she began lecturing for the antislavery movement as a paid agent for the American Anti-Slavery Society. She said in 1847, "I expect to plead not for the slave only, but for suffering humanity everywhere. Especially do I mean to labor for the elevation of my sex."

Lucy Stone did not participate in the First Woman's Rights Convention in Seneca Falls, but she was an organizer of the 1850 Worcester First National Woman's Rights Convention. She also participated in the convention and addressed the audience. It is her 1852 speech at the National Woman's Rights Convention in Syracuse, New York, which is credited for converting Susan B. Anthony to the cause of women's rights. Lucy Stone participated in the 1852, 1853, and 1855 national woman's rights conventions, and was president of the 1856 National Woman's Rights Convention held in New York, New York.

In 1855 Stone married Henry Blackwell. At the ceremony the minister read a statement from the bride and groom, announcing that Stone would keep her own name. The statement said that current marriage laws "refuse to recognize the wife as an independent, rational being, while they confer on the husband an injurious and unnatural superiority, investing him with legal powers which no honorable man would exercise, and which no man should possess." Women who followed her example called themselves "Lucy Stoners".

After the Civil War, Lucy Stone joined Frederick Douglass and others who supported the Fifteenth Amendment as a partial gain, as they continued to work for women's rights. The passage of the Fifteenth Amendment outraged most women's rights leaders' because the word "male" was included for the first time in the Constitution. This debate divided the women's rights movement. By 1869 Elizabeth Cady Stanton, Susan B. Anthony and others formed the National Woman Suffrage Association and focused their efforts on a federal woman's suffrage amendment. Lucy Stone and Julia Ward Howe led others to form the American Woman Suffrage Association, which chose to focus on state suffrage amendments.

By 1871 Stone had helped organize the publication of The Woman's Journal and was co-editing the newspaper with her husband Henry Blackwell.


We Are Your Sisters: Black Women in the Nineteenth Century
A remarkable documentary and the first in-depth record of many black women, slave and free."--Dorothy B. Porter, curator emeritus, Moorland-Spingarn Research Center, Howard University
Women of the American Suffrage Movement
Womens Suffrage Timeline
American Civil War Women
Womens Civil War Reading Titles
American Civil War Recipes
Civil War Exhibits


Dora Lewis (center) of Philadelphia [with Clara Louise Rowe (left) and Abby Scott Baker (right)] on release from jail after days of hunger strike. August 1918.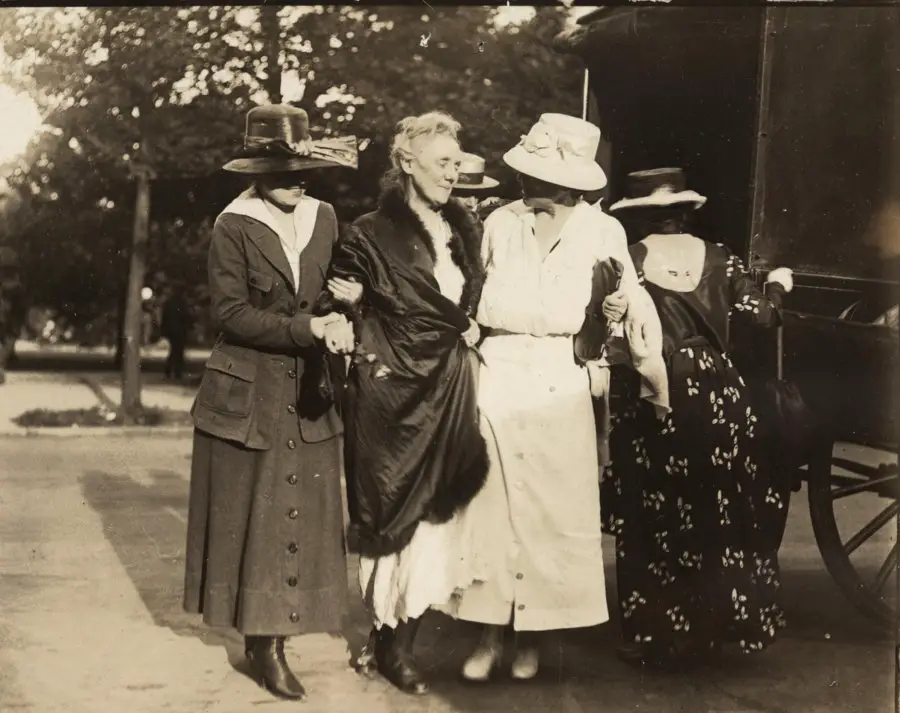 The day after the police announce that future pickets would be given limit of 6 mos. in prison,
Alice Paul led picket line with banner reading "The time has come to conquer or submit for there is but one choice - we have made it."
She is followed by Mrs. Lawrence Lewis [Dora Lewis]. This group received 6 mos. in prison.
click to enlarge photo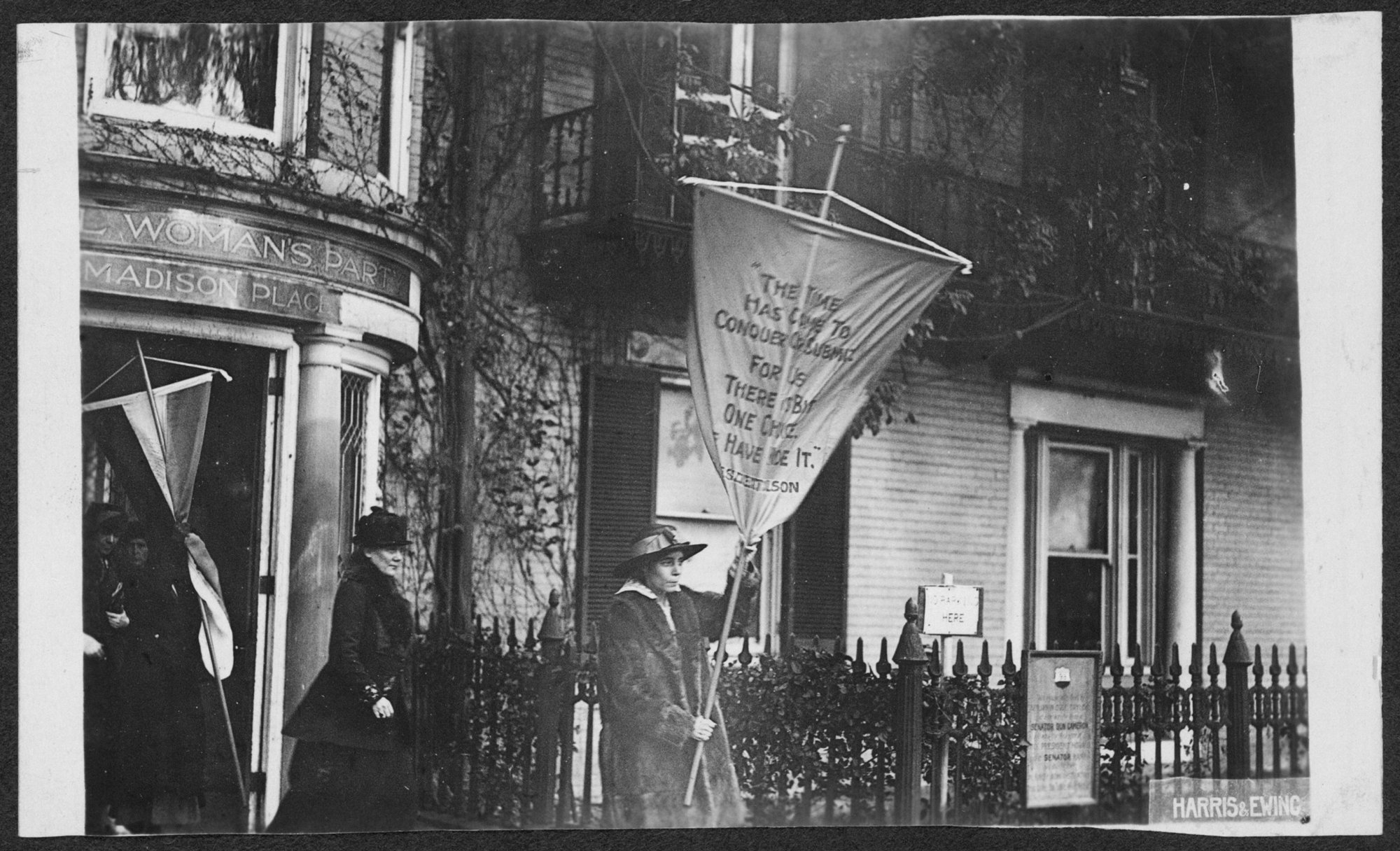 Left to right: Adelaide Johnston, sculptor, Mrs. Lawrence [Dora] Lewis, Phila., Jane Addams. At time statue was placed in capitol.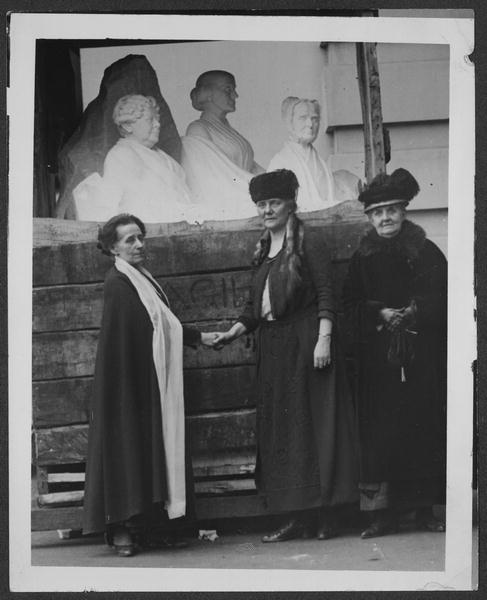 Jailed for Freedom
by: Doris Stevens
Dramatic documentation of women's struggle to win the vote is brought to light by a firsthand witness who reveals, among other facts, the imprisonment, vilification and brutality women experienced during their fight

The Vanderbilt Women: Dynasty of Wealth, Glamour and Tragedy
The fascinating lives of three generations of Vanderbilt women who dominated New York society from the middle of the eighteenth century through the twentieth. Of special interest are the discovery of unpublished letters


Century of Struggle
The Womans Rights Movement
Young suffragists who helped forge the last links in that chain were not born when it began. Old suffragists who forged the first links were dead when it ended. It is doubtful if any man, even among suffrage men, ever realized what the suffrage struggle came to mean to women

Feminism and Suffrage: The Emergence of an Independent Women's Movement in America, 1848-1869
In the two decades since Feminism and Suffrage was first published, the increased presence of women in politics and the gender gap in voting patterns have focused renewed attention on an issue generally perceived as nineteenth-century

One Woman One Vote
This program documents the struggle which culminated in the passing of the 19th Amendment in the U.S. Senate by one vote. Witness the 70-year struggle for women's suffrage. Discover why the crusaders faced entrenched opposition from men and women who feared the women's vote would ignite a social revolution. DVD

Not for Ourselves Alone: The Story of Elizabeth Cady Stanton & Susan B. Anthony
Together they fought for women everywhere, and their strong willpower and sheer determination still ripples through contemporary society. Here lies the story of two of our century's most celebrated pioneers Elizabeth Cady Stanton and Susan B. Anthony. DVD

Out of Our Fathers House
Broadway Theatre Archive
This play presents the true stories of women who sought independence at any cost. The compelling text is taken entirely from the diaries, journals and letters of the characters portrayed.
Sources:
National Park Service