Mary Church Terrell (1863-1954)
First African-American Women Awarded a College Degree
Mary Church Terrell was born in 1863, during the Civil War, and died in 1954, shortly after the Supreme Court decision Brown v. Board of Education -- the culmination of the fight to end Jim Crow segregation. Terrell had been a leader in this fight throughout her long life.

Born to wealth, Terrell majored in classics at Oberlin College, where she received her bachelor's degree in 1884, one of the first African-American women awarded a college degree. She studied in Europe for two years, becoming fluent in French, German, and Italian. A high school teacher and principal, Terrell was appointed to the District of Columbia Board of Education, the first black woman in the United States to hold such a position.

A charter member and first president of the National Association of Colored Women, Terrell became nationally known both for her support of women's suffrage and her opposition to racial segregation. She was also one of the founders of the National Association for the Advancement of Colored People. In 1953, at the age of ninety, she led a successful drive to end the segregation of public facilities in Washington, D.C.


A Colored Woman In A White World
In this autobiography, originally published in 1940, Terrell describes the important events and people in her life. With a new introduction by Debra Newman Ham, professor of history at Morgan State University, this new edition of Mary Church Terrell's autobiography will be of interest to students and scholars of both women's studies and African American history.




Mary Church Terrell
Leader for Equality
Grades 2-4 Mary Church Terrell lived in the 19th century, but was born free into a life of privilege and wealth. However, Terrell also faced the obstacles placed before African Americans and fought to overcome them. She was active in African-American women's groups and the newly formed NAACP.

Mary Church Terrell
Speaking Out for Civil Rights
Grade 4-7-This biography of the civil rights activist tells of a strong woman who overcame great obstacles throughout her life in order to meet her goals. Although her father was the son of a white master, he was not able to gain his freedom until after the Emancipation Proclamation

Fight On!: Mary Church Terrell's Battle for Integration
The acclaimed civil rights leader Mary Church Terrell (1863–1954) is brought vividly to life in this well researched and compelling biography. The daughter of an ex-slave, Terrell was considered the best-educated black woman of her time. She was the first African American member of the Washington, D.C., Board of Education


Century of Struggle
The Womans Rights Movement
Young suffragists who helped forge the last links in that chain were not born when it began. Old suffragists who forged the first links were dead when it ended. It is doubtful if any man, even among suffrage men, ever realized what the suffrage struggle came to mean to women

Feminism and Suffrage: The Emergence of an Independent Women's Movement in America, 1848-1869
In the two decades since Feminism and Suffrage was first published, the increased presence of women in politics and the gender gap in voting patterns have focused renewed attention on an issue generally perceived as nineteenth-century

The Concise History of Woman Suffrage: Selections from History of Woman Suffrage, by Elizabeth Cady Stanton, Susan B. Anthony, Matilda Joslyn Gage, and the National American Woman Suffrage Association

Not For Ourselves Alone: The Story of Elizabeth Cady Stanton and Susan B. Anthony
Two heroic women who vastly bettered the lives of a majority of American citizens. For more than fifty years they led the public battle to secure for women the most basic civil rights and helped establish a movement that would revolutionize American society

The Life and Times of Inez Milholland
Inez Milholland was the most glamorous suffragist of the 1910s and a fearless crusader for women's rights. Moving in radical circles, she agitated for social change in the prewar years, and she epitomized the independent New Woman of the time. Her death at age 30 while stumping for suffrage in California in 1916 made her the sole martyr of the American suffrage movement.

Two Paths to Equality: Alice Paul and Ethel M. Smith in the Era Debate, 1921-1929
Amy E. Butler expertly deals with the ERA, Equal Rights Amendment, and two of the more important figures in the early ERA debate.
Women of the American Suffrage Movement
Womens Suffrage Timeline
American Civil War Women
Womens Civil War Reading Titles
American Civil War Recipes
Civil War Exhibits


Dora Lewis (center) of Philadelphia [with Clara Louise Rowe (left) and Abby Scott Baker (right)] on release from jail after days of hunger strike. August 1918.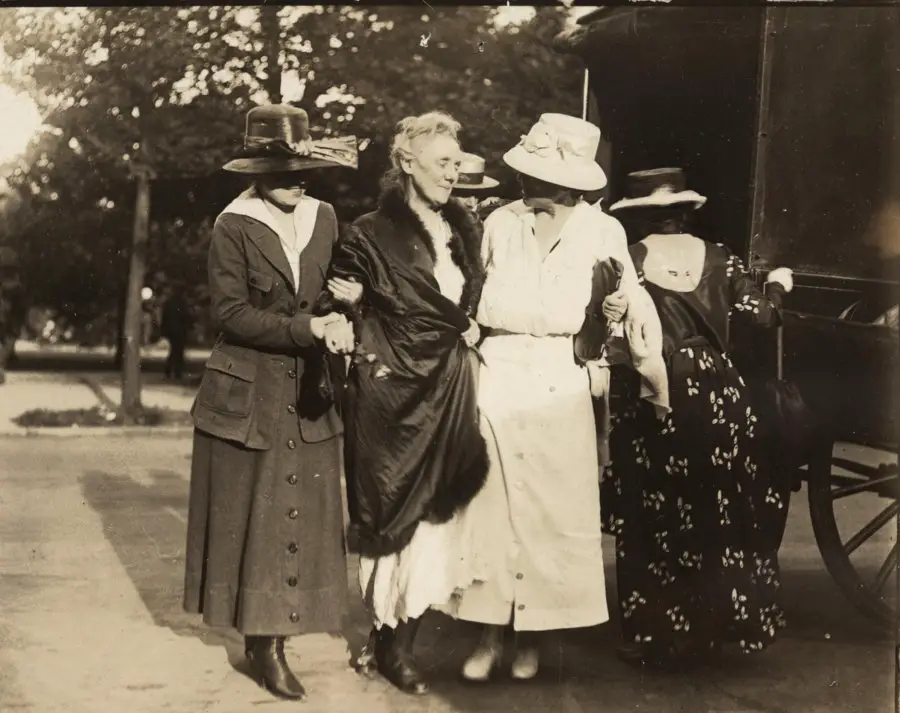 The day after the police announce that future pickets would be given limit of 6 mos. in prison,
Alice Paul led picket line with banner reading "The time has come to conquer or submit for there is but one choice - we have made it."
She is followed by Mrs. Lawrence Lewis [Dora Lewis]. This group received 6 mos. in prison.
click to enlarge photo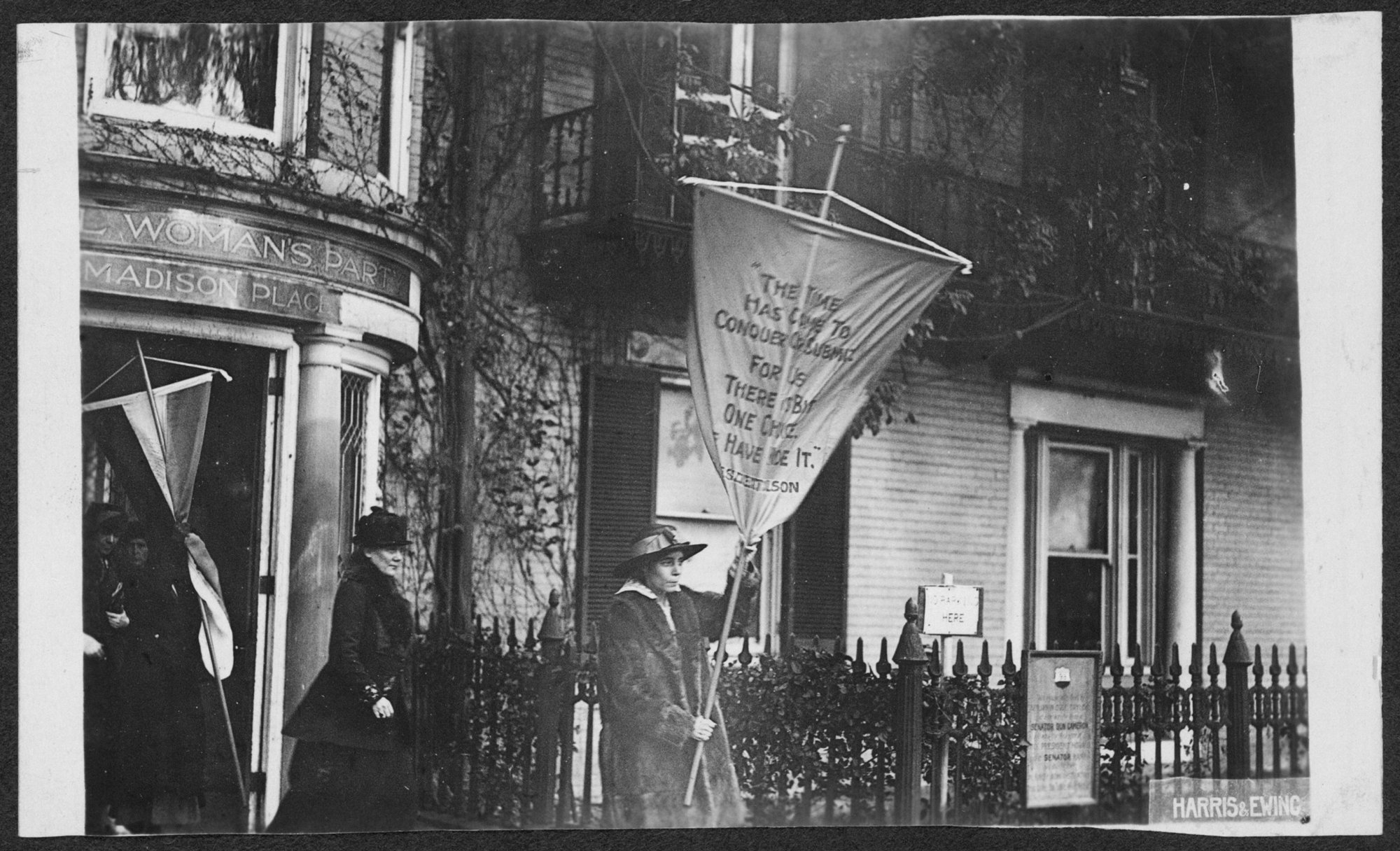 Left to right: Adelaide Johnston, sculptor, Mrs. Lawrence [Dora] Lewis, Phila., Jane Addams. At time statue was placed in capitol.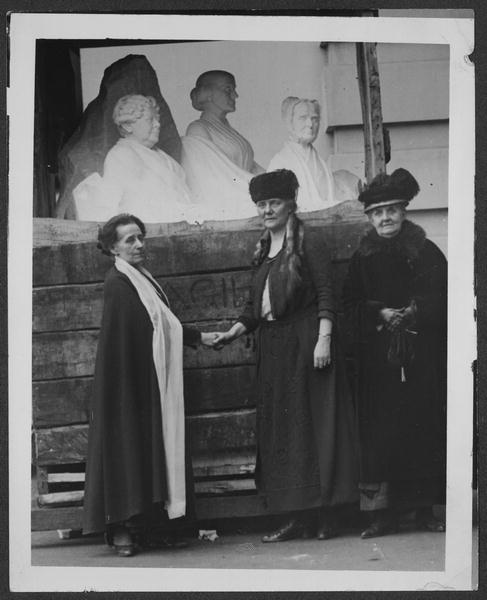 Kindle Available

The Grimke Sisters from South Carolina: Pioneers for Women's Rights and Abolition
A landmark work of women's history originally published in 1967, Gerda Lerner's best-selling biography of Sarah and Angelina Grimke explores the lives and ideas of the only southern women to become antislavery agents in the North and pioneers for women's rights. This revised and expanded edition includes two new primary documents and an additional essay by Lerner. In a revised introduction Lerner reinterprets her own work nearly forty years later and gives new recognition to the major significance of Sarah Grimke's feminist writings
Kindle Available

You Want Women to Vote, Lizzie Stanton?
Grade 3-6. Fritz applies her gift for creating engaging, thorough historical literature to a larger-than-life historical figure. Stanton was a radical among radicals, and this objective depiction of her life and times, as well as her work for women's rights, makes readers feel invested in her struggle. An appealing, full-page black-and-white drawing illustrates each chapter. For students who need a biography, this title should fly off the shelves with a minimum of booktalking. And it is so lively that it is equally suitable for leisure reading.?

Recollections of 92 Years, 1824-1916
When the indomitable Meriwether was banned from her home by Union soldiers because her husband was a Confederate officer, she spent the next two years bartering for food and shelter for herself and her three young sons. After the war, Meriwether embarked on a decades-long career as an author and advocate for the equality of women, keeping up the crusade until her death in 1916--the year congressional support for women's suffrage emerged.
Sources:
U.S. Library of Congress