Stowe was catapulted to international fame with the publication of Uncle Tom's Cabin in 1851. . Following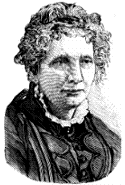 publication of the book, she became a celebrity, speaking against slavery both in America and Europe. She wrote A Key to Uncle Tom's Cabin (1853) extensively documenting the realities on which the book was based, to refute critics who tried to argue that it was inauthentic; and published a second anti-slavery novel, Dred in1856.
The following excerpt is taken from the last chapter of Uncle Tom's Cabin, which very much resembles a sermon. She urges white Northerners to welcome escaped slaves and treat them with respect:

On the shores of our free states are emerging the poor, shattered, broken remnants of families,--men and women, escaped, by miraculous providences, from the surges of slavery,--feeble in knowledge, and, in many cases, infirm in moral constitution, from a system which confounds and confuses every principle of Christianity and morality. They come to seek a refuge among you; they come to seek education, knowledge, Christianity. What do you owe to these poor, unfortunates, O Christians? Does not every American Christian owe to the African race some effort at reparation for the wrongs that the American nation has brought upon them? Shall the doors of churches and school-houses be shut down upon them? Shall states arise and shake them out? Shall the Church of Christ hear in silence the taunt that is thrown at them, and shrink away from the helpless hand that they stretch out, and shrink away from the courage the cruelty that would chase them from our borders? If it must be so, it will be a mournful spectacle. If it must be so, the country will have reason to tremble, when it remembers that fate of nations is in the hand of the One who is very pitiful, and of tender compassion.
Thereafter,

Stowe became one of America's best-paid and most famous writers. Born into a distinguished New England family, Stowe began her career writing stories for a Cincinnati literary club. Stowe was fortunate to have begun her career before writing had become sufficiently remunerative in the United States to allow men to dominate the profession. First published in weekly installments from June 5, 1851 to April 1, 1852 in the journal National Era, Stowe's novel created such a controversy that when she was introduced to President Abraham Lincoln in 1862, he is said to have greeted her with the words: "So you are the little woman who wrote the book that started this great war!"

| | |
| --- | --- |
| Photograph courtesy of the Ohio Historical Society | This house was once the residence of Harriet Beecher Stowe (1811-1896), the influential antislavery author who wrote Uncle Tom's Cabin. In 1832, Harriet Beecher moved from Litchfield, Connecticut, to Cincinnati with her sister and father, a Congregationalist minister who accepted an offer to teach at the Lane Seminary. Harriet and her sister lived with their father in this house, which was provided by the Seminary, and soon after settling in established the Western Female Institute. In 1833, while teaching at the Western Female Institute, the two sisters published Geography for Children. The following year Harriet Beecher won a prize for "New England Sketch," published in the Western Monthly Magazine. Marrying Calvin Ellis Stowe, a fellow teacher at the Western Female Institute, in 1835, Harriet Beecher Stowe moved out of her father's house and into a nearby home in the Walnut Hills area. In the following years, however, Stowe would be a frequent visitor to this house where she and her family would meet with like-minded antislavery activists. |
| | |
| --- | --- |
| Harriet - Lyman - Henry | Sometime after 1860, Lyman Beecher left Boston to live in Brooklyn with his son, Henry Ward Beecher, popular pastor of Plymouth Congregational Church. Though the younger Beecher's ministry of love and redemption contrasted strongly with his father's strict Calvinist philosophy, both he and his sister, Harriet Beecher Stowe, carried on their father's opposition to slavery. Harriet Beecher Stowe's 1852 novel, Uncle Tom's Cabin, rendered her tragic subject in a style that combined heartfelt conviction with endless documentary detail, and the book made her the best-known author of her generation. This image was made around 1861, when Henry Ward Beecher, as editor of the national magazine The Independent, began to call for ever more radical action from Lincoln to end slavery and bring the war to a close. Brady's photograph of two famous siblings and their renowned father record a distinguished American family and three important intellectual leaders. |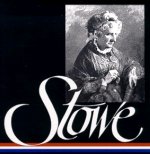 Harriet Beecher Stowe : Three Novels : Uncle Tom's Cabin Or, Life Among the Lowly; The Minister's Wooing; Oldtown Folks
Uncle Tom's Cabin is probably the most influential work of fiction in American history. This Christian epic turned millions of Americans against slavery, bringing the "peculiar institution" immeasurably closer to its destruction. In The Minister's Wooing and Oldtown Folks, Stowe examines the interplay of religion, domesticity, and women's roles and choices in the shaping of American culture.



Kindle Available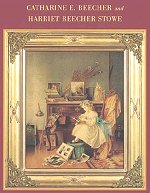 The American Woman's Home by Catharine E. Beecher and Harriet Beecher Stowe
Originally published in 1869, was one of the late nineteenth century's most important handbooks of domestic advice. This book represents their attempt to direct women's acquisition and use of a dizzying variety of new household consumer goods available in the post-Civil War economic boom