First Kansas Colored Volunteer Infantry
This was one of the first colored regiments organized in the Civil War. In August, 1862, General James H. Lane, appointed Captain James H. Williams of the Fifth Kansas Cavalry, Recruiting Commissioner for that part of the State lying north of the Kansas River, and Captain H. C. Seaman, for that part of Kansas lying south of the river. They raised a colored regiment. Within sixty days, five hundred men had been secured, but there was some opposition to their being mustered into the United States service. They were, however, mustered on the 13th of January, 1863. Before they were mustered, they had been attacked by the rebels under Colonel Cochran, but gave a good account of themselves.

During the winter of 1863, four companies were added and the regiment was organized on the 2nd of May, 1863, with the following field and staff:

Colonel, James M. Williams; Lieutenant-Colonel, John Bowles; Major, Richard G. Ward; Adjutant, Richard J. Hinton; Quartermaster, Elijah Hughes; Surgeon, Samuel C. Harrington; Chaplain, George W. Hutchingson.

The regiment saw much service during the war. The Confederate government was much opposed to the enlistment of colored men by the Federal Government, and passed barbarous laws, prescribing punishment of those who should be captured. In reply to these laws, President Lincoln issued his order on the 30th of April, 1863, ordering "that for every soldier of the United States killed in violation of the rules of war, a rebel shall be executed; and for every one enslaved by the enemy or sold into slavery, a rebel soldier shall be placed at hard labor on public works, and continued at such labor until the other shall be released and receive the treatment due a prisoner of war.

On the 27th of June, 1863, the First Kansas Colored Volunteer Infantry was made a part of the escort of a valuable train of supplies from Fort Scott to Fort Gibson. This train and escort were attacked at Cabin Creek, July 1, 1863, by General Cooper and some Indian forces. The Union troops saved the train and proceeded with them to Fort Gibson, where it arrived on the 5th of July.

On the 17th of July the regiment bore an honorable part in the battle of Honey Springs South of Fort Gibson.

The regiment had part in the movements of the Union troops about Fort Smith, operating much on the Arkansas River and about Camden, Arkansas. This regiment never failed to give a good account of itself in any battle they served in which it was engaged.

SECOND KANSAS COLORED VOLUNTEER INFANTRY

This regiment was organized in October, 1863, at Fort Smith, Arkansas, under the following field and staff:

Colonel, Samuel J. Crawford, Garnett; Lieutenant-Colonel, Horatio Knowles; Major, James H. Gillpatrick, Junction City; Adjutant, John R. Montgomery, Little Rock, Ark.; Quartermaster, Edwin Stokes, Clinton; Surgeon, George W. Walgamott, Lawrence; Chaplain, Josiah B. McAfee, Topeka.

This was a famous regiment. It performed long, arduous and brilliant service. Its stand at Jenkins Ferry, Arkansas, was not surpassed in bravery by any troops in the service of the United States. For a complete account of the service of this regiment, students are referred to Kansas in the Sixties, by Governor Samuel J. Crawford.


The Sable Arm: Black Troops in the Union Army, 1861-1865
The first work to fully chronicle the remarkable story of the nearly 180,000 black troops who served in the Union army. This work paved the way for the exploration of the black military experience in other wars. This edition, with a new foreword by Herman Hattaway and bibliographical essay by the author, makes available once again a pioneering work that will be especially useful for scholars and students




Colored Troop Books
The 1st Kansas Colored Infantry Regiment achieved an excellent combat record during the Civil War, and it also performed garrison, engineer, and escort duty. The Regiment saw action at:

Island Mound; near Butler, Missouri October 28, 1862
Reeder Farm; near Sherwood Missouri May 18, 1863
Cabin Creek, Indian Territory July 1-2, 1863
Honey Springs, Indian Territory July 17, 1863
Poison Springs, Arkansas April 18, 1864
Flat Rock Creek, Indian Territory September 16, 1864
Timber Hills, Indian Territory November 19, 1864
Union officers recognized the excellent combat reputation of the 1st Kansas Colored Volunteer Infantry Regiment:

Major General James G. Blunt--July 26, 1863:

"The First Kansas (colored) particularly distinguished itself, they fought like veterans and preserved their line unbroken throughout the engagement. Their coolness and bravery I have never seen surpassed."

Lt. Colonel John Bowles--July 20, 1863:

"In conclusion, I feel it but justice and my duty to state that the officers and men throughout the entire regiment behaved nobly, and with the coolness of veterans. Each seemed to vie with the other in the performance of his duty, and it was with the greatest gratification that I witnessed their gallant and determined resistance under the most galling fire."

Brigadier General John McNeil--November 2, 1863:

"On Saturday I reviewed the First Arkansas Volunteers, First Colored Infantry Kansas Volunteers, and Rabb's Battery. The negro regiment is a triumph of drill and discipline, and reflects great honor on Col. Williams, in command. Few volunteer regiments that I have seen make a better appearance. I regard them as first-rate infantry."

Colonel James M. Williams--April 24, 1864:

"The officers and men all evinced the most heroic spirit, and those that fell died the death of a true soldier."
Colored Troops
Colored Troops Pictures
African American Timeline
American Civil War Exhibits
Women in the War
Civil War Cooking
Kids Zone Underground Railroad
Kids Zone Causes of the War
Dred Scott Decision
Benjamin Oliver Davis First Colored U.S. General


The Black Civil War Soldiers of Illinois: The Story of the Twenty-Ninth U.S. Colored Infantry
Study in the lives of black recruits in the Civil War era, and a journey into the hinterlands of an American racial pathos. Throughout this study, Miller explores in detail the biographies of individual soldiers, revealing their often convoluted histories

Standing Soldiers, Kneeling Slaves
The United States of America originated as a slave society, holding millions of Africans and their descendants in bondage, and remained so until a civil war took the lives of a half million soldiers, some once slaves themselves.

Where Death and Glory Meet: Colonel Robert Gould Shaw and the 54th Massachusetts Infantry
July 18, 1863, the African American soldiers of the Fifty-Fourth Massachusetts Infantry led a courageous but ill-fated charge on Fort Wagner, a key bastion guarding Charleston harbor. Confederate defenders killed, wounded, or made prisoners of half the regiment. Only hours later, the body of Colonel Robert Gould Shaw, the regiment's white commander, was thrown into a mass grave with those of twenty of his men.
Kindle Available

The Negro's Civil War: How American Blacks Felt and Acted During the War for the Union
In this classic study, Pulitzer Prize-winning author James M. McPherson deftly narrates the experience of blacks--former slaves and soldiers, preachers, visionaries, doctors, intellectuals, and common people--during the Civil War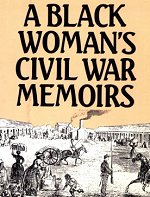 A Black Woman's Civil War Memoirs: Reminiscences of My Life in Camp With the 33rd U.S. Colored Troops, Late 1st South Carolina Volunteers," by Susie King Taylor, was
First published in 1902. A new edition, edited by Patricia Romero and featuring an introduction by Willie Lee Rose, appeared in 1988. In that new intro Rose declared, "There is nothing even vaguely resembling Susie King Taylor's small volume of random recollections in the entire literature of the Civil War, or in that of any other American conflict insofar as I am aware." Indeed, this book is a rare and valuable historical document.
Taylor was born a slave in 1848 on an island off the coast of Georgia. She gained her freedom and worked as a laundress for an African-American Union regiment during the war.
Taylor recalls how she learned to read and write and then herself became a teacher. She offers fascinating details about her life with the troops. She had many different duties beyond laundry service. I loved the episode where she recalls concocting "a very delicious custard" from turtle eggs and canned condensed milk, and serving it to the troops.
Taylor condemns the lack of appreciation shown for both black and white Civil War veterans. She also condemns early 20th century racism. Reading her book I was reminded of W.E.B. Du Bois' classic "The Souls of Black Folk," which was first published around the same time; I think the two books complement each other well.
Taylor ends on a note of hope and pride, noting "my people are striving" for better lives. This book is, in my opinion, an important milestone in African American literature.
Sources:
U.S. National Park Service
U.S. Library of Congress.