Fort McAllister I
Civil War Georgia
American Civil War
March 3, 1863
Rear Adm. Samuel F. Du Pont [US] ordered three ironclads, Patapsco, Passaic, and Nahant, to test their guns and mechanical appliances and practice artillery firing by attacking Fort McAllister, then a small three-gun earthwork battery.

On March 3, 1863, the three ironclads conducted an eight-hour bombardment. The bombardment did not destroy the battery but did some damage, while the three ironclads received some scratches and dents. The tests were helpful for knowledge and experience gained, but the fort did not fall, showing that the ironclads' firepower could not destroy an earthen fort.

Result(s): Confederate victory

Location: Bryan County

Campaign: Naval Attacks on Fort McAllister (1863)

Date(s): March 3, 1863

Principal Commanders: Capt. P. Drayton, U.S.N. [US]; Capt. George A. Anderson [CS]

Forces Engaged: Union Navy Flotilla [US]; Fort McAllister Garrison [CS]

Estimated Casualties: Unknown

The bombardment of Fort McAllister by the U.S. Navy monitors Passaic , Patapsco and Nahant . The engraving is based on a sketch by "an eye-witness" on board USS Montauk , which is in the right center foreground. In the left foreground, firing on the fort, are the mortar schooners C.P. Williams , Norfolk Packet and Para . Among other U.S. Navy ships involved were gunboats Wissahickon , Seneca and Dawn and tug Dandelion .



Ironclad of the Roanoke:
Gilbert Elliott's Albemarle
The story of a Confederate Ironcald that was a powerful force until sunk by a Union Torpedo Boat after its brief stormy life. Ironic in the fact it was built in a Cornfield. Confederate Ingenunity at it finest!



Confederate Ironclad 1861-65
Every aspect of Confederate ironclads is covered: design, construction, armor, armament, life on board, strategy, tactics, and actual combat actions.
Signal station on the Ogocchee at Fort McAllister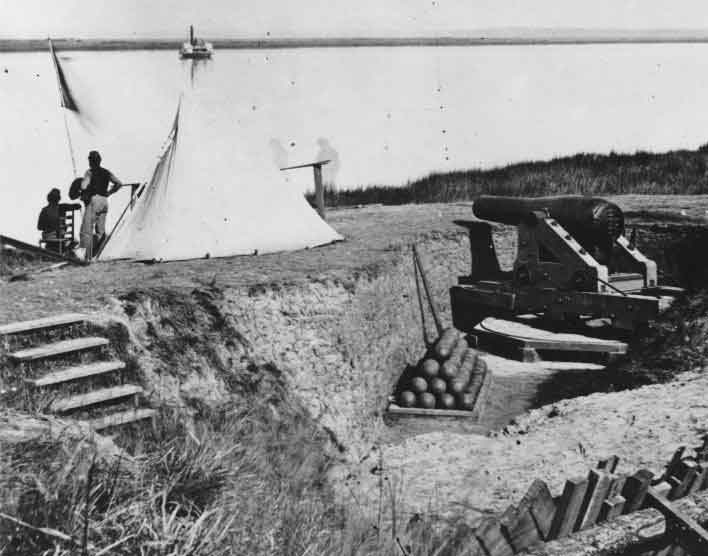 Duel on the Roanoke
The True Story of the CSS Albemarle
A 158-foot Confederate ironclad ship built in a cornfield 90 miles up North Carolina's Roanoke River, under the direction of an 18-year-old boy, and the deadly cat-and-mouse game between the two opposing captains.
Kindle Available

Reign of Iron: The Story of the First Battling Ironclads, the Monitor and the Merrimack
The first ironclad ships to fight each other, the Monitor and the Virginia (Merrimack), were the unique products of American design genius

Ironclads and Big Guns of the Confederacy : The Journal and Letters of John M. Brooke
Information about the Confederate Navy's effort to supply its fledgling forces, the wartime diaries and letters of John M. Brooke tell the neglected story of the Confederate naval ordnance office, its innovations, and its strategic vision.

Confederate Phoenix: The CSS Virginia
The CSS Virginia of the Confederate States Navy destroyed two of the most formidable warships in the U.S. Navy. Suddenly, with this event, every wooden warship in every navy in the world became totally obsolete

Union River Ironclad 1861-65
At the start of the American Civil War, neither side had warships on the Mississippi River. In what would prove the vital naval campaign of the war, both sides fought for control of the river. While the Confederates relied on field fortifications and small gunboats, the Union built a series of revolutionary river ironclads
Kindle Available

Wolf of the Deep: Raphael Semmes and the Notorious Confederate Raider CSS Alabama
In July 1862, the Confederate captain Raphael Semmes received orders to report to Liverpool, where he would take command of a secret new British-built steam warship. His mission: to prey on Union commercial vessels and undermine the North's ability to continue the war

Confederate Submarines and Torpedo Vessels 1861-65
Interesting information and many excellent illustrations. It addresses the CSA David class torpedo boats and the Hunley (and its predecessors), as well as Union examples such as the Alligator and the Spuyten Duyvil
Kindle Available

Naval Strategies of the Civil War: Confederate Innovations and Federal Opportunism
Compare and contrast the strategies of the Southern Secretary of the Navy, Mallory, against his rival in the North, Welles. Mallory used technological innovation and the skill of individuals to bolster the South's seapower against the Union Navy's superior numbers
Kindle Available

Confederate Ironclad vs Union Ironclad: Hampton Roads 1862
The Ironclad was a revolutionary weapon of war. Although iron was used for protection in the Far East during the 16th century, it was the 19th century and the American Civil War that heralded the first modern armored self-propelled warships.
Release date Nov. 2008

Year on a Monitor and the Destruction of Fort Sumter
Personal view of the Civil War Navy. The monitor saw action in several significant naval assaults by the Union's Squadron. It took part in the failed Federal attack on Sumter in April 1863. The "Nahant" also participated in the capture of the Confederate Ram "Atlanta," and in the assault on Fort Wagner

Blockaders, Refugees, and Contrabands: Civil War on Florida'S Gulf Coast, 1861-1865
Coastal Florida had a refugee crisis as the war progressed. Escaped slaves ("contrabands") sought out the blockaders. Some joined the U.S. Navy. White men and their families sought to avoid conscription or vengeful neighbors/regulators and eventually sought refuge with the blockaders

War, Technology, and Experience aboard the USS Monitor
The experience of the men aboard the Monitor and their reactions to the thrills and dangers that accompanied the new machine. The invention surrounded men with iron and threatened their heroism, their self-image as warriors, even their lives

Life in Mr. Lincoln's Navy
A tantalizing glimpse into the hardships endured by the naval leadership to build and recruit a fighting force. The seaman endured periods of boredom, punctuated by happy social times and terrifying bouts of battle horror
Kindle Available

Glory in the Name: A Novel of the Confederate Navy
From Norfolk to Hampton Roads, from Roanoke Island to the nighttime battle on the river below New Orleans, Glory in the Name tells the story of the Confederate States Navy, and the brave men who carried forward against overwhelming odds


Ironclad Down: USS Merrimack-CSS Virginia from Design to Destruction
A treasure trove of detailed information about one of history s most famous vessels. Describing Stephen Russell Mallory, John Mercer Brooke, John Luke Porter, et al.--who conceived, designed and built one of the world's first ironclads

The Civil War on Hatteras Island
North Carolina
New light on the experiences of Civil War soldiers stationed on the Outer Banks. It follows the crucial maritime battles along the Outer Banks and the famous Burnsides Expedition. Aa fascinating history of how one of America's most treasured islands played a significant part in the Civil War
Confederate President Jefferson Davis
Civil War Submarines
Civil War Cooking
Civil War Picture Album


Source:
U.S. National Park Service
U.S. Library of Congress