Confederate Generals

Pierre Gustave Toutant Beauregard

P.G.T. Beauregard
Napoleon in Gray
Beauregard often gets overlooked, he was never as beloved as Lee or Stonewall Jackson, but he was capable, the man had a sharp mind and Lee understood this, even if Jefferson Davis did not
General Braxton Bragg
Kindle Available

General Braxton Bragg, C.S.A
Historians have denigrated Bragg by accepting without challenge the self-serving accusations of prominent, disgruntled subordinates, each of whom sought to explain their own failures by assigning them to Bragg. This biography, without dodging Bragg's deficiencies, refutes much of this false testimony. The result is a balanced view of this controversial general
Jubal Early

Jubal's Raid: General Early's Famous Attack on Washington in 1864
General Grant was hammering at the gates of Richmond and the Confederacy seemed doomed. In a bold and desperate stroke, General Lee countered by sending General. Early and a force of only twelve thousand men toward Washington, D.C.
Richard Ewell
Kindle Available

Confederate General R.S. Ewell
Robert E. Lee's Hesitant Commander
Richard Stoddert Ewell is best known as the Confederate General selected by Robert E. Lee to replace "Stonewall" Jackson as chief of the Second Corps in the Army of Northern Virginia.
Nathan Bedford Forrest
Kindle Available

Nathan Bedford Forrest
A Biography
Nathan Bedford Forrest was one of the most interesting figures from the mid-19th Century. He was also one of the most controversial -- given his role as Confederate cavalryman, Fort Pillow, and the rise of the first KKK
Wade Hampton
Kindle Available

Wade Hampton: Confederate Warrior to Southern Redeemer
General Wade Hampton was for a time the commander of all Lee's cavalry and at the end of the war was the highest-ranking Confederate cavalry officer
A.P. Hill
Kindle Available

General A.P. Hill: The Story of a Confederate Warrior
A Confederate general who ranks with Lee, Jeb Stuart, and Stonewall Jackson. Drawing extensively on newly unearthed documents, this work provides a gripping battle-by-battle assessment of Hill's role in Antietam
John B. Hood
Kindle Available

Advance And Retreat: Personal Experiences In The United States And Confederate States Armies
John Bell Hood entered the Confederate Army at 29, loyal to Confederate Independence. He led his men into the battles of Second Manassas, Gaines's Mill, Sharpsburg, Fredericksburg, Gettysburg, and Chickamauga
Thomas "Stonewall" Jackson
Kindle Available

Stonewall Jackson at Cedar Mountain
At Cedar Mountain on August 9,1862, Stonewall Jackson exercised independent command of a campaign for the last time
Joseph E. Johnston

Joseph E. Johnston and the Defense of Richmond
The high-level conferences in Richmond to set strategy and the relationship of the Peninsula campaign to operations in the Shenandoah Valley and the western Confederacy.
Joseph Brevard Kershaw

Kershaw's Brigade South Carolina's Regiments in the American Civil War
The story of South Carolina regiments in the American Civil War. As such it is essentially the story of the war itself since the state's forces were engaged from the very beginning at Fort Sumter
Robert E. Lee
Kindle Available

The Lees of Virginia: Seven Generations of an American Family
There are few American families that feature such a collection of characters, both heroic and ignoble, who have made such a mark on history as the Lees. In The Lees of Virginia, Paul Nagel chronicles seven generations of Lees, covering over two hundred years of accolades and scandals
James Longstreet
Kindle Available

From Manassas to Appomattox
General James Longstreet
According to some, he was partially to blame for the Confederate defeat at Gettysburg; according to others, if Lee had followed Longstreet's advice, they would have won that battle.
Robert E. Rodes
Kindle Available

Major General Robert E. Rodes of the Army of Northern Virginia: A Biography
The first deeply researched scholarly biography on this remarkable Confederate officer. From First Manassas in 1861 to Third Winchester in 1864
JEB Stuart
Kindle Available

Cavalryman of the Lost Cause
A Biography of J. E. B. Stuart
James Ewell Brown Stuart was the premier cavalry commander of the Confederacy. He gained a reputation for daring early in the war when he rode around the Union army in the Peninsula Campaign, providing valuable intelligence to General Robert E. Lee
Earl Van Dorn

Van Dorn: The Life and Times of a Confederate General
Biography of the flamboyant Earl Van Dorn, one of the most promising yet disappointing officers in the Confederate Army
Raphael Semmes
Kindle Available

Wolf of the Deep: Raphael Semmes and the Notorious Confederate Raider CSS Alabama
In July 1862, the Confederate captain Raphael Semmes received orders to report to Liverpool, where he would take command of a secret new British-built steam warship. His mission: to prey on Union commercial vessels and undermine the North's ability to continue the war
Captain Nathan G. Evans

Wandering to Glory: Confederate Veterans Remember Evans's Brigade
Nearly ten percent of all South Carolinians who fought in the Confederate army were members of Evans' Brigade
Famous Confederate commanders of the Civil War, 1861-65
Hood, Stuart, Early, Hill, Polk, J.E. Johnston, Hardee, Smith, Bragg, R. E. Lee, Beauregard, Breckinridge, A.S. Johnston, Jackson, Ewell, Hampton, Fitzhugh Lee, Price, Semmes, Longstreet.
Lithograph by Sherman Publishing Company, 1884.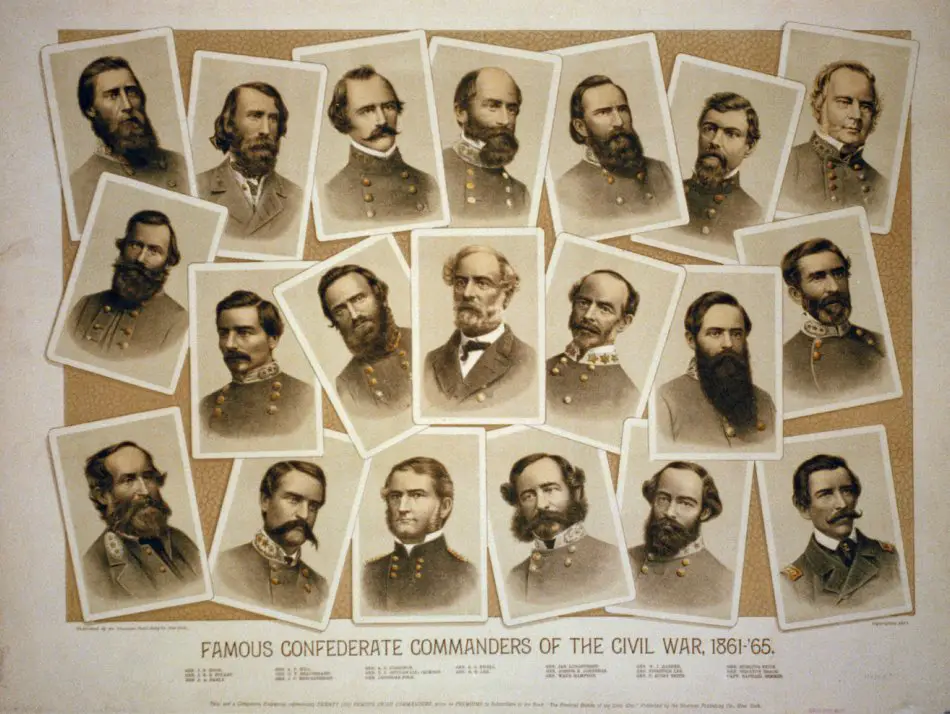 Jeb Stuart: The Last Cavalier
Biography of the dashing Confederate general is history at its best: fascinating, colorful, provocative. Includes portraits of Stuart's early life, training at West Point, the fateful decision to side with the South and action-packed battle scenes. 7 maps. 8 pages of photos.

Jeb Stuart and the Confederate Defeat at Gettysburg
Warren C. Robinson reassesses the historical record to come to a clearer view of Stuart's orders for the crucial battle (as well as what was expected of him), of his actual performance, and of the impact his late arrival had on the outcome of the campaign.
Kindle Available

Cavalryman of the Lost Cause
A Biography of J. E. B. Stuart
James Ewell Brown Stuart was the premier cavalry commander of the Confederacy. He gained a reputation for daring early in the war when he rode around the Union army in the Peninsula Campaign, providing valuable intelligence to General Robert E. Lee at the expense of Union commander George B. McClellan
Jefferson Davis and his cabinet with General Lee in the Council Chamber at Richmond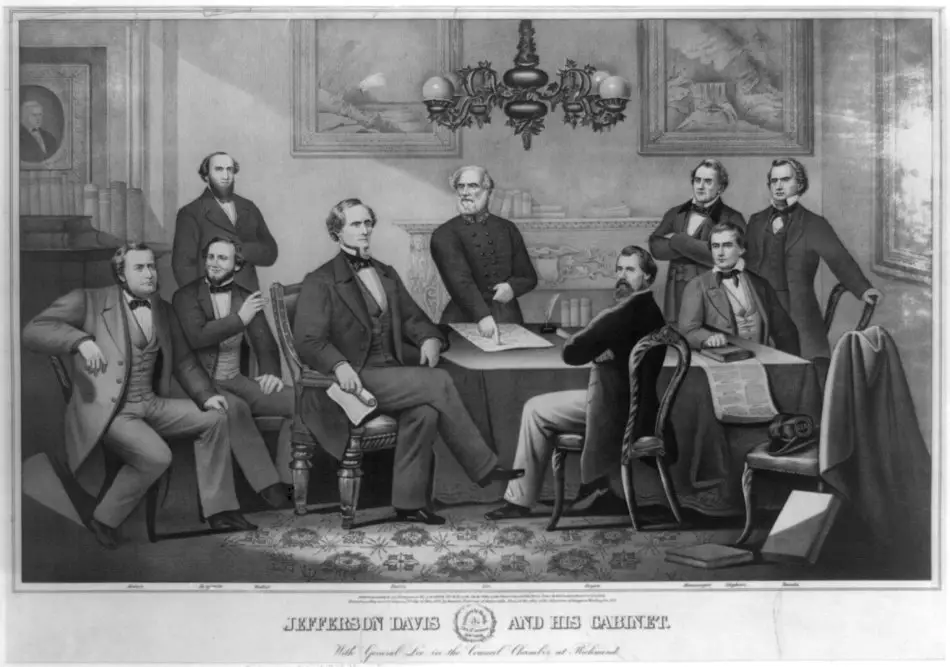 Kindle Available

The Rise and Fall of the Confederate Government
Whether we agree with Jefferson Davis or not, knowledge of his point of view is essential to understanding the causes of the Civil War. The forward by McPherson helps to give balance and explanation.

Lee The Last Years
After his surrender at Appomattox, Robert E. Lee lived only another five years - the forgotten chapter of an extraordinary life. These were his finest hours, when he did more than any other American to heal the wounds between North and South
Kindle Available

Robert E. Lee
This book not only offers concise detail but also gives terrific insight into the state of the Union and Confederacy during Lee's life. Lee was truly a one of kind gentleman and American, and had Virginia not been in the south or neutral, he ultimately would have led the Union forces.

History Channel Civil War
Secret Missions
There are about a half-dozen different small arms types, but the Henry is the best for rapid repeating fire and least reloading. The shotgun they give you is useless: you must aim spot-on to affect an enemy, so why not just use the rifle? Grenades are useful at times.

History Channel
Civil War A Nation Divided
Rally the troops and organize a counterattack -- Your strategic decision and talent as a commander will decide if the Union is preserved or if Dixie wins its independence


Sid Meier's Civil War Collection
Take command of either Confederate or Union troops and command them to attack from the trees, rally around the general, or do any number of other realistic military actions. The AI reacts to your commands as if it was a real Civil War general, and offers infinite replayability. The random-scenario generator provides endless variations on the battles

Campaign Gettysburg:
Civil War Battles
Campaign Gettysburg is simply the best of all the HPS Civil War games. While all of those are very good in their own right they simply do not compete with the level of detail presented here.
Hundreds of scenarios and multiple OOBs are only the start, the best thing is the campaign game

Sources:
Library of Congress