As a wealthy planter with no military background, Wade Hampton was an unlikely candidate to become one of the most esteemed officers in Confederate General Robert E. Lee's army. High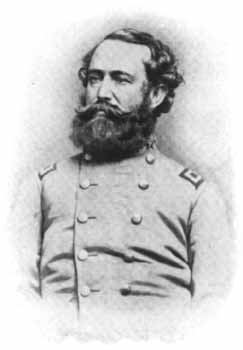 command posts were generally reserved for graduates of the United States Military Academy or other military schools such as South Carolina's Citadel or the Virginia Military Institute.
But Hampton, far from being the only Civil War officer without formal military training, was one of many. Most began uncertainly, their decisions reflecting their inexperience. Some couldn't handle the strains of combat and failed miserably, while others ultimately acquitted themselves admirably. Hampton was among the few who acted from the war's start as if he had been preparing all his life for military service, as evidenced by his quickly soaring prestige and eventual position as head of Confederate cavalry under Lee.
Hampton's great, great-grandfather, Anthony Hampton, arrived in South Carolina with his wife in the mid-1700s when much of the colony was still considered frontier.
The couple raised a brood of sons who helped carve out a home in the wilderness. Then the family's dreams turned to ashes in 1776 during the Revolutionary War. Cherokee Indians, incensed by repeated treaty violations and by colonists invading their land, launched raids against white settlers, encouraged by the British to coincide with their naval assault on Charleston, South Carolina. These Indian attacks file led anti-British feelings among many in the back country of South Carolina who before leaned toward supporting the Crown.
Five Hampton sons were away, and consequently spared, when Indian warriors invaded the homestead and killed Anthony Hampton, his wife, a son, and grandson. The surviving sons, including the first Wade Hampton, soon joined the rebel fight for independence from the British. Wade Hampton later also fought in the War of 1812 against the British. Between stints in the military, he established thriving plantations in Louisiana and Mississippi, as well as South Carolina, becoming, by his death in 1835, one of the richest planters in the nation.
His namesake, Wade Hampton II, also prospered at his plantation, Millwood, near Columbia, South Carolina, where he indulged a passion for collecting horses and books, developing one of the finest private libraries in the country. He also became a force to be reckoned with politically, though he remained primarily behind-the-scenes, with many of the state's powerful figures paying homage to him at his estate.
His son, Wade Hampton III, was perhaps as proficient at business as his grandfather, although, like many other prosperous Southerners, much of his wealth was built on human bondage. While some slave holders were more humane than others, denying a slave's basic rights and dignities was inherent in the system. Slave families were routinely torn apart, often never to see each other again. A slave child began a life full of work as soon as he or she was big enough to move stones out of the plow's way. Many planters or their hired hands whipped and beat slaves to enforce control or increase productivity, and their victims had little hope of escape. Laws banned teaching slaves to read and write or own property. Nor were they allowed free movement, a restriction enforced by white patrols who roamed the countryside, stopping any black they met and demanding written proof that the individual had permission to be away from a slave holder's property.
At some point, Wade Hampton III developed misgivings about slavery, apparently not because of moral scruples, but because he concluded the system was uneconomical. As a state legislator, he argued the point with his peers. In 1860, when secession fever hit South Carolina after Abraham Lincoln was elected President, Hampton opposed leaving the Union. Nevertheless, when South Carolina opted to break away, Hampton resolved to abide by the decision. Using his own money, he recruited and supplied a legion of troops - infantry, cavalry, and artillery - and, at the rank of colonel, led the force to Virginia where fighting was expected to begin.
In the first major clash of the war on July 21, 1861 at Manassas, Virginia (also known as the Battle of Bull Run), Hampton led 600 infantry soldiers into ferocious fighting. His second-in-command, and the only officer with military experience accompanying Hampton, was killed soon after fighting began. Attacked on three sides by Union troops, Hampton's soldiers stubbornly held their position amidst a hailstorm of bullets until his superiors urged Hampton to retreat. The men, resting briefly in a ravine, prepared for further battle. Soon they were back in action, capturing a Federal artillery piece and joining the pursuit of retreating Union soldiers in the first major Confederate victory of the war. Hampton, who suffered a superficial wound, lost 20 percent of his force, 121 men.
He garnered more attention in 1862 during a bungled Confederate advance on the outskirts of Richmond where he was shot in the foot on May 31 in the Battle of Seven Pines. Despite his wound, Hampton refused to leave the fray, insisting that he be treated while remaining astride his horse. With bullets whizzing through the air, he continued to direct his troops while a surgeon extracted the bullet.
In the heady days that followed, while Hampton recuperated, Lee took command of the Army of Northern Virginia. He and Major General Thomas Jonathan "Stonewall" Jackson built an army that for a time seemed almost invincible. Jackson moved his infantry at such lightning speed in the Shenandoah Valley that more than once the soldiers almost seemed to be in two places simultaneously. Trapped between two converging armies, Jackson boldly attacked one, then wheeled around to face the other, within two days sending both armies into retreat. With such feats, he kept Washington, D.C. cowering in fear that he would attack the capital, and when Jackson joined Lee near Richmond, together they held a massive Union Army at bay.
Hampton, convalescing, was apparently less than thrilled by Southern women admirers seeking his attention. Mary Chesnut, who vividly wrote about the Civil War, quotes an observer saying that Hampton "looked as if he wished they [the ladies] would leave him alone." His bravery and coolness under fire were also noted by his superiors, who promoted him to brigadier general. In the summer of 1862, Hampton was given a command post in Major General J.E.B. Stuart's cavalry.