Biographical Information

Early Life
Robert Emmet Rodes, born Lynchburg, Virginia, on March 30, 1829; son of General David Rodes and Martha Yancey.
VMI record
was graduated from the Virginia Military Institute in July 1848, standing 10th in a class of 24 graduates; Assistant Professor (Physical Science, Chemistry, Tactics) at VMI, 1848-1850.
Marriage
In September 1857 married Virginia Hortense Woodruff (1833-1907), of Tuscaloosa, Alabama. 2 children: Robert Emmet Rodes, Jr. (1863-1925) and a daughter, Bell Yancey Rodes (1865-1931).
Pre-Civil War
In 1850 began Civil Engineering career, working on various railroad projects in Alabama and elsewhere in the south; in 1860 was elected Professor of Applied Mechanics at VMI, but never served in this capacity because of the outbreak of war.
Civil War
May 1861 was commissioned Col. 5th Alabama Infantry Regt; Oct 1861 appointed Brigadier General, commanding his brigade at Fair Oaks, Gaines's Mill, Fredericksburg, Chancellorsville; promoted Major General May 1863; led his division at Gettysburg, the Wilderness, and Spotsylvania; went to Shenandoah Valley in June 1864, where he served under Early and fought at Kernstown and elsewhere; killed at Winchester, VA, on 19 September 1864; buried Presbyterian Cemetery, Lynchburg, VA.
| | | |
| --- | --- | --- |
| | The general was named after the Irish patriot and revolutionary Robert Emmet, whom his father David admired. His son was Robert Emmet, his grandson was Robert Emmet, his great-grandson is Robert Emmet, and I, his great-great grandson, am Robert Emmet. As was said of Abraham Lincoln when people argued that his name was spelled Abram, a man knows how to spell his own name. Reader Submission | |
Kindle Available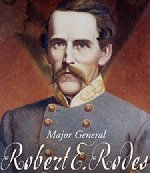 Major General Robert E. Rodes of the Army of Northern Virginia: A Biography
The first deeply researched scholarly biography on this remarkable Confederate officer. From First Manassas in 1861 to Third Winchester in 1864, Rodes served in all the great battles and campaigns of the legendary Army of Northern Virginia