Known as Shanks because of his long, skinny legs, Captain Nathan Evans served his pre–Civil War years in the Army on the frontier fighting hostile Indian tribes. In February 1861 he resigned to accept a major's commission with the military forces of South Carolina. After the surrender of Fort Sumter in April, Evans accepted a captain's commission in the Confederate cavalry and was shortly thereafter promoted to lieutenant colonel and later colonel.
He was assigned command of an infantry brigade in Brig.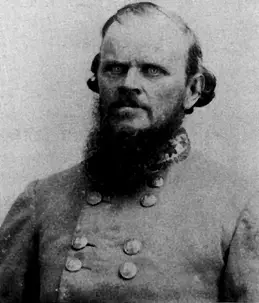 General Pierre G. T. Beauregard's Army of the Potomac. In camp and field Evans had an attachment to strong drink, often keeping an aide nearby with a small keg of whiskey, which Evans referred to as his "barreletta."
At the Battle of First Bull Run Evans' small brigade was placed on the Confederate left and was able to hold off the Union's flank attack long enough for reinforcements to arrive. Although his command was eventually forced to fall back, his delaying tactic allowed the Confederates time to shift additional forces from Manassas to the battlefield, which resulted in a Confederate victory.
In October 1861, while his brigade was stationed near Leesburg, Virginia, Evans' forces defeated a Union attempt to cross the Potomac River in a fight called the Battle of Ball's Bluff. The action resulted in his promotion to brigadier general. Evans went on to participate in the 1862 battles of Second Bull Run, South Mountain, and Antietam and in November was transferred to Kinston, North Carolina.
After he retreated in the face of a superior Union force, Evans was tried for intoxication and acquitted. Later, when charges of disobedience of orders were made against him, Evans was again acquitted. He was then relieved of command, and, although later reinstated, the remainder of his military career was obscure. Throughout 1863 Evans served in various military positions in Mississippi and Georgia and in the spring of 1864 transferred to South Carolina.
Following the war, Evans settled in Alabama, where he became a high school principal.
Nathan G. Evans
1824–1868, South Carolina
USMA 1848