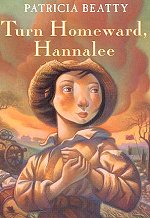 Turn Homeward, Hannalee
During the closing days of the Civil War, plucky 12-year-old Hannalee Reed, sent north to work in a Yankee mill, struggles to return to the family she left behind in war-torn Georgia. "A fast-moving novel based upon an actual historical incident with a spunky heroine and fine historical detail."--School Library Journal.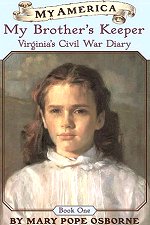 My Brothers Keeper
Virginia Dickens is angry. Her father and brother Jed have left her behind while they go off to Uncle Jack's farm to help him hide his horses from Confederate raiders. It's the summer of 1863 and Pa and Jed believe 9-year-old Virginia will be out of harm's way in the sleepy little town of Gettysburg, Pennsylvania.
Kindle Available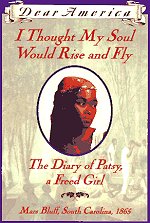 I Thought My Soul Would Rise and Fly: The Diary of Patsy, a Freed Girl, Mars Bluff, South Carolina 1865
Not only is 12-year-old Patsy a slave, but she's also one of the least important slaves, since she stutters and walks with a limp. So when the war ends and she's given her freedom, Patsy is naturally curious and afraid of what her future will hold.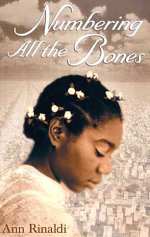 Numbering The Bones
The Civil War is at an end, but for thirteen-year-old Eulinda, it is no time to rejoice. Her younger brother Zeke was sold away, her older brother Neddy joined the Northern war effort,. With the help of Clara Barton, the eventual founder of the Red Cross, Eulinda must find a way to let go of the skeletons from her past.