Kindle Available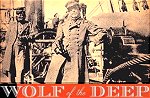 Wolf of the Deep: Raphael Semmes and the Notorious Confederate Raider CSS Alabama
In July 1862, the Confederate captain Raphael Semmes received orders to report to Liverpool, where he would take command of a secret new British-built steam warship. His mission: to prey on Union commercial vessels and undermine the North's ability to continue the war





Kindle Available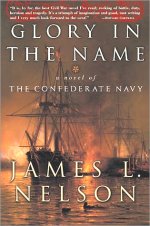 Glory in the Name: A Novel of the Confederate Navy
From Norfolk to Hampton Roads, from Roanoke Island to the nighttime battle on the river below New Orleans, Glory in the Name tells the story of the Confederate States Navy, and the brave men who carried forward against overwhelming odds





Kindle Available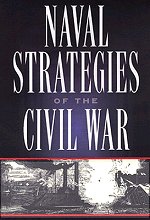 Naval Strategies of the Civil War: Confederate Innovations and Federal Opportunism
Compare and contrast the strategies of the Southern Secretary of the Navy, Mallory, against his rival in the North, Welles. Mallory used technological innovation and the skill of individuals to bolster the South's seapower against the Union Navy's superior numbers
CSS Tennessee surrounded by Union warships, near the end of the battle. The two twin-turret monitors depicted off her bow and stern are USS Winnebago and USS Chickasaw .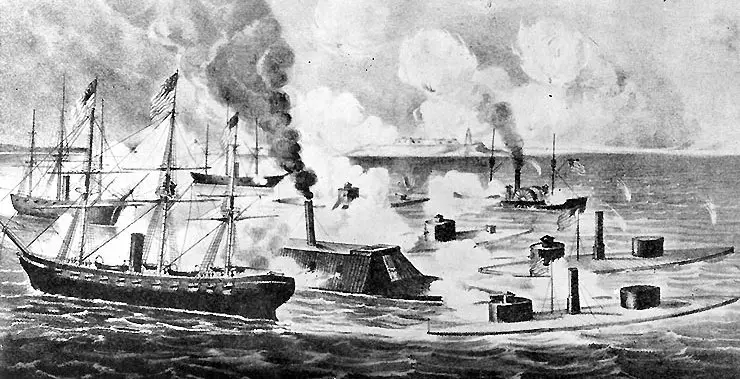 Line engraving after an artwork by J.O. Davidson, published in "Battles and Leaders of the Civil War", Volume 4, page 378.
Entitled "Surrender of the 'Tennessee,' Battle of Mobile Bay", it depicts CSS Tennessee in the center foreground, surrounded by the Union warships (from left to right): Lackawanna , Winnebago , Ossipee , Brooklyn , Itasca , Richmond , Hartford and Chickasaw . Fort Morgan is shown in the right distance.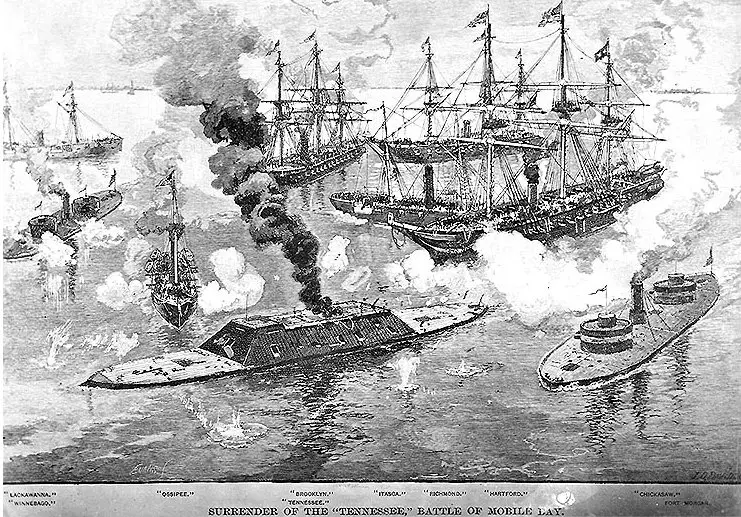 "Admiral Farragut's Fleet Bombarding Fort Morgan, August 22, 1864", it depicts the following U.S. Navy ships (from left to right): Lackawanna , Manhattan , Octorara , Brooklyn , Winnebago and Richmond . Fort Morgan is shown in the right center distance, and a battery is at the far left.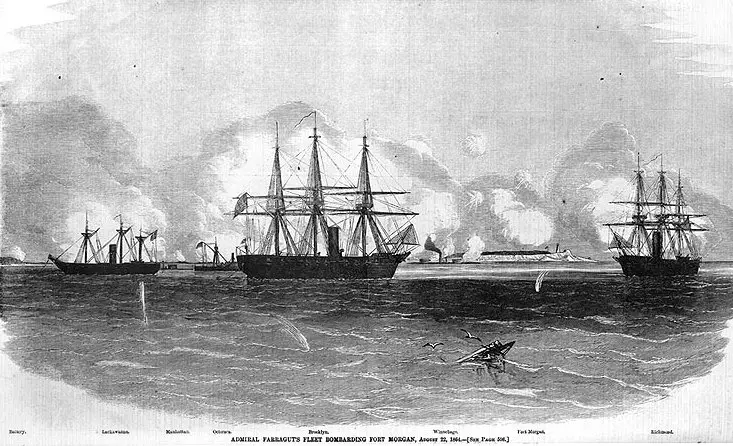 The Siege of Mobile--Wreck of the 'Osage' and the Monitor 'Milwaukee'
Line engraving published in "Harper's Weekly", 29 April 1865, depicting USS Osage striking a mine and sinking near Spanish Fort on 29 March 1865.
The wreck of USS Milwaukee , which had been sunk by a mine on the previous day, is in the center middle distance. The twin-turret monitors at right are two of the following: USS Winnebago , USS Chickasaw and USS Kickapoo . Ships in the right distance are "Double-Ender" and "Tinclad" gunboats also engaged in attacking the Confederate-held Spanish Fort.