House of Abraham: Lincoln and the Todds, A Family Divided by War
Mary Todd Lincoln one of fourteen siblings who were split between the Confederacy and the Union. Three of her brothers fought, and two died, for the South. Several Todds bedeviled Lincolns administration with their scandalous behavior

Mary Todd Lincoln
1818-1882




While the Civil War dragged on, Southerners scorned her as a traitor to her birth, and citizens loyal to the Union suspected her of treason.
Kindle Available

Lincoln's Ladies: The Women in the Life of the Sixteenth President
The tumultuous experiences Abraham Lincoln had with women have long been chronicled. Lincoln's Ladies attempts to answer the questions of how he was affected by the women in his life and how he affected them. Abandoned through death by his mother, his sister, and his sweetheart, Ann Rutledge, Lincoln found it difficult to relate to women and developed an emotional barrier that often antagonized them.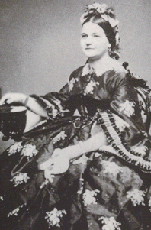 As a girlhood companion remembered her, Mary Todd was vivacious and impulsive, with an interesting personality--but "she now and then could not restrain a witty, sarcastic speech that cut deeper than she intended...." A young lawyer summed her up in 1840: "the very creature of excitement." All of these attributes marked her life, bringing her both happiness and tragedy.
Daughter of Eliza Parker and Robert Smith Todd, pioneer settlers of Kentucky, Mary lost her mother before the age of seven. Her father remarried; and Mary remembered her childhood as "desolate" although she belonged to the aristocracy of Lexington, with high-spirited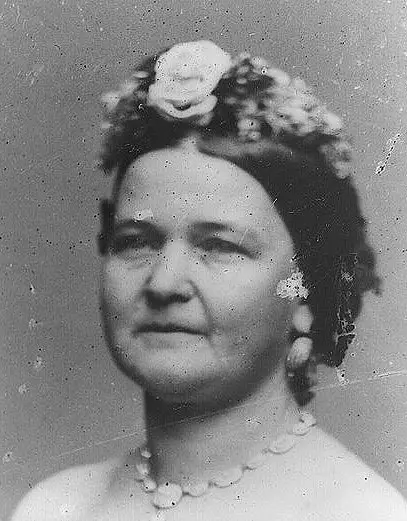 social life and a sound private education.
Just 5 feet 2 inches at maturity, Mary had clear blue eyes, long lashes, light-brown hair with glints of bronze, and a lovely complexion. She danced gracefully, she loved finery, and her crisp intelligence polished the wiles of a Southern coquette.
Nearly 21, she went to Springfield, Illinois, to live with her sister Mrs. Ninian Edwards. Here she met Abraham Lincoln--in his own words, "a poor nobody then." Three years later, after a stormy courtship and broken engagement, they were married. Though opposites in background and temperament, they were united by an enduring love--by Mary's confidence in her husband's ability and his gentle consideration of her excitable ways.
Their years in Springfield brought hard work, a family of boys, and reduced circumstances to the pleasure-loving girl who had never felt responsibility before. Lincoln's single term in Congress, for 1847-1849, gave Mary and the boys a winter in Washington, but scant opportunity for social life. Finally her unwavering faith in her husband won ample justification with his election as President in 1860.
Though her position fulfilled her high social ambitions, Mrs. Lincoln's years in the White House mingled misery with triumph. An orgy of spending stirred resentful comment. While the Civil War dragged on, Southerners scorned her as a traitor to her birth, and citizens loyal to the Union suspected her of treason. When she entertained, critics accused her of unpatriotic extravagance. When, utterly distraught, she curtailed her entertaining after her son Willie's death in 1862, they accused her of shirking her social duties.
Yet Lincoln, watching her put her guests at ease during a White House reception, could say happily: "My wife is as handsome as when she was a girl, and I...fell in love with her; and what is more, I have never fallen out."
Her husband's assassination in 1865 shattered Mary Todd Lincoln. The next 17 years held nothing but sorrow. With her son "Tad" she traveled abroad in search of health, tortured by distorted ideas of her financial situation. After Tad died in 1871, she slipped into a world of illusion where poverty and murder pursued her.
A misunderstood and tragic figure, she passed away in 1882 at her sister's home in Springfield--the same house from which she had walked as the bride of Abraham Lincoln, 40 years before.
Kindle Available

The Gettysburg Gospel:
The Lincoln Speech That Nobody Knows
Reconstructs what really happened in Gettysburg, Pennsylvania, on November 19, 1863.

Behind the Scenes: Thirty Years a Slave, and Four Years in the White House
This is a memior written by a woman who started life as a slave, then managed to buy her freedom, and later set up a successful living as a seamstress, eventually going to work for Mary Todd Lincoln in the White House

Loving Mr. Lincoln: The Personal Diaries of Mary Todd Lincoln
Chronicles life, love, and daily struggles with Abraham in their 26 years together. In frank, haunting journal entries, Mary describes the pain she felt when Abraham left her at the altar, when her sons died, and when Abraham's political career seemed to be at an end

First Ladies of the Civil War
Mary Todd Lincoln and Varina Davis
Kindle Available

You Want Women to Vote, Lizzie Stanton?
Grade 3-6. Fritz applies her gift for creating engaging, thorough historical literature to a larger-than-life historical figure. Stanton was a radical among radicals, and this objective depiction of her life and times, as well as her work for women's rights, makes readers feel invested in her struggle. An appealing, full-page black-and-white drawing illustrates each chapter. For students who need a biography, this title should fly off the shelves with a minimum of booktalking. And it is so lively that it is equally suitable for leisure reading.?

Not For Ourselves Alone: The Story of Elizabeth Cady Stanton and Susan B. Anthony
Two heroic women who vastly bettered the lives of a majority of American citizens. For more than fifty years they led the public battle to secure for women the most basic civil rights and helped establish a movement that would revolutionize American society
Kindle Available

Women and the American Civil War
An Annotated Bibliography
The first reference work to draw together the stories and studies of women in the American Civil War, this annotated bibliography offers access to the literature that documents the history of women who experienced the war, changed it, and were changed by it. Offering nearly 800 entries

We Are Your Sisters: Black Women in the Nineteenth Century
A remarkable documentary and the first in-depth record of many black women, slave and free."--Dorothy B. Porter, curator emeritus, Moorland-Spingarn Research Center, Howard University

Abe Lincoln's Hat
Step into Reading
Abraham Lincoln, started out in life as an absent-minded lawyer. How did he nudge his memory? He stuck letters, court notes, contracts, and even his checkbook in his trademark top hat.

Abe Lincoln
The Boy Who Loved Books
Children of all ages will enjoy reading this book and realizing that a love of books, as Abraham Lincoln did, can change a persons life and move him or her to become a great person

The President Is Shot!: The Assassination of Abraham Lincoln
Grade 6-10 --Description of the violent end to Lincoln's life. Holzer provides the Civil War context of the event and then details April 14 and 15, 1865. Why Murder Lincoln?, to demonstrate that this president was not always the universally beloved icon that students see him as today.
Kindle Available

The Civil War for Kids
History explodes in this activity guide spanning the turmoil preceding secession, the first shots fired at Fort Sumter, the fierce battles on land and sea, and finally the Confederate surrender at Appomattox. Making butternut dye for a Rebel uniform, learning drills and signals with flags, decoding wigwag, baking hardtack, reenacting battles, and making a medicine kit bring this pivotal period in our nation's history to life.

Lincoln and Freedom: Slavery, Emancipation, and the Thirteenth Amendment
The history of slavery in North America, the Dred Scott decision, the evolution of Lincoln's view of presidential powers, the influence of religion on Lincoln, and the effects of the Emancipation Proclamation

We Saw Lincoln Shot: One Hundred Eyewitness Accounts
How witnesses felt after; how rumor of other tragedies spread in the hours after, why some Southerners hated Lincoln and cheered his death; and, ultimately, why those who loved him were so profoundly affected

Lincoln's Assassins: Their Trial and Execution
For twelve days after the president was shot, the nation waited breathlessly as manhunters tracked down John Wilkes Booth

Right or Wrong, God Judge Me: THE WRITINGS OF JOHN WILKES BOOTH
Collection of the writings of John Wilkes Booth constitutes a major new primary source that contributes to scholarship on Abraham Lincoln, the Civil War, and nineteenth-century theater history. The nearly seventy documents--more than half published here for the first time--include love letters written during the summer of 1864

Women And The Civil War
The many contributions of women in both the North and South are presented in this program describing their roles on and near the momentous battles of the American Civil War

Brother Against Brother
The American Civil War
Fort Sumter, to the Confederate surrender at Appomattox, Features battle reconstructions and depictions of army life, eyewitness accounts, period photographs and engravings, plus commentary and analyses.

Abraham Lincoln: His Life & Legacy
Comprehensive four-DVD set presents a complex portrait of a man who many consider to be our greatest commander-in-chief, but who considered himself "the loneliest man in the world." Bringing to life the tumultuous times in which Lincoln led his country, some of his finest Civil War moments, and his final hours


Unsolved History ~ Plots to Kill Lincoln
Discovery Channel
Before John Wilkes Booth fired that fatal shot in the balcony of Ford's Theater, President Lincoln was the target of at least five other assassination conspiracies.

Horses of Gettysburg
Civil War Minutes
Filmed in high definition with charging horses, battlefield panoramas and no "talking heads," this cinematic documentary tells the story of the estimated 72,000 horses and mules that fought at the Battle of Gettysburg and uncovers the strategies employed to ensure that the millions of animals in service with the North and South remained healthy and well-trained for action.

Lincoln and Lee at Antietam:
The Cost of Freedom
Lincoln and Lee at Antietam covers the entire struggle of the Antietam Campaign. The political concept about why Lincoln needed a Union victory and Lee's need to take the war north were covered as well as the battle.

Brother Against Brother
The American Civil War
It was the most tragic episode in American history. During four years of bitter and bloody fighting between the states, more than 600,000 troops from the Union and Confederate sides lost their lives. The bloody events at places such as Antietam, Gettysburg, Shiloh, Cold Harbor, Vicksburg and Fredericksburg are still burned deep into the American psyche, never to be forgotten


Gettysburg: Three Days of Destiny
Presented by the Gettysburg Anniversary Committee and filmed at the massive 140th Gettysburg Battle Reenactment. The dramatic story unfolds through both Union and Confederate commanders dispatches, diaries and after-battle reports, with some of the biggest and most exciting Civil War battle sequences ever filmed
President Abraham Lincoln
Confederate President Jefferson Davis