Chief Joseph Drifting Goose
Born: 1821 Died: May 18, 1909 Crow Creek Reservation.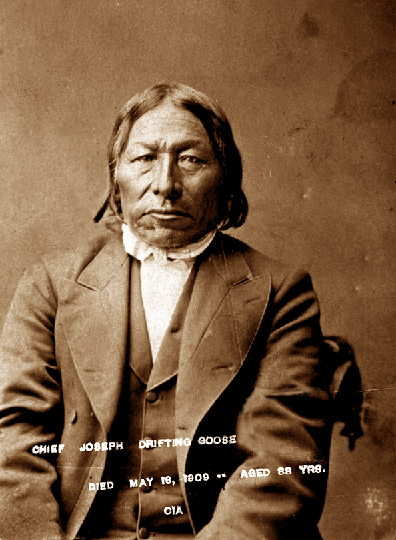 Chief Joseph was born around 1840 in the Wallowa Valley of what is now northeastern Oregon. His given name was Hin-mah-too-yah-lat-kekt, meaning "Thunder Rolling Down the Mountain." However, he was widely known as Joseph, or Joseph the Younger, because his father had taken the Christian name Joseph when he was baptized at the Lapwai mission by Henry Spalding in 1838. Under Joseph the Elder's leadership, the powerful Nez PercÚ tribe was friendly to whites and Joseph the Younger was educated at a mission school.

In 1855 Joseph the Elder helped Washington's territorial governor set up a Nez PercÚ reservation that stretched from Oregon into Idaho. But in 1863, following a gold rush into Nez PercÚ territory, the federal government took back almost six million acres of this land, restricting the Nez PercÚ to a reservation in Idaho that was only one tenth its prior size. Feeling betrayed, Joseph the Elder denounced the United States, destroyed his American flag and his Bible, and refused to move his band from the Wallowa Valley or sign the treaty that would make the new reservation boundaries official.

When Joseph the Elder died in 1871, Joseph the Younger was chosen to succeed him. He inherited an increasingly volatile situation as a growing number of white settlers arrived in the Wallowa Valley. Chief Joseph vigorously resisted all efforts to force his band onto the small Idaho reservation, and in 1873 a federal order to remove white settlers and let his people remain in the Wallowa Valley made it appear that he might be successful. But the federal government soon reversed itself, and in 1877 General Oliver Otis Howard threatened a cavalry attack to force Joseph's band and other holdouts onto the reservation. Believing military resistance futile, Joseph reluctantly prepared to lead 200 to 300 warriors and their families toward Idaho. But a raid by several enraged Nez PercÚ warriors that resulted in the deaths of white settlers caused the federal troops to pursue Joseph's band.

For more than three months in the summer of 1877 Joseph led his followers on a retreat of more than 1,000 miles across Oregon, Washington, Idaho, and Montana. The band outmaneuvered the pursuing troops, which outnumbered Joseph's warriors by at least a ten to one ratio. Joseph's warriors defeated the troops in several battles during the flight. He was admired by many whites for his humane treatment of prisoners, his concern for women, children, and the aged, and because he purchased supplies from ranchers and storekeepers rather than stealing them. The Nez PercÚ were finally surrounded in the Bear Paw mountains of Montana, within 40 miles of the Canadian border. On October 5 Joseph surrendered to General Nelson A. Miles and delivered an eloquent speech: "Hear me, my chiefs; my heart is sick and sad. From where the Sun now stands, I will fight no more forever."

He and his band were sent to a barren reservation in Indian Territory (later Oklahoma) where many became sick and died. In 1885 Joseph and the remnants of his tribe were allowed to move to a reservation in Washington State. Meanwhile, he had made two trips to Washington, D.C. where he pleaded with President Theodore Roosevelt for the return of his people to their ancestral home.

In his last years, Joseph spoke eloquently against the injustice of United States policy toward his people and held out the hope that America's promise of freedom and equality might one day be fulfilled for Native Americans as well. A powerful voice of conscience for the West, he died in 1904, still in exile from his homeland.
Chief Joseph Surrenders
October 5, 1877

Chief Joseph loved his homeland, his people, and peace, but he was tired of running from the U.S. Army. "Hear me, my chiefs! I am tired. My heart is sick and sad. From where the sun now stands, I will fight no more forever." On October 5, 1877, Chief Joseph spoke these words during his surrender in the Bear Paw Mountains of Montana. After a harrowing journey of more than 1,000 miles across Oregon, Washington, Idaho, and Montana, pursued by the federal army, he and his followers surrendered to the troops. They were 40 miles from the Canadian border and freedom.

Believing in peace, Chief Joseph had been trying to secure his homeland for his tribe, the Nez PercÚ, without fighting. To Chief Joseph and his tribe, their homeland was sacred, like a cathedral. At first, the government allowed them to stay in their home regions, then some years later, forced them out. As they began their journey from their ancestral home in the Wallowa Valley of Oregon to a reservation in Idaho, the chief learned that three young Nez PercÚ men, enraged at their loss, had committed a brutal act.

The three young Indians had massacred a band of white settlers. Chief Joseph feared retaliation by the government and tried to take his people to safety. After their capture, the Nez PercÚ were moved to Kansas, but the fearless leader never gave up. He went to Washington D.C. to meet with the president. Finally, in 1885, Chief Joseph and his followers were allowed to return to the Pacific Northwest, close to their old home, thanks to the persistence and courage of Chief Joseph.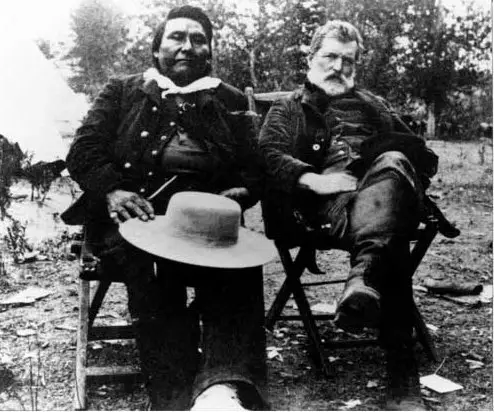 Chief Joseph and Colonel John Gibbon, erstwhile adversaries in the Battle of the Big Hole, sat for this portrait many years later


Native American Book Store
Native American Pictures
Civil War Oklahoma
Civil War Arizona
Civil War New Mexico
Civil War Colorado
American Civil War Home
American Civil War Book Titles