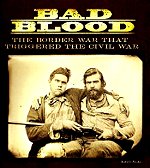 Bad Blood: The Border War That Triggered the Civil War
In the years leading up to the Civil War, a bloody conflict between slaveholders and abolitionists focused the nation's eyes on the state of Missouri and the territory of Kansas. Told through the actual words of slave owners, free-staters, border ruffians, and politicians, Bad Blood presents the complex morality, differing values, and life-and-death decisions faced by those who lived on the Missouri-Kansas border


Blue Vs. Gray - Killing Fields
Relive the most vicious fighting of the Civil War, in which General Ulysses S. Grant forcibly reversed the tide of the conflict by paying with the blood of thousands. It was a desperate time for the Union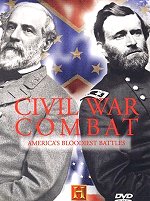 Civil War Combat: America's Bloodiest Battles
The violent mayhem of the hornet's nest at Shiloh, the valiant charge on the sunken road at Antietam, the carnage in the wheat field at Gettysburg, and the brutal fighting at Cold Harbor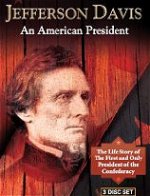 Jefferson Davis
An American President
One of the most outstanding statesmen of the United States during the first 60 years of the 19th century, he sacrificed everything to defend the South's position regarding the rights of the states and conservative constitutional interpretation. Against staggering odds he led the South and held it together in the bloody Civil War or War Between the States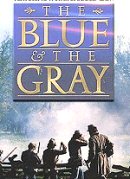 The Blue and the Gray
The Complete Miniseries
The Civil War proved a backdrop for this 1982 miniseries. Complete and uncut three disc set. Two families divided by the War Between the States. A Southerner caught when he becomes a war correspondent for the Northern newspaper. He finds himself where history's in the making from the Battle of Bull Run to Abraham Lincoln's assassination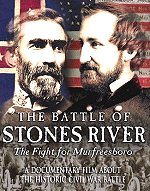 Battle of Stones River
The Fight for Murfreesboro
At dawn on December 31, 1862 the two armies clashed in a deadly struggle along the banks of Stones River.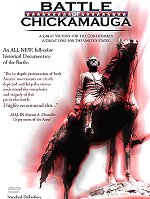 The Battle of Chickamauga
Special Widescreen Edition
Chickamauga one of the fiercest engagements of the American Civil War. Over a period of two days, more than 100,000 men struggled for control of the south's transportation hub, Chattanooga.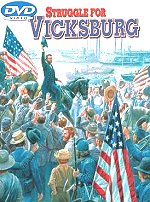 Struggle For Vicksburg
Photography of the park with authentic battlefield illustrations and life-like paintings. Vicksburg's wartime role in the bloody and brutal conflict.