Kindle Available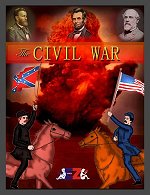 The Civil War
Introduces young readers to the harrowing true story of the American Civil War and its immediate aftermath. A surprisingly detailed battle-by-battle account of America's deadliest conflict ensues, culminating in the restoration of the Union followed by the tragic assassination of President Lincoln
Kindle Available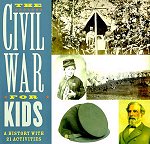 The Civil War for Kids
History explodes in this activity guide spanning the turmoil preceding secession, the first shots fired at Fort Sumter, the fierce battles on land and sea, and finally the Confederate surrender at Appomattox. Making butternut dye for a Rebel uniform, learning drills and signals with flags, decoding wigwag, baking hardtack, reenacting battles, and making a medicine kit bring this pivotal period in our nation's history to life.
Kindle Available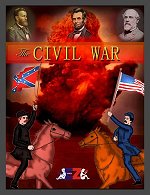 The Civil War
Introduces young readers to the harrowing true story of the American Civil War and its immediate aftermath. A surprisingly detailed battle-by-battle account of America's deadliest conflict ensues, culminating in the restoration of the Union followed by the tragic assassination of President Lincoln

The Boys War
With the many boys who fought in the civil war most of them lied about their age. A lot of them wrote letters or had a diary. Johnny Clem had run away from his home at 11. At age 12 he tried to enlist but they refused to let him join because he was clearly too young. The next day he came back to join as a drummer boy.