North Dakota Civil War Map of Battles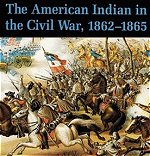 The American Indian in the Civil War, 1862-1865
The 1862 Battle of Pea Ridge, a bloody disaster for the confederates but a glorious moment for Colonel Stand Watie and his Cherokee Mounted Rifles. The Indians were soon enough swept by the war into a vortex of confusion and chaos.


Sources:
U.S. National Park Service
U.S. Library of Congress.