We Are in for It!": The First Battle of Kernstown March 23, 1862
Places First Kernstown in context with events both several months prior and after the battle, and effortlessly provides a highly readable account of the ebb and flow of the battle. Troop movements are provided in detail, in some cases right down to the company level. Great source material from participants is interwoven into the narrative



Kernstown, First
Civil War Virginia




American Civil War
March 23, 1862


Extraordinary Circumstances
The Seven Days Battles
One of the most decisive military campaigns in Western history, the Seven Days were fought in the area southeast of the Confederate capitol of Richmond from June 25 to July 1, 1862
Relying on faulty intelligence that reported the Union garrison at Winchester numbered only about 3,000, "Stonewall" Jackson marched aggressively north with his 3,400-man division.

The 8,500 Federals, commanded by Col. Nathan Kimball, stopped Jackson at Kernstown and then counterattacked turning Jackson's left flank and forcing him to retreat. Despite this Union victory, President Lincoln was disturbed by Jackson's threat to Washington and redirected substantial reinforcements to the Valley, depriving McClellan's army of these troops.

McClellan claimed that the additional troops would have enabled him to take Richmond during his Peninsula campaign.

Result(s): Union victory

Location: Frederick County and Winchester

Campaign: Jackson's Shenandoah Valley Campaign (1862) next battle in campaign Campaigns

Date(s): March 23, 1862

Principal Commanders: Col. Nathan Kimball [US]; Major General "Stonewall" Thomas J. Jackson [CS]

Forces Engaged: 12,300 total (US 8,500; CS 3,800)

Estimated Casualties: 1,308 total (US 590; CS 718)

Kindle Available

Stonewall Jackson at Cedar Mountain
At Cedar Mountain on August 9,1862, Stonewall Jackson exercised independent command of a campaign for the last time

Campaign Map Click to enlarge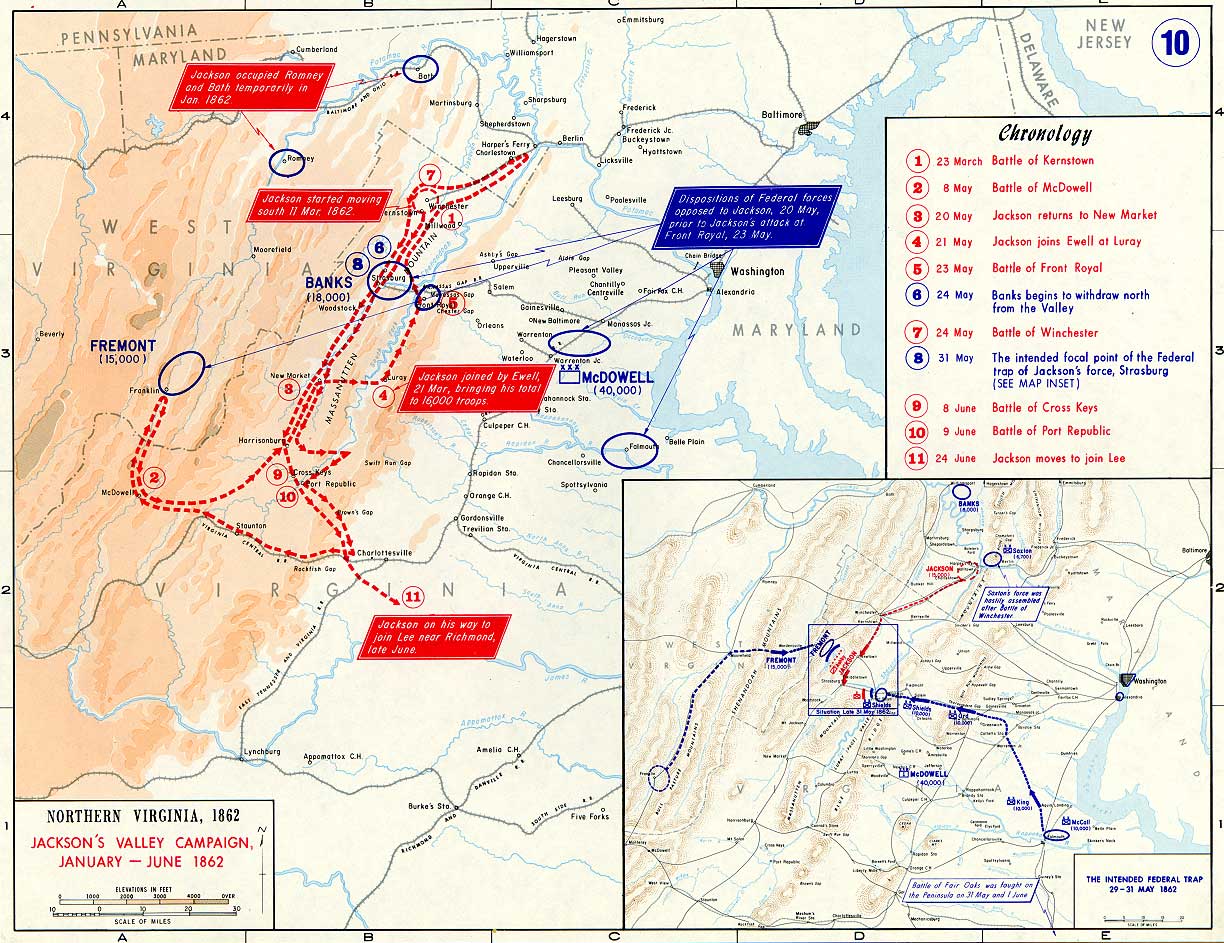 Kindle Available

The Richmond Campaign of 1862: The Peninsula and the Seven Days
The Richmond campaign of 1862 ranks as one of the most important military operations of the American Civil War. Key political, diplomatic, social, and military issues were at stake as CSA General Lee and USA General McClellan met.

To The Gates of Richmond
The Peninsula Campaign
For three months General McClellan battled his way toward Richmond, but then CSA General Lee took command of the Confederate forces. In seven days, Lee drove the cautious McClellan out, thereby changing the course of the war

The Official Virginia
Civil War Battlefield Guide
Virginia was host to nearly 1/3rd of all Civil War engagements. This guide covers them all like a mini-history of the war. This guide organizes battles chronologically. Each campaign has a detailed overview, followed by concise descriptions of the individual engagements

Counter-Thrust
From the Peninsula to the Antietam
A window into the Union's internal conflict at building a military leadership team. Lincoln's administration in disarray, with relations between the president and field commander McClellan strained to the breaking point. Shows how the fortunes of war shifted abruptly in the Union's favor, climaxing at Antietam.

The Civil War - A Film by Ken Burns
Here is the saga of celebrated generals and ordinary soldiers, a heroic and transcendent president and a country that had to divide itself in two in order to become one

Still Standing: The Stonewall Jackson Story
The life of Stonewall Jackson from his orphaned childhood, to the Sunday School class he taught for African Americans that has resulted in a lasting impact today, to the pivotal role he played as a General in the Civil War

Stonewall Jackson - Biography
He earned his nickname for bravery at Bull Run. He met his fate in a tragic accident at Chancellorsville. Stonewall Jackson is widely regarded as one of the greatest of the Confederate commanders of the Civil War. An outstanding leader and brilliant tactician he led some of the most stunning campaigns of the war and earned a place in military history.


Kansas Pacific
With the Civil War about to begin, Southern saboteurs try to prevent railroad construction from crossing Kansas to the frontier.
Sources:
U.S. National Park Service
U.S. Library of Congress
U.S. Military Academy