Front Royal
Guard Hill, Cedarville
Civil War Virginia
American Civil War
May 23, 1862
On May 23, Confederate forces, spearheaded by the Louisiana "Tigers" and the 1st Maryland, surprised and overran the pickets of a 1,000-man Union garrison under Col. Kenly at Front Royal.

Driven through the town, the Federals made a stand on Camp Hill and again at Guard Hill after attempting to fire the river bridges. Outnumbered and outflanked, Kenly continued the retreat to Cedarville, where two cavalry charges led by Major Flournoy broke the roadblock and routed the Union force.

Nearly 900 Federals surrendered. Jackson's victory at Front Royal forced the Union army under Banks at Strasburg into a rapid retreat towards Winchester.

Result(s): Confederate victory

Location: Warren County

Campaign: Jackson's Shenandoah Valley Campaign (1862) next battle in campaign previous battle in campaign

Date(s): May 23, 1862

Principal Commanders: Col. John R. Kenly [US]; Major General Thomas J. Jackson [CS]

Forces Engaged: 4,063 total (US 1,063; CS 3,000)

Estimated Casualties: 960 total (US 904; CS 56)

Kindle Available

Stonewall Jackson at Cedar Mountain
At Cedar Mountain on August 9,1862, Stonewall Jackson exercised independent command of a campaign for the last time
Campaign Map Click to enlarge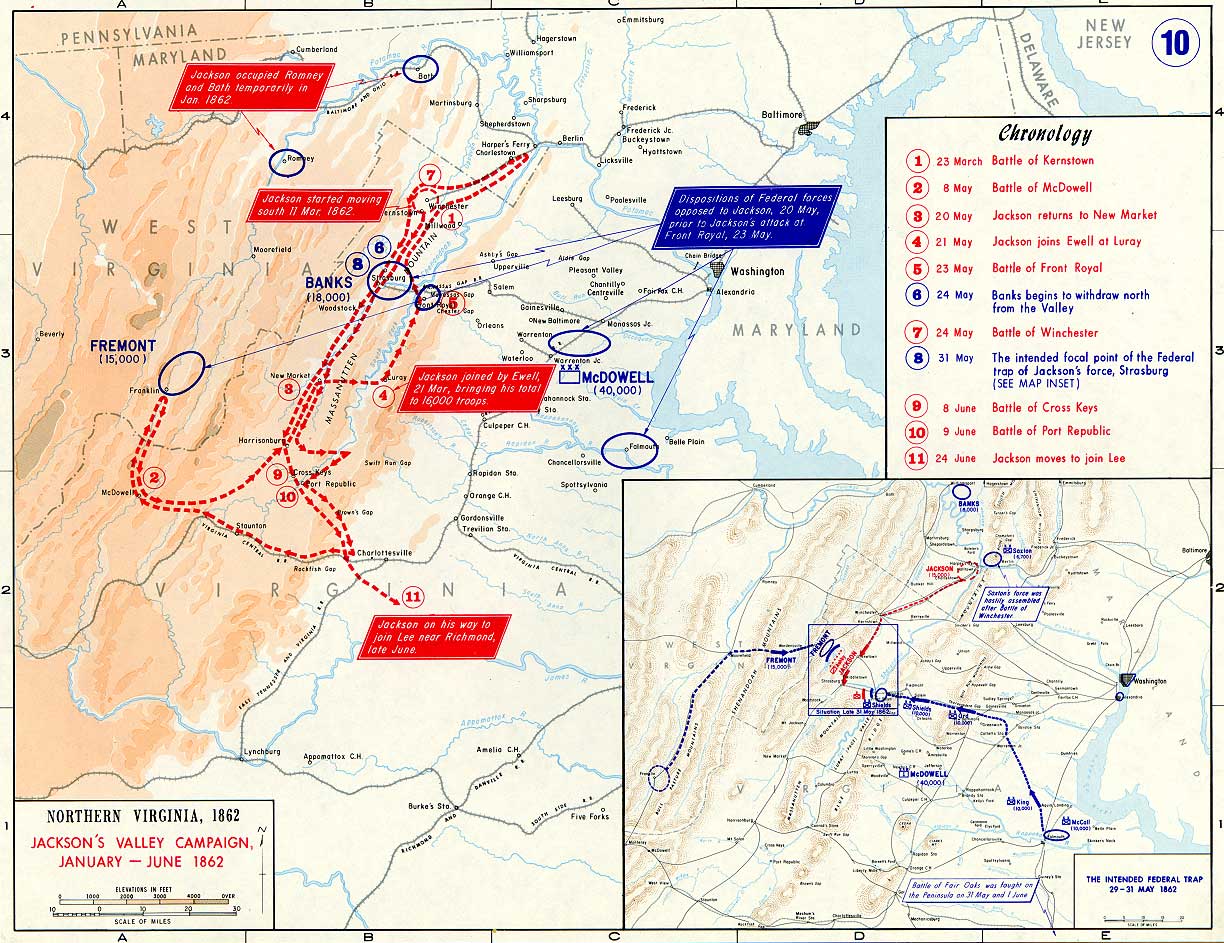 Kindle Available

Civil War Curiosities: Strange Stories, Oddities, Events, and Coincidences


This work was fascinating to read and was neither over dramatic or under written. The stories were lively and interesting and the additon of old photos and draqwings helped fill out the book.


Map of the Seat of Civil War In America, c.1862
48 in. x 36.6 in. $169.99
Buy at AllPosters.com
Framed


Kindle Available

The Louisiana Tigers in the Gettysburg Campaign, June-July 1863
A sweeping history of the Louisiana Tigers; their predecessors, Wheat's Tigers; the organizational structure and leadership of the brigade in 1863; and the personnel that made up its ranks. Covering the Tigers' movements and battle actions in depth
Kindle Available

The Richmond Campaign of 1862: The Peninsula and the Seven Days
The Richmond campaign of 1862 ranks as one of the most important military operations of the American Civil War. Key political, diplomatic, social, and military issues were at stake as CSA General Lee and USA General McClellan met.

To The Gates of Richmond
The Peninsula Campaign
For three months General McClellan battled his way toward Richmond, but then CSA General Lee took command of the Confederate forces. In seven days, Lee drove the cautious McClellan out, thereby changing the course of the war

The Official Virginia
Civil War Battlefield Guide
Virginia was host to nearly 1/3rd of all Civil War engagements. This guide covers them all like a mini-history of the war. This guide organizes battles chronologically. Each campaign has a detailed overview, followed by concise descriptions of the individual engagements

Extraordinary Circumstances
The Seven Days Battles
One of the most decisive military campaigns in Western history, the Seven Days were fought in the area southeast of the Confederate capitol of Richmond from June 25 to July 1, 1862

Second Manassas 1862
Robert E Lee's greatest victory
Robert E Lee came as close as he ever would to exterminating his Northern enemies. In so doing, Lee established himself as the South's pre-eminent military commander and the Army of Northern Virginia as it's most powerful weapon

Counter-Thrust
From the Peninsula to the Antietam
A window into the Union's internal conflict at building a military leadership team. Lincoln's administration in disarray, with relations between the president and field commander McClellan strained to the breaking point. Shows how the fortunes of war shifted abruptly in the Union's favor, climaxing at Antietam.

Echoes of Thunder
A Guide to the Seven Days Battles
This is a valuable and welcome addition to this series of battlefield guides. This book will provide you with a guide on the field or it will supplement reading about the American Civil War battle of The Seven Days.
Kindle Available

Rebels At The Gate
The dramatic story of the first Union victories of the Civil War and the events that caused Virginians to divide their state. In a defiant act to sustain President Lincoln's war effort, Virginia Unionists created their own state government in 1861-destined to become the new state of West Virginia. Their actions blocked what should have been Confederate control of the territory and closed one of their key gateways to the Union states

Still Standing: The Stonewall Jackson Story
The life of Stonewall Jackson from his orphaned childhood, to the Sunday School class he taught for African Americans that has resulted in a lasting impact today, to the pivotal role he played as a General in the Civil War

Civil War Journal
Collector's Edition 4-DVD Set
Made exclusively for Books Are Fun. Discs include: · Stonewall Jackson · Sherman and the March to the Sea · West Point Classmates-Civil War Enemies · Robert E. Lee · Battle of 1st Bull Run · The 54th Massachusetts · John Brown s War · Destiny at Fort Sumter

Ride With The Devil
The bloody feud among neighbors in the border state of Missouri. In this war zone the destinies of several young Southern bushwhackers as they experience the violence and the seasons

Stonewall Jackson - Biography
He earned his nickname for bravery at Bull Run. He met his fate in a tragic accident at Chancellorsville. Stonewall Jackson is widely regarded as one of the greatest of the Confederate commanders of the Civil War. An outstanding leader and brilliant tactician he led some of the most stunning campaigns of the war and earned a place in military history.

Sources:
U.S. National Park Service
U.S. Library of Congress
U.S. Military Academy