Port Republic
Civil War Virginia
American Civil War
June 9, 1862
Major General T.J. Jackson concentrated his forces east of the South Fork of the Shenandoah against the isolated brigades of Tyler and Carroll of Shields's division, Brigadier General Erastus Tyler commanding. Confederate assaults across the bottomland were repulsed with heavy casualties, but a flanking column turned the Union left flank at the Coaling.

Union counterattacks failed to reestablish the line, and Tyler was forced to retreat.

Confederate forces at Cross Keys marched to join Jackson at Port Republic burning the North River Bridge behind them. Frémont's army arrived too late to assist Tyler and Carroll and watched helplessly from across the rain-swollen river.

After these dual defeats at Cross Keys and Port Republic, the Union armies retreated, leaving Jackson in control of the upper and middle Shenandoah Valley and freeing his army to reinforce Lee before Richmond.

Result(s): Confederate victory.

Location: Rockingham County

Campaign: Jackson's Shenandoah Valley Campaign (1862) previous battle in campaign Campaigns

Date(s): June 9, 1862

Principal Commanders: Brigadier General Erastus Tyler [US]; Major General Thomas J. Jackson [CS]

Forces Engaged: Divisions: 9,500 total (US 3,500; CS 6,000)

Estimated Casualties: 1,818 total (US 1,002; CS 816)


Conquering the Valley: Stonewall Jackson at Port Republic
Using accurate background information as well as anecdotal material, eyewitness accounts, and new primary sources, a historic narrative outlines the events surrounding the Civil War battles at Port Republic and Cross Keys
Campaign Map Click to enlarge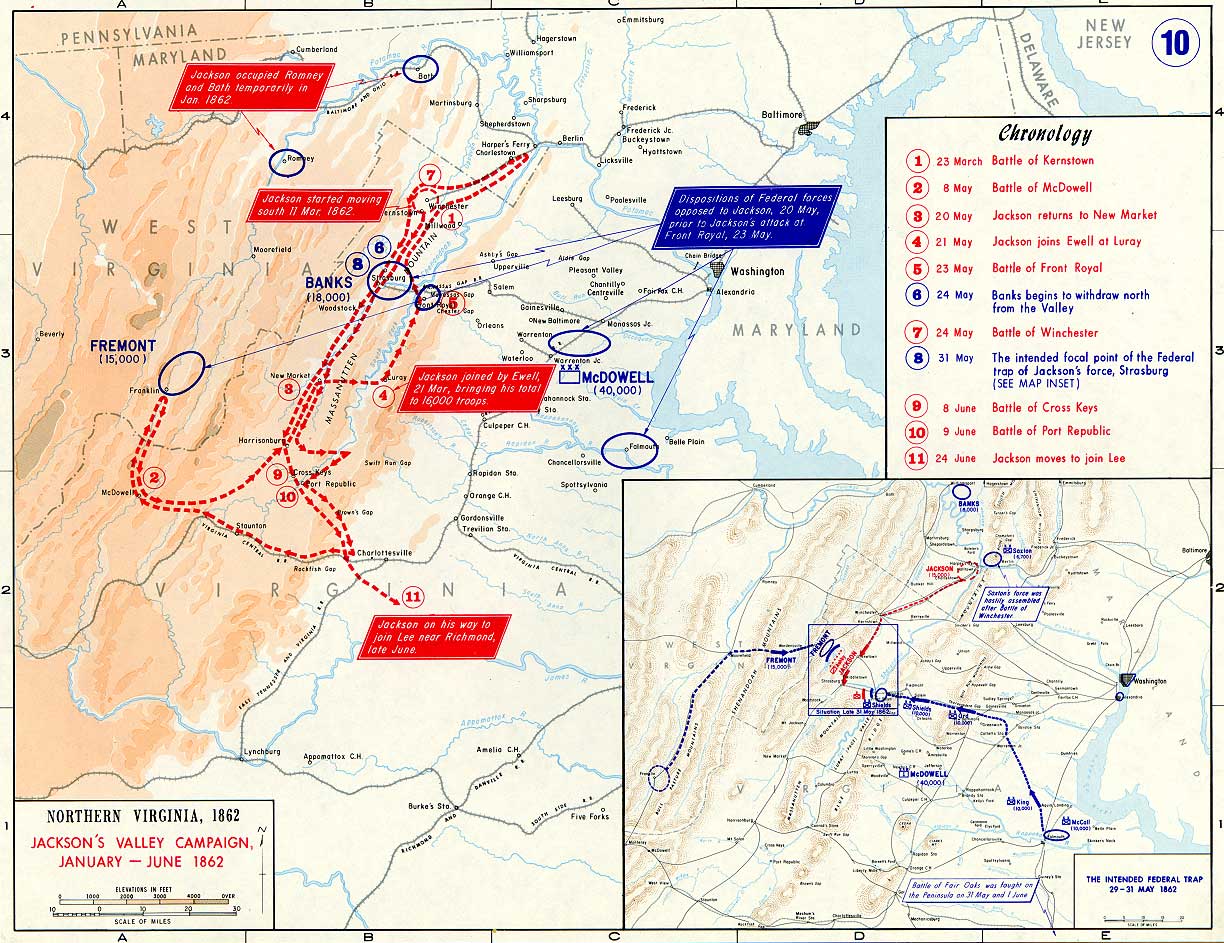 Kindle Available

The Richmond Campaign of 1862: The Peninsula and the Seven Days
The Richmond campaign of 1862 ranks as one of the most important military operations of the American Civil War. Key political, diplomatic, social, and military issues were at stake as CSA General Lee and USA General McClellan met.

To The Gates of Richmond
The Peninsula Campaign
For three months General McClellan battled his way toward Richmond, but then CSA General Lee took command of the Confederate forces. In seven days, Lee drove the cautious McClellan out, thereby changing the course of the war

The Official Virginia
Civil War Battlefield Guide
Virginia was host to nearly 1/3rd of all Civil War engagements. This guide covers them all like a mini-history of the war. This guide organizes battles chronologically. Each campaign has a detailed overview, followed by concise descriptions of the individual engagements

Extraordinary Circumstances
The Seven Days Battles
One of the most decisive military campaigns in Western history, the Seven Days were fought in the area southeast of the Confederate capitol of Richmond from June 25 to July 1, 1862
Kindle Available

Stonewall Jackson's Book of Maxims
While a cadet at West Point, Jackson collected maxims as part of his quest for status as a gentleman, and in the mid-1850s he carefully inscribed these maxims in a personal notebook, which disappeared after his death in 1863. In the 1990s, the author discovered the long-lost book of maxims in the archives of Tulane University


Attack of Stonewall Jackson at Chancellorsville
The cadenced ranks of Lieutenant General Thomas J. Stonewall Jackson's Confederates. The gray-clad Southerners plowed into the Union defense

Echoes of Thunder
A Guide to the Seven Days Battles
This is a valuable and welcome addition to this series of battlefield guides. This book will provide you with a guide on the field or it will supplement reading about the American Civil War battle of The Seven Days.
Kindle Available

Rebels At The Gate
The dramatic story of the first Union victories of the Civil War and the events that caused Virginians to divide their state. In a defiant act to sustain President Lincoln's war effort, Virginia Unionists created their own state government in 1861-destined to become the new state of West Virginia. Their actions blocked what should have been Confederate control of the territory and closed one of their key gateways to the Union states

Stonewall Jackson - Biography
He earned his nickname for bravery at Bull Run. He met his fate in a tragic accident at Chancellorsville. Stonewall Jackson is widely regarded as one of the greatest of the Confederate commanders of the Civil War. An outstanding leader and brilliant tactician he led some of the most stunning campaigns of the war and earned a place in military history.


Still Standing: The Stonewall Jackson Story
The life of Stonewall Jackson from his orphaned childhood, to the Sunday School class he taught for African Americans that has resulted in a lasting impact today, to the pivotal role he played as a General in the Civil War

History's Mysteries: Family Feud:
The Hatfields And McCoys
Millions of dollars worth of timber and coal rich land were at stake, the courts were involved and once the national press got wind of what was happening, the backwoods folk found that their fight was being followed nationwide

The Civil War - A Film by Ken Burns
Here is the saga of celebrated generals and ordinary soldiers, a heroic and transcendent president and a country that had to divide itself in two in order to become one

The Hunt for John Wilkes Booth
The two-hour documentary is based on the highly acclaimed Michael Kauffman book, American Brutus

The Civil War in Virginia
Virginia was the arena where North and South fought many of their bloodiest battles. the program gives a full account of the events that took place describing in detail the history of the American Civil War in Virginia

The Battle of Chancellorsville
Civil War Combat
Unflinching, uncompromising and graphic, the images and stories presented here show these battles for what they were, with all the brutality, horror, devastation and desperation

American Experience - Abraham and Mary Lincoln: A House Divided
Abraham Lincoln's legacy as the Great Emancipator reshaped the nation while his tragic death left Mary reclusive and forgotten.
Sources:
U.S. National Park Service
U.S. Library of Congress
U.S. Military Academy