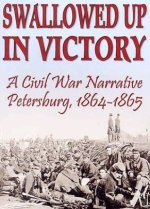 Swallowed Up in Victory: A Civil War Narrative, Petersburg, 1864-1865
A narrative of the last year of the American Civil War, follows the action surrounding the first attacks on Petersburg through the surrender at Appomattox
Petersburg
Civil War in Virginia
American Civil War
June 9, 1864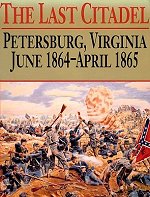 The Last Citadel: Petersburg
Virginia, June 1864-April 1865
The Siege of Petersburg was the prelude to the final chapter of our Nation's Civil War. The work is thoroughly researched with a plethora of primary sources incorporated right into the text
On June 9, Major General Benjamin Butler dispatched about 4,500 cavalry and infantry against the 2,500 Confederate defenders of Petersburg.
While Butler's infantry demonstrated against the outer line of entrenchments east of Petersburg, Kautz's cavalry division attempted to enter the city from the south via the Jerusalem Plank Road but was repulsed by Home Guards.
Afterwards, Butler withdrew.
This was called the "battle of old men and young boys" by local residents.
On June 14-17, the Army of the Potomac crossed the James River and began moving towards Petersburg to support and renew Butler's assaults.
Result(s): Confederate victory
Location: City of Petersburg
Campaign: Richmond Petersburg Campaign (June 1864-March 1865) next battle in campaign Campaigns
Date(s): June 9, 1864
Principal Commanders: Major General Quincy Gillmore [US]; General P.G.T. Beauregard
Forces Engaged: 7,000 (US 4,500; CS 2,500)
Estimated Casualties: 120 total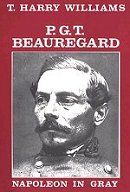 P.G.T. Beauregard
Napoleon in Gray
Beauregard often gets overlooked, he was never as beloved as Lee or Stonewall Jackson, but he was capable, the man had a sharp mind and Lee understood this, even if Jefferson Davis did not
Young Reader Title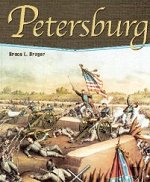 Petersburg
Sieges That Changed the World
Describes the details and significance of the Virginia Civil War battle called the Siege of Petersburg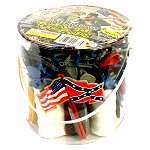 Civil War Soldier 102 Piece Playset
25 Union and 25 Confederate Soldier Figures, 18 Horses, 10 Cannon
2 Covered Wagons, 2 Tents, 2 Canoes, 2 Flags, 16 Fences
Size: Figures Stand up to 2-1/8 inches tall
Scale: 1/32nd, Wagons and Horses slightly smaller
Sources:
U.S. National Park Service
U.S. Library of Congress.
Enter the keywords you are looking for and the site will be searched and all occurrences of your request will be displayed. You can also enter a date format, April 19,1862 or September 1864.