The Powhatan was commissioned in 1850. She was a side-wheel steam frigate carrying one 11" Dahlgren gun, ten 9" guns, and five 12lb guns. She became Commodore Perryís flagship during his activities opening Japanís ports to foreign ships. The U.S. treaty of Amity and Commerce was signed on her deck on July 29, 1858. In 1860, she was Flag Officer Garret J. Pendergastís flagship at Vera Cruz. She returned to Brooklyn Navy Yard in the middle of March 1861 and, initially, at Secretary of the Navy Gideon Wellesís direction, decommissioned.
To give credibility to the naval war fleet, ostensibly to be sent to Charleston, to force an entrance into the harbor, Lincoln instructed Welles to include the Powhatan in the fleet; thereby doubling the number of guns the fleet was carrying to Charleston. At the time Lincoln gave Welles this instruction, April 5, he had already secretly arranged, on April 1, to have the Powhatan go to sea, under the command of a naval lieutenant, David D. Porter, with Pensacola, Florida her objective.
The U.S.S. Pocahontas
Pocahontas Deck Crew
The Pocahontas, a screw steamer, was commissioned in the U.S. Navy in 1855. She was decommissioned in 1859, rebuilt at the Norfolk Navy Yard and put back into service in 1860. She steamed to the Gulf of Mexico and joined the Home Fleet at Vera Cruz in April 1860. She arrived at Hampton Roads, in March 1861, and was assigned to Lincolnís war fleet. She reached Charleston early on April 13, as Major Anderson was surrendering the fort. The next day, she helped in the evacuation of Andersonís garrison and returned north. She carried four 32lb guns, one 10lb gun, and one 20lb Parrott rifled gun.
The U.S.S. Pawnee
The Pawnee Crew on Deck
The Pawnee was commissioned in the U.S. Navy on June 11, 1860. Her armament consisted of eight 9" guns and two 12lb guns. She steamed from the Washington Naval Yard to join the war fleet at sea.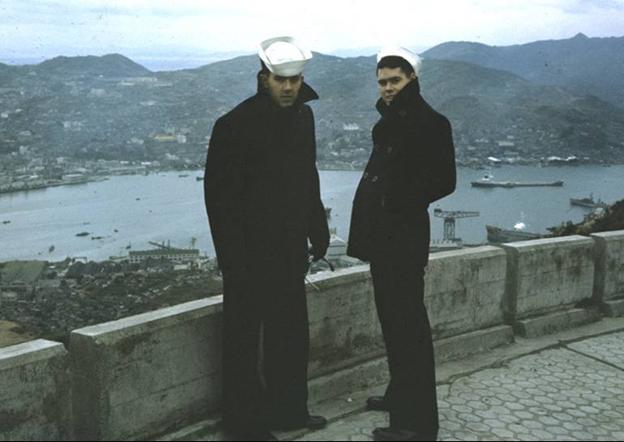 Quayle and Ryan, Nagasaki Harbor


Eighteen years after the plutonium bomb, named ďFat Man,Ē detonated at an altitude of 1,650 feet over Nagasaki, killing 40,000 human beings instantly, Quayle and I arrived in our peacoats at the spot the photograph was taken. What I remember is the Japanese staring at us. It took Grant, trying to break Leeís lines, two months to lose that many.
What If New York State Had Seceded
Joe Ryan